Dave from

DesignSpark
How do you feel about this article? Help us to provide better content for you.

Dave from

DesignSpark
Thank you! Your feedback has been received.

Dave from

DesignSpark
There was a problem submitting your feedback, please try again later.

Dave from

DesignSpark
What do you think of this article?
Reflections on why Western Designers should visit The East more - not just for components, but for insights and innovation. I also visited Dr Lawrence to help dispel some myths about LiPos in battery powered consumer products.
As part of a series of articles, this one will focus on:
Nomadic Engineering Journalism - I packed 15kg of workshop tools in Hold Luggage when travelling to Hong Kong, where I tried to shop for LiPo batteries closer to manufacturing outlets, and fix my headphones between many Dim Sum meals.
Whilst working on other projects in Hong Kong, I took a trip down memory lane to what was once a thriving repair scene, and observed what has changed since 2007 when I first interned there, and how this left me empty-handed for LiPo batteries from street vendors.
Following an interview with Dr Laurence from Hong Kong Polytechnic University, I recalibrated my understanding of 'planned obsolescence' and business incentives for R2R.
Nomadic Engineering - Right to Repair in Hong Kong.
Now before you start trolling me for getting on a plane to Hong Kong just to get some battery for my headphones, that's of course not the simple chain of events... My wife is from Hong Kong and it was her first, return to Hong Kong to see her immediate family in the past 9 years.
As well as working on a project for a high end car company, consulting for a global innovation consultancy, and testing DesignSpark projects (Air Quality ESDK, and Flood Alert - above), I also made full use of being in Hong Kong by visiting my old prototyping stomping grounds of Mong Kok and Sham Shui Po. Both were known for bustling streets crammed with electronics galore and a thriving repair culture. I built all of my prototypes for my Internship at HKPU in 2007 with only a couple visits to these densely packed, specialist shops.
A Trip Down Some Very Busy Memory Lanes in Mong Kok and Sham Shui Po.
For my internship I designed a magnetic coupling for a lightbulb, so older people would be able to change a lightbulb single-handed / with a 'grabber' stick, without getting on a chair and risking falling, or worse, just not changing it until one of their relatives visited.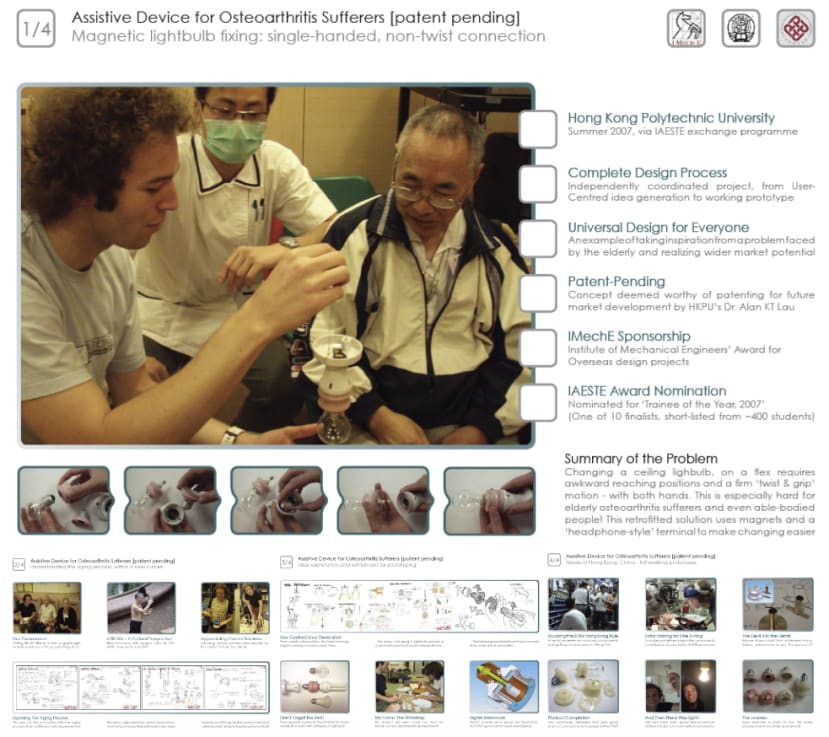 Above: Excerpts from Internship in Hong Kong in 2007: Assistaive Device (non-twist lightbulb changer).
Naturally, one's old project work is a bit 'cringe', and there is a lot I'd do differently in hindsight. However, considering in 2007, 3D printers were barely a thing, Hong Kong culture and all its electronics and tools 'on tap' was a mind-blowing experience, and it still is an inspiring place to design today.
Hong Kong's proximity to mainland China, and bilingual industry has long made it a perfect place to explore emergent tech and trends that are likely to 'go West'. Take the rapid advancement of prototyping in Hong Kong; when I first went there - I was getting more advanced 3D Printing done than my subsequent internship in 2008, for a leading design agency in California, because mainland China was already well established in SLA and SLS prints, when most companies had only just got FDM machines. It was like a 'prototyping candy shop'! I didn't see SLA until 2009 at Dyson (and I think along with McLaren), it was one of the first major companies in the UK to get such technology.
Similarly, many years later, when visited Shenzhen, as a Tech Scout for LEGO, I can recall seeing electronics trends before they 'arrived' to the UK/West: e-Scooters, low power wireless devices, stacks of weird and wonderful IoT products, new LED designs (tiny, and high powered), unconventional mobile phone accessories, e-Learning games, STEM toys - it feels like China has really moved on from the stereotypes of just 'copying stuff from the West, for less' to not only innovating for its own culture ( a huge market in its own right!), but to inspire the West equally.
In many ways, it feels like echoes of Japan's 1980's electronics boom, where Japan didn't just 'copy' the West, but was often out-innovated in the race to better cars, consumer goods - even whiskey! With that said, although I'm no Tech Historian - if there is ever a take-away from this for companies - it would be that sending an intern or scout on a secondment might seem like a bit of a 'jolly', (you seriously get no sympathy for any exhaustion/misfortune/mistakes when travelling to cool places), but with the right observations and insights, it can be a remarkably astute investment in business insights and future roadmapping to get close to so much emergent tech and ideas.
Battery Shopping Spree - or not, as it turns out...
However, as much of Hong Kong's electronics hustle was as I remember it - the unfortunate exception was that all of the LiPo battery vendors had disappeared! Asking around locally, online outlets being highly competitive is the main reason given, but I suspect also that the 'good old days' of a stall with easily over 1000 batteries on display was probably a bit risky. Even visiting the legit 'Hong Kong LiPo Co.' they told me that they were a sales front and did not have stock on site.
Indeed, it's hard to begrudge the curbing of street stalls - in what was probably an accident waiting to happen to have huge LiPo battery fires one day. After all, so much of our commerce is moving online, why not LiPos also, (a caveat being safe shipping is tricky - but more on that later!).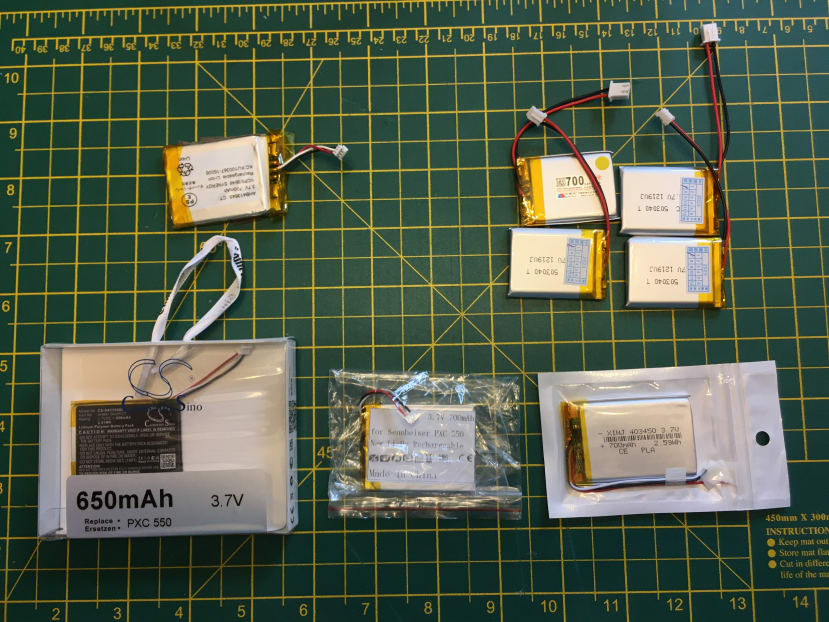 Above: Assorted Batteries from Online Shops. 
Although I returned empty handed, from Mong Kong and Sham Shui Po, as mentioned I did get the batteriesI was after from AliExpress, (above), and being close to China, everything arrived within a couple days - much to bemusement of my mother-in-law getting so many parcels all at once! 
Despite a lack of casual LiPo street trade, the fact that Hong Kong is on the doorstep of the manufacturing capital of the world, still means the expertise is very much still there, and the real win was also meeting up with a local expert on portable tech and battery / electronics design...
Interview with Dr Lawrence, Hong Kong Polytechnic University.
Before I booked tickets to Hong Kong to see family, I asked around at RS to see if I could meet up with any relevant contacts: Many thanks to Yan Wai from RS, I was put in touch with the esteemed Dr Cheung Chi-Chung, [aka Dr Lawrence] from Hong Kong Polytechnic University - where I actually interned in 2007, as part of the IAESTE* exchange programme. He has worked on a vast range of projects involving electronics, and portable power management - so LiPos were a pretty straightforward part of his expertise.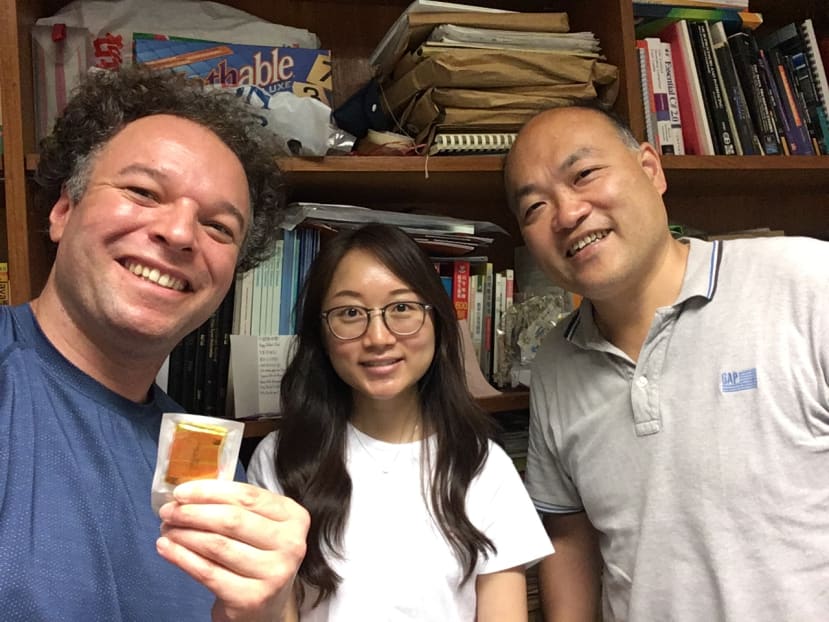 Above: Me and my dead LiPo Battery, Yan (from RS Group), Dr Lawrence (HKPU, EE Dept.).
Above Video: Catching up with Dr Lawrence when I got back to recap his counsel for this Blog series.
After the initial conversation where Dr Lawrence and I discussed the construction of the LiPo batteries, and how the Battery Management System (BMS) - the little PCB on the front of a LiPo battery - was unlikely to contain any complex shipping circuits (ICs), but not impossible. He was keen to point out if a company did do this it would only be for very necessary cases, as it is not trivial.
Although he was largely sceptical that they might be 'chipped', he also considered that it was possible to 'reverse characterise' batteries, such that if say a particular voltage drop was observed with a given battery from a given OEM supplier, then the firmware of the headphones could potentially look for this. I found this a rather ingenious notion to consider, even if he was keen to stress this was perhaps a little unlikely for such a device as my headphones - it still is a useful idea, say for example, with devices like Printer Ink Cartridges where this is the norm and a balance needs to be found between 'impenetrable security' for a $40 Ink Pack, and 'good enough' to deter 99.9% of general public from buying knock-offs, although legislation and public opinion in this matter is something that will change yet again as Right to Repair movements grow in years to come.
The best benchmark, Dr Lawrence rightly pointed out, was a brand new pair of headphones, as it's hard to do this sort of thing 'blind'... but for this stage of fault-finding, I had to make do with one headset for now!
I hope you enjoy the interview, and do follow their work via HKPU.
*IAESTE is a truly exceptional exchange programme that operates globally and is paid fairly... in case you are a student or are looking to hire any. It is not an overstatement to say it changed my life!
Above: Thoughts in Hong Kong, with my 'Nomadic Workshop'.
~~~
Footnote: Ever on the hustle for work/projects/cool-hunting, it occurred to me that the task of literally
packing 15kg of tools to take on a flight was notable, if not eccentric.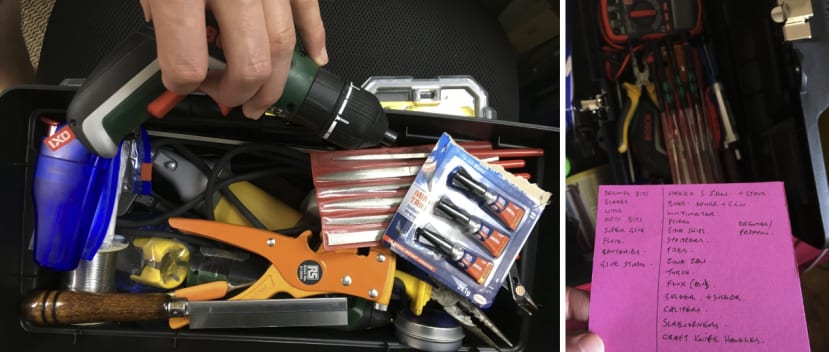 Yet, I wanted to continue my work out there, as although hackspaces do exist, it turned out that this was not straightforward booking space at short notice. Just as there are 'digital nomads' with laptops working around the world, I do this to an extent, but also usually need some gear to do the full extent of my work.
[If you have any suggestions of travel tools, or hackspace recommendations, please comment!]
The upshot of this is, and being ever the opportunist, I also have a sub-article in the works on 'Travelling Workshop of a Nomadic Engineer'.
Stay tuned...

Contents:


Prologue: 
Pre-Departure Notice - How an Attempt to Repair my Headphones Turned into a 3-Month Journey with a Grand Finale at the Recycling Centre.

Main Articles:
Intro   - The Fight to Repair with Jude Pullen, for RS DesignSpark.
Part 1 - LiPo Battery Basics, Headless Laptops & Safety First.
Part 2 - Returning to Hong Kong, My Design Conspiracy Theories and Meeting Dr Lawrence.
Part 3 - Falling in Love With The Problem of R2R, Looria, and Pre-Purchase Reparability Considerations.
Part 4 - Ken Pillonel's Ingenious iPhone Hack, and Repairability as a Disruptor. 
Part 5 - Battery Post-Mortems with Andy Sinclair, Vapes, Dogmatism and Hacking My Headphones.
Part 6 - Legislation Loopholes, Eco Black Mirror, Chunky Fashion, and R2R Business Models and The Case for Standardisation.
Part 7 - Design, Engineering & Electronics Recommendations for R2R.
Encore:
Part 8 - Visit to End of Life Processing Plant - SWEEEP Kuusakoski Ltd
Part 9 - Interviews with Industry Experts on Right to Repair.

Contact: If you have any other questions, or would like to collaborate, please get in touch (link).
Disclaimer: This series has been created for discussion purposes and is not a 'how to' guide. Jude Pullen is a chartered engineering professional, and has sought additional expert advice alongside his endeavours to explore this subject safely. For additional information please see DS Terms of Use.