Dave from

DesignSpark
How do you feel about this article? Help us to provide better content for you.

Dave from

DesignSpark
Thank you! Your feedback has been received.

Dave from

DesignSpark
There was a problem submitting your feedback, please try again later.

Dave from

DesignSpark
What do you think of this article?
3D Printing technology has helped to save lives during the Covid-19 pandemic, after a supply chain failure in a Northern Italian hospital left medical teams urgently needing a replacement valve for a reanimation device, with the supplier unable to source any more in a short time frame.
Coronavirus is putting a strain on the number of people requiring intensive care and oxygenation in order to live through the infection long enough for their antibodies to fight it. This means that the best way to save lives, other than prevention, is to have as many reanimation machines working as possible.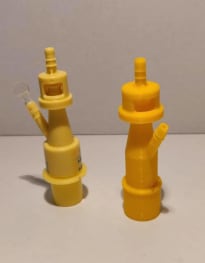 The Italian region of Brescia has been one of the hardest hit and last Friday they were left urgently needing valves for their intensive care equipment. If they had run out completely then there was a very real chance that lives could have been lost.
Massimo Temporelli, who we collaborated with on a DesignSpark video series in 2016, is the founder of The FabLab makerspace in Milan. He was contacted by Nunzia Vallini, the editor of Giornale di Brescia, to enquire whether it would be possible for the valves to be 3D printed.
Massimo spent the rest of the day on phone calls to FabLabs around the country and companies in Milan and Brescia as he searched for somebody who would be able to help. Thankfully Isinnova, a company from the region, responded to the call through its CEO and Founder Cristian Fracassi, who took a 3D printer directly to the hospital and redesigned and produced the missing piece within just a few hours.
After the first valves were 3D printed using a filament extrusion system, on location at the hospital, more valves were later 3D printed by another local firm, Lonati SpA, using a polymer laser powder bed fusion process.
As of today there are 10 patients who are being assisted in their breathing by a machine that is using one of these 3D printed valves, which would have been offline without this solution.
As this virus inevitably continues to spread worldwide, the ingenuity and design skills of people coupled with technology such as 3D printing can play a vital role in helping those around us who need it the most.
Stories like this are exactly why we love engineering. Well done to everybody involved.
CLICK HERE TO DOWNLOAD THE 3D CAD MODEL