Dave from

DesignSpark
How do you feel about this article? Help us to provide better content for you.

Dave from

DesignSpark
Thank you! Your feedback has been received.

Dave from

DesignSpark
There was a problem submitting your feedback, please try again later.

Dave from

DesignSpark
What do you think of this article?

Do you have a project that you are passionate about? Do you need some tools and components to make it happen? If so, apply for the  Student Project Fund(SPF) for the unique opportunity to win £300  worth of RS Products to take your project to another level. 
What is the Student Project Fund?
The Student Project Fund(SPF) is a product donation program that supports students who want to advance their projects from just concepts to something physical and have the experience of building and testing their innovation. The winning projects will get a £300 product donation from RS. These projects can be part of university studies (i.e. dissertation, generic module projects) or individual projects outside your studies. We are excited to help you advance these projects as you bring new ideas that will help solve problems in various industries regardless of how small or big the positive change might look.
The application is simple, tell us about the aim of your project whether it is still an idea or something you are working on already, how the fund will enable you to achieve your objectives and the proposed impact on the industry if any.
With the Fund, we are putting our commitment to supporting students from Engineering and Technology related courses to become work-ready by providing resources for enhancing prototyping and experimentation skills which are key to their education journey. We strongly believe these innovations could transform our world for a better future.
What's on Offer?
Products worth £300 (inc. VAT) of your choice from RS.
Join the inspirational Global Community of RS Grassroots.
Access to our software suite and learning material of various technologies by being a member of RS DesignSpark.
What do we expect from successful applicants?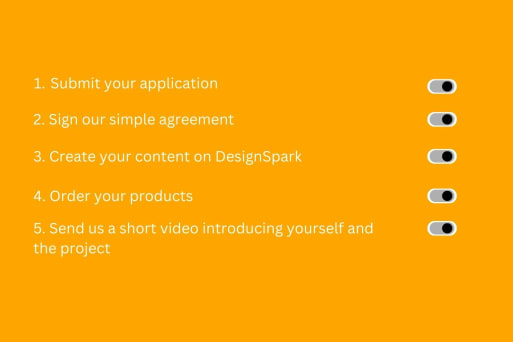 Application Criteria 
Aged 18 and over as of the date of entry. 
You must be a registered member of RS DesignSpark.

If you are not yet registered, register now. Become an Explorer and kickstart your learning journey with other 1.3 million members.

Enrolled in full-time/part-time or degree apprenticeship university Engineering or Technology related program.
Resident in the United Kingdom
N:B: Formula Students Teams have a separate Build Fund and cannot apply to the Student Project Fund for Formula Student support.
Judging Criteria
Entries shall be judged against the following criteria:
Impact of your work on the chosen area of research 
The vision of how the Fund will help you.

Access to facilities and equipment - the physical/experimental level of impact will enhance the project.

Consideration of the wider impact on people, and the planet and repurposing/ end of life of awarded products. 
Timeline 

Previous Winners 
FAQs
I am working on a project outside my university studies can I apply?
The Student Project Fund is there to support university students to become work-ready through gaining practical skills as they complete their projects. If you are working on a personal unassessed project alongside your studies you are eligible to apply provided you meet ALL the other requirements.
Does it matter if I am a team or an individual?
Project teams or individual innovators are equally eligible to apply! Please let us know which one you are in the application.
I am part of an IMechE Formula Student, can I apply for this fund?
If you are an IMechE Formula Student, there is a separate sponsorship fund for you to apply for which can be found here: BUILD FUND
You are not able to apply for both.
I am not studying at a university in the UK can I still apply?
Unfortunately not but other parts of the world have their own funds throughout the year.
I am compiling my list of tools and components - do you have any recommendations?
I have another question, who can I ask?