Dave from

DesignSpark
How do you feel about this article? Help us to provide better content for you.

Dave from

DesignSpark
Thank you! Your feedback has been received.

Dave from

DesignSpark
There was a problem submitting your feedback, please try again later.

Dave from

DesignSpark
What do you think of this article?
Advances in LED greenhouse lighting mean increased yields with reduced food costs, all while significantly reducing the carbon footprint of fresh produce.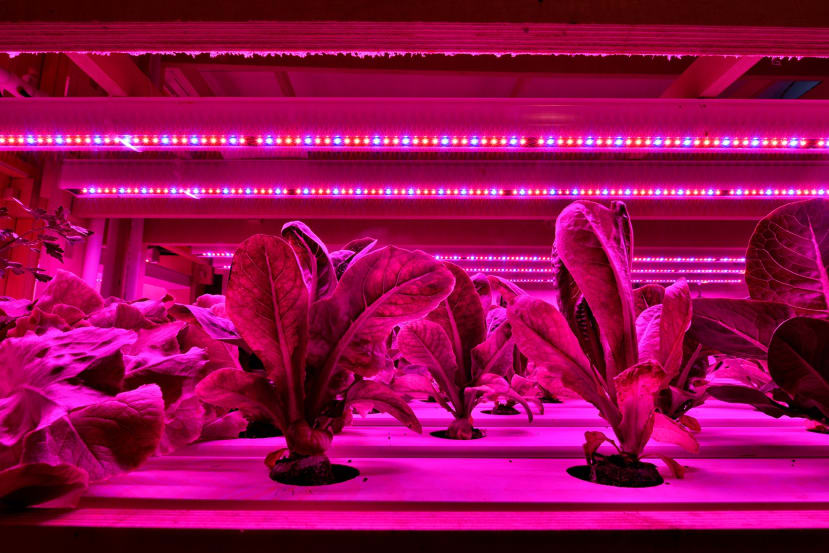 Market research suggests that the global LED grow light market will reach nearly $42bn by 2020 at a compound annual growth rate of 27% between 2015 and 2020. The major share of this growth market is likely to be seen in Europe, with North America taking the next largest slice of the action. Expectations are that Asia will exhibit the fastest growth rate and will overtake North America for second place eventually.
Importantly, this market is not just a replacement market for existing commercial growers; there are a number of factors stimulating the rapid expansion in greenhouse and indoor farming across the globe. Demand is increasing with ever-expanding populations, but so are the advantages of horticultural LED lighting. With installation costs falling and growers getting a faster return on investment, it's a great time to upgrade current equipment, as well as the opportune moment for new commercial growers to get operations underway.
Traditional HID and fluorescent lighting consumes far more energy than LEDs and also produces a lot more heat. Trading up from traditional lighting to energy-efficient LEDs in greenhouses has been widely proven to reduce electricity usage dramatically. Farmers that have replaced traditional lighting with LEDs are showing savings of 40 to 75% just on energy usage. Plus, reduced heat means less water evaporation which provides additional savings on water consumption and the cost of cooling. Importantly, for areas where water is at a premium, cultivation under LEDs can require as little as 20% of the amount required for growing outdoors.
Because LEDs don't generate as much heat, fixtures can be located much closer to the plants providing multiple benefits, such as allowing for 'vertical farming' with multilayer cultivation, in addition to allowing inter-lighting which is ideal for taller crops, such as tomatoes. Unlike outdoor farms which are subject to temperamental weather conditions and limited by the changing seasons, indoor growing environments can be controlled precisely. This allows commercial growers and greenhouse operators to extend their growing seasons and produce multiple crops all year round, supplying locally produced fresh fruit and vegetables whatever the time of year.

Making greenery even greener
Indoor farm and greenhouse cultivation offer a truly greener solution. A critical advantage is that food production can be increased at a local level closer to centres of population, so the burden of transporting food by road or air is greatly reduced, saving on C02 emissions. From a consumer perspective, buying food grown locally avoids many of the problems associated with transported food, like chemical preservative sprays to delay ripening or early cropping which can affect the texture and flavour of the produce.
And it isn't just the supply chain that is greener; plants cultivated under LEDs have higher crop yields as well as being healthier and of better quality. Research has shown that plant photosynthesis depends on absorbing light energy in specific wavelengths with chlorophyll absorption peaking during exposure to the red and blue segments of the light spectrum. Some lighting types – such as metal halide or high-pressure sodium – waste energy by producing radiation in bands that have no benefit to the plants, and often don't provide the required photons during the appropriate chlorophyll absorption peaks. Fluorescent lighting is better but still only provides a small percentage of the required spectrum.
In contrast, LED lighting fixtures, with the ability to select and tune the spectral output means growers using greenhouses can supplement the natural daylight as necessary and indoor farmers can generate all of the light spectrum required to optimise plant growth. Plants need different light levels for various stages of growth and studies have pinpointed the spectral requirements to optimise results at each stage: seed germination; root growth; stem growth; flowering; and ripening – see Figure 1 below.
Makers of LED arrays and fixtures have responded by building fixtures with specific 'light recipes' designed with the appropriate combinations for maximum development and growth throughout the plant's lifetime.
Figure 1

Reliability and quality
Despite all the advantages of using LED lighting, if the components are unsuitable and not up to the high humidity, temperature fluctuations and generally tough conditions of greenhouse or indoor growing environments, the design will fail. This has meant some growers have encountered bad experiences with using LEDs and are reluctant to trust them again. In these instances, it is more often inappropriate device matching and environmentally unsuitable components that are the issue, not the LEDs themselves.
For this reason, it is very important that designers consider all these factors when building and designing systems for indoor farms and greenhouses.
There are many LEDs manufacturers to choose from and the bigger-name vendors such as Lumileds, Cree and OSRAM Opto Semiconductor have all delivered long life devices with proven high-efficiency and appropriate brightness. Due to their reliability, many industry-leading grow light suppliers build their systems based on devices and components from these high-profile manufacturers.
OSRAM monitors latest research in the horticultural grow light market and is actively involved with standards development and LED lighting metrics for the horticultural market. The company's horticultural Oslon SSL range features red and far red devices that are centred at 660nm and 730nm, and deep blue LEDs centred at 450nm. Other colours are available, including white, green, orange and yellow.
Lumileds has been instrumental in developing and testing a range of grow light recipes and is a key player in the horticultural lighting arena. Its LUXEON ranges are specially designed for the grow light market, including LUXEON C, a range of high power, low domed devices that feature one focal length for all colours to deliver flawless colour mixing. LUXEON Z offers high power, un-domed LEDS allowing for complete design flexibility.

Accelerating entry
Within the LED lighting market, just like many other electronics markets, there's a trend towards sourcing more highly integrated sub-systems, assemblies and components, so these are becoming more readily available.
Full light engine kits, floodlights, linear modules and clusters are available for designers with less experience, from suppliers such as Intelligent LED Solutions (ILS) who boast a strong product line-up for the horticultural market. ILS builds its products exclusively with OSRAM LEDs and with thermal management in mind, arrays are built on aluminium substrates.
ILS also provides a range of Petunia lighting kits at the higher level of integration which are designed for greenhouses, providing colour mixes for seedlings, vegetative growth and general purpose use.

Lighting system design
In addition to selecting the specific LEDs, drivers and power supplies for your installation, a multitude of other considerations come into play (see Figure 2). Monitoring the environment is critical and requires humidity, ambient light and temperature sensors. Systems for cooling and watering need fans, shutters and pumps in addition to their required controllers and motor drivers. A central MCU unit will have overall control of the lighting system and receive data from the control systems and sensors. Re-programmability and automatic operation will be crucial in commercial installations. Status monitoring and changes to programming will need to be handled using external – wired or wireless – communication functionality.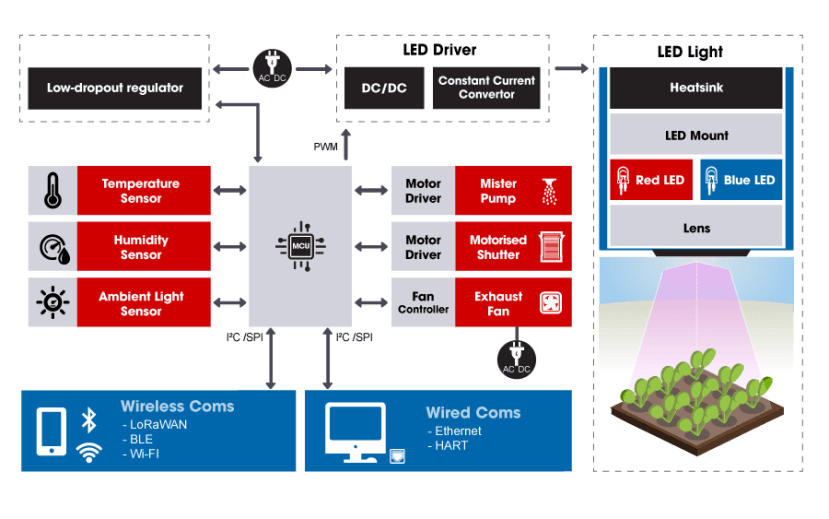 Figure 2

These key sub-systems and components all need to be connected together requiring cables and connectors, bus drivers and housings. In a high-humidity greenhouse environment, components that are IP-rated are preferable for ensuring long life reliability. In addition, converting power from AC to DC and converting back again needs to be taken into consideration.
With all these differing component requirements finding the right distributor may be a somewhat daunting task. At RS, we display the 'Essential Extras' – components that will work well together within an application. For example, when viewing OSRAM Oslon SSL series single colour LEDs on the RS website, applicable extras are displayed, such as compatible LEDiL lenses.
In addition, RS has launched an LED lighting applications page on its website that provides a useful hub for new LED-related products, including LEDs, array modules, connectors, lighting shields, LED holders, heatsinks, drivers and power supplies. It also provides a point of reference for associated articles and posts from the RS DesignSpark community, such as Building a Connected Greenhouse, LED Wavelength vs LED Colour, and How to Choose an LED Driver.

Conclusion
There are massive opportunities for OEMs that want to supply products for the rapidly growing greenhouse lighting market. RS has made it easy to source all your system components and specialist devices in one place, with a diverse range of products, components and kits to support designers at all levels with their specific requirements.

Further information
Find out more about LEDs and their associated components on our LED Applications page