Dave from

DesignSpark
How do you feel about this article? Help us to provide better content for you.

Dave from

DesignSpark
Thank you! Your feedback has been received.

Dave from

DesignSpark
There was a problem submitting your feedback, please try again later.

Dave from

DesignSpark
What do you think of this article?
RS Components partnered with Electronics Weekly on its inaugural EW BrightSparks programme to celebrate the achievements of the UK's most talented young electronics design engineers and help to inspire and encourage new entrants to the industry.
Calum is a third-year apprentice engineering plant technician working for Nestlé UK in its York food manufacturing confectionery factory.
Calum was nominated by his manager for his work on an electronics/instrumentation control based project during his second year of study, to condition monitor and improve the intelligence of the Polo Mint Department's HVAC/R air handling system. This required knowledge and comprehension of thermodynamics, fluid mechanics and heat transfer – particularly important considering the large production plant environment. The project incorporated an intelligent, integrated, electronics-based solution to detect changes in environmental conditions.
The problem
The air handling units (AHU) were leaking due to a build-up of condensation when the pressure differential increased over a predetermined value (which was at the time unknown) during the summer months. Upon further investigation, Calum found that this condensation build up was due to the filters becoming blocked as a result of continuous use within a dusty environment (sugar dust). As a result, there was a pressure difference where the plenum became negative against a positive exterior causing the melted water to overflow the drain pan onto the roof tiles and below to the production floor.
Working out the solution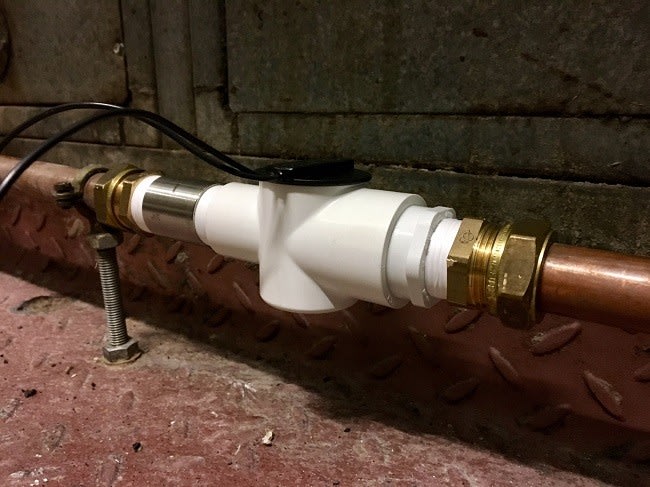 Inline float switch
Calum designed a system to detect the presence of water in the drain line, making use of an in-line float switch, and also included a method of logging the data of the pressure differential across the air filters. For this Calum used a differential pressure transmitter to determine the condition of the filters as the dust began to accumulate. He used an Arduino Uno, which was later replaced by an industry standard C++ compatible PLC – Siemens IOT2020 (124-4037) – that could be networked, to prototype the system, with the addition of an Ethernet shield (and SD card slot for data logging) in order to network the data to the SCADA system. Calum installed a panel with 110Vac supply to the 24V power supply and then, finally, a 5V converter applicable to the device each was powering. The pressure sensor was DIN-rail-mounted, along with the power supplies and PLC. He installed an analogue dial gauge locally to the AHU and then t'd off airlines back to the panel.
Over the trial period, Calum collected data and developed a true-to-life graphical model from his analysis results of the change in pressure. This allowed him to incorporate an automated differential pressure analysis algorithm into his C++ code, and thus a diagnostic tool to predict future leak issues in advance of their occurrence. Subsequently, this sent an automated email to the engineering team and production managers so that filters were changed proactively through condition-based maintenance. As a result, the AHU ran more efficiently due to the increased air flow and there was a short payback period, as the cost of components was minimal compared to the efficiency savings.
By tackling this issue, Calum helped to create a smarter and more reliable AHU with improved air flow, whilst also improving Nestlé's core good manufacturing practices (GMP).
An aspiring apprentice
We spoke to Calum to find out more about his transition from college to Nestlé UK as an apprentice engineering plant technician.
"I first heard about Nestlé's apprenticeship program my college when studying my A Levels. The college had really good links with Nestlé which supported A Level students writing reports on aspects of Nestlé operations, or case studies with engineers working at the factory. On one occasion, when an engineer from Nestlé came to talk to A Level students, he mentioned the apprenticeship scheme which sounded absolutely fantastic. And that's essentially how I came to want to get an apprenticeship. From then on, I knew this was an amazing route into industry and exactly where I wanted to go."
Calum has had an interest in engineering from a young age, inspired by his grandfather who was an electronics communications engineer in the RAF. As a child he worked with him on projects, building things from scratch and hacking devices to improve them. Calum cites this as his inspiration, igniting his passion for engineering early on.
Later, inspiration came from engineers teaching at his college. Calum notes that these engineers had a huge amount of industry experience and wanted to pass on that knowledge; but at the same time, they were generally going into semi-retirement. This highlights the alarming gap between highly-trained and seasoned engineers and the young engineers coming through college. It also highlights that had it not been for the initial interest that came from his family background, Calum may not have been inspired to become an engineer.
During his time at college, Calum was introduced to a wide range of electronic and mechanical engineering techniques, which is how he discovered his passion for mechatronics. He was intrigued with this combination of mechanical and electronic engineering and decided to go into manufacturing and maintenance engineering. Calum says: "For me, it was less about the specifics, I wanted to cover a wide range, everything from control and automation to fixing machines mechanically and electrically, and also working on smaller scale projects to make machines run better – essentially more efficiently and effectively".
Incremental gains
Calum sees great value in running smaller scale, rapid improvement projects, like his award-winning project entry, alongside the much larger-scale improvements Nestlé generally focuses on. He is making changes with smaller scale projects that can have a big impact straight away and provide results in the short-term.
We asked Calum what he felt his biggest challenge had been and how he overcame it. "My biggest challenge was essentially getting this apprenticeship in the first place. It was a real challenge. I was up against a lot of very good competition. The apprenticeship itself is very sought-after. Young people applied from a vast geographical area who all wanted to work for such a well-known brand and get a solid career in engineering. That was definitely the hardest challenge that I encountered, I was so lucky to actually get the apprenticeship and I'm so pleased that I am where I am."
Like our other EW BrightSparks award winners, Calum feels it is hugely important to inspire the next generation of engineers, because as he has personally experienced: "There is a large age gap between skills and in order for UK businesses to keep improving or the future, we need to have a fast injection of skills in young people. 
Calum's entry for me highlights the positive impact that young engineers can make within some of the largest global organisations right from the start of their careers. Calum's diligent investigative work on a leaky HVAC air handling system and subsequent implementation of a solution ensured that a crucial production line was not disrupted."

Lindsley Ruth, CEO, Electrocomponents
In order to do that, we need help from the UK Government to support people from a young age, starting in schools, getting out there and eliminating this stigma surrounding apprenticeships and also developing individuals through curriculum-based study that is actually integrated so that it becomes second-nature from the start."
Find out more...
That's not all from Calum; we caught up with him to find out about life as an apprentice engineer at Nestlé and learn more about his winning project.