Dave from

DesignSpark
How do you feel about this article? Help us to provide better content for you.

Dave from

DesignSpark
Thank you! Your feedback has been received.

Dave from

DesignSpark
There was a problem submitting your feedback, please try again later.

Dave from

DesignSpark
What do you think of this article?
Calum Finn is a third-year engineering apprentice plant technician working for Nestlé UK in its York confectionery factory. You can read his award-winning profile here.
We caught up with Calum to find out more about his award-winning mechatronics project in the Polo Mint Department at Nestlé UK.
Tell us about your role at Nestlé…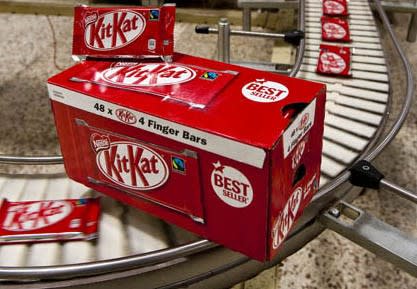 As part of my role, I'm involved in shadowing various mentors who specialise in different areas of maintenance engineering, including PLC programming, industrial electrical circuit fault finding, light and heavy mechanical engineering, and installation work as part of small to mid-sized projects. I also learn these skills by attending breakdowns on the shop floor where I can gain hands-on experience in real life situations. I currently work in our KitKat 4 department, following two years in the central maintenance workshops and the Polo Mint Department. This change of scenery is beneficial for my development as I am exposed to new and different machinery which poses diverse engineering challenges, as well as gaining a better understanding of how raw chocolate ingredients compare to raw sugar/sugar-free ingredients when considering the way they are processed to make the final end product.


I understand that you combine the electrical and mechanical disciplines of engineering. Can you explain why Nestlé takes this approach?
Upon completion of my apprenticeship, I will possess qualifications in electrical/electronic and mechanical engineering, making me a dual-skilled maintenance engineer. This approach is best suited for the maintenance activities I will perform as an engineer on the plant as it allows me to have a well-rounded understanding of the way equipment and machinery works overall. The ability to be dual skilled is also beneficial for the business as I will have the ability to complete a job that includes both electrical and mechanical aspects in its entirety, for example, mechanical assembly of a clutch and motor arrangement following on to then electrically re-wire the motor's windings appropriately to a soft-start inverter drive.
Main control panel
Tell us about Nestlé UK's apprenticeship schemes…
Nestlé's apprenticeship scheme has been increasing year on year – this year we will recruit 66 brand new apprentices into the business.
Our apprentice engineering positions are the most popular apprentice programmes we run. We believe this is because we give our apprentices an excellent grounding in engineering and they are well supported by our existing engineering population who are happy to share their knowledge.
Nestlé is very proud of its range of apprentice programmes which give people a fantastic opportunity to earn as you learn. Over the last few years, we have broadened out our apprenticeship offering to include Finance, IT and Supply Chain apprenticeships – and extended the levels to include Chartered Manager Degree Apprenticeships.
Our apprentices are fantastically motivated individuals who bring new ideas, new enthusiasm and new skills to our business.


Tell us more about your award-winning project… What was the impact of the air handling unit leaking?
My project was initiated after the Polo Mint Department was impacted by problems with the Air Handling Unit (AHU) drain pans. This clearly was not the sort of difficulty a food production environment should experience and reflected on Polo because good manufacturing practices (GMP) compliance and quality measures were being compromised through the potential risk of contamination. So they were in need of an autonomous smart solution which made automatic checks of AHU condition in real-time.
This project came off the back of a BDA (Breakdown Analysis) and played a key role in eliminating the risk of such a problem occurring again by introducing a proactive maintenance solution to notify engineers and management staff via email that there was a blockage or a system fault. Subsequently, this could be dealt with by replacing the AHU's filters in advance of any negative consequences that could occur as a result of leakage.
The alternative to the implementation of my solution would be to replace the current out-dated AHU with a smarter modern alternative that provided the equivalent specifications. Unfortunately, the quoted cost to replace all seven AHUs, including an entire ducting re-design, installation, and ultimately production downtime, was well in excess of the maintenance budget; furthermore, the original AHU in place was obsolete, thus a back-to-basics solution was not appropriate.
The filters could also have been changed periodically as part of a scheduled maintenance planned work order, however this proved difficult as the filters lifetime depended upon various factors that never remained constant, including the rise and fall of product demand from consumers, which would result in a change of the quarterly production plan and unplanned AHU use and subsequent premature blockage of filters. There was not a simple standardised way of setting a timeframe for replacing the filters as they may have already gone past their recommended use, posing a risk to AHU leakage or they may still be performing as they should, in which case expenditure is wasted on replacing good filters that are still functioning correctly.


What was the overall cost of the solution that you employed?
£276.32


You achieved a short payback period with a minimal component cost for the efficiency savings gained. How did you calculate this?
The cost of buying filters and having third-party service engineers fit them on a regular basis was becoming increasingly expensive, especially when new filters were becoming blocked quite soon after they had been replaced. My system allowed the filters to be assessed accurately based on the air flow and pressure differential efficiency figures which were logged using the Arduino data logger and collected directly from the AHU. As a result, it precisely determined whether the filter required replacement or not based on whether the figures were within the manufacturers' specified tolerances. This eliminated the chance of human error when assessing the filters by eye.
With regard to the short payback period, my overall project cost was really minimal, especially when comparing it to similar projects completed on HVAC equipment within the factory, which produced the same results but at a much greater cost of both component parts and third-party intervention. My project was all performed in-house, making use of the York factory's fantastic central workshop facility to eliminate external labour cost, was designed and composed of reasonably priced yet powerful industrial parts, removing the unknown 'black box' effect, and is fully serviced by internal staff with no need for external support.


What components did you purchase from RS for your project and why?

Arduino and casing
Due to the fast-paced nature of the Polo production environment, my project really benefited from the next-day delivery service RS offers, allowing me to reach deadlines on time and sometimes ahead of plan. The project was really driven forward by the excellent service provided by RS, even when something went wrong – one delivery accidentally arrived at our R&D centre rather than the technical stores. I called RS and a service representative expertly tracked my order, told me exactly where it had been delivered and in whose possession it was in.


What a great example of how combining mechanical and electronics-based skills and solutions enabled you to deliver a more efficient and cost-effective solution!
I was incredibly grateful to be entrusted with such a delicate and expensive real-life production plant's air handling system with the goal of designing and implementing my own solution to a problem. It supercharged my development in understanding both electrical and mechanical engineering systems through design, installation and implementation, and boosted my confidence to develop similar solutions that will make a big difference in other areas of the factory.
The trial on the worst performing AHU proved to be so successful in cost saving and increased efficiencies that the Polo Maintenance and Management team intend to roll out the same design across the remaining seven AHUs located in the Polo Mint Department.
I do believe that this project has benefitted Polo, myself, and Nestlé as a business, as it is a proof of the concept that great improvements can be made to obsolete assets with far-reaching opportunities for the future of the industry and the IIoT. It shows that internal employees keen on making the difference and driven to make use of open source technology and ideas to create a solution to a reoccurring problem can generate the same outcome as external companies offering the same service and charging well in excess for such provision.
Find out more about apprenticeships at Nestlé...
Huge thanks to Calum Finn and his manager, Steve Ollis, as well as Nestlé's Communications & Corporate Affairs and HR teams, for sharing their story with DesignSpark.