Dave from

DesignSpark
How do you feel about this article? Help us to provide better content for you.

Dave from

DesignSpark
Thank you! Your feedback has been received.

Dave from

DesignSpark
There was a problem submitting your feedback, please try again later.

Dave from

DesignSpark
What do you think of this article?
Wide terminal resistors improve circuit reliability.
Wide terminal resistors have been around for many years now, and the best-known benefit in using their use is the fact that the designer can dissipate more power in a smaller device, as the heat is more efficiently dissipated via the terminals on the long side rather than on the short side.
The graphic below shows the size difference between the two styles of resistor both rated at 0.75W @ 125°C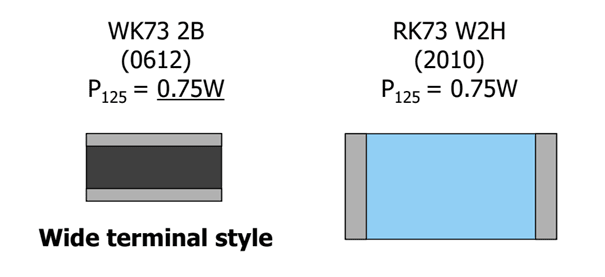 This means the designer can use these and either save PCB space or increase the power derating in the circuit without having to use larger parts.
However, there is a lesser-known but still very important benefit in using wide terminal devices: reduced termination cracking after repeated thermal cycling.
FR4 PCBs have a thermal expansion coefficient of around 17ppm /°C whereas the ceramic substrate of the resistor has one of around 5ppm /°C.
In many applications, this difference does not matter, but if the design is expected to survive repeated, rapid, temperature cycling then the possibility of cracking of the terminals can occur.
The image below shows a terminal crack in a standard 1206 size resistor subjected to more than 2500 rapid temperature cycles on a standard FR4 PCB.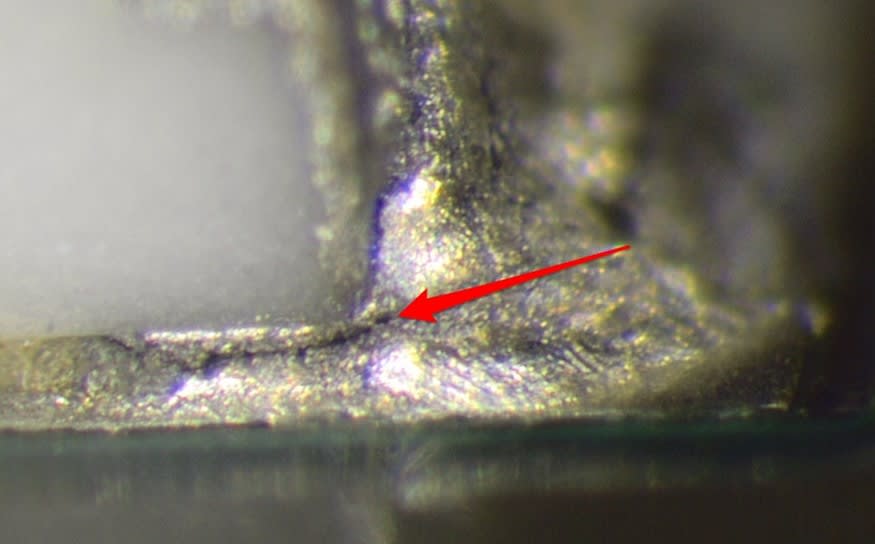 The greater the distance between the terminals, the higher this stress on the solder fillet will be. So this means larger case size resistors are more affected than smaller devices.
The most obvious way of reducing the stress is to reduce the size of the resistor being used, but this is not always possible if the device has to dissipate some power.
Moving to a wide terminal part has two benefits in this regard. Firstly the terminals are much longer which means that if any crack does occur the integrity of the solder joint will last longer. Secondly, as we can see from the graphic above the terminals are closer. In this example 1mm vs 3.7mm.
The slight drawback of using the wide terminal parts is high resistance. The top resistance value of the WK73 series is 1M whereas the RK73 is available up to 10M.
Ranges available from RS include the WK73R series and WK73S series.