Dave from

DesignSpark
How do you feel about this article? Help us to provide better content for you.

Dave from

DesignSpark
Thank you! Your feedback has been received.

Dave from

DesignSpark
There was a problem submitting your feedback, please try again later.

Dave from

DesignSpark
What do you think of this article?
Understanding LED tape and Drivers
LED Binning refers to the sorting of LED by measuring certain attributes, such as voltage, colour temperature and brightness. These characteristics ensure that LEDs used in the production of LED flexible tape is consistent with the product specification.
LEDs are sorted using the ANSI (American National Standards Institute), this defines the chromatic deviations using the McAdam ellipse. This measurement determines the visible differences to each LED in relation to the naked eye.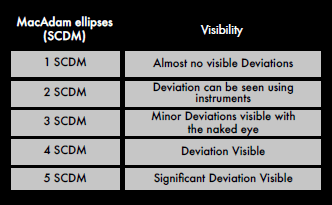 At PowerLed we are transparent with our customers. We offer LED products that meet specific pricing criteria, if the primary focus is of a low-cost economic solution. Additionally, higher specification options are also offered. Bespoke solutions can also be offered where the LED must meet a defined set of parameters to suit the customer's requirements. This may include LED tone, a predefine Lumen output, and or a number of LEDs to aid diffusion of the light.
Your LED driver Power Requirements will be dependent upon the total length of LED Tape that you need to power. Our colour coding system will ensure you select the correct voltage power supply but you will also need to consider your application to select the correct power (W). The guide (right) will help you.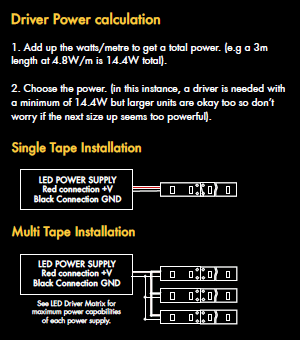 IP ratings refer to the level of protection a product has against solid objects, dust and contact with water. This is relevant to the enclosure, not any connections made from it.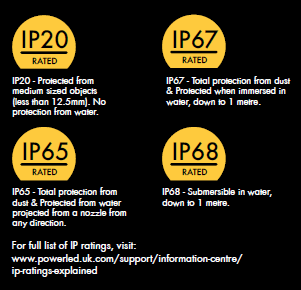 It is identified by a code of the letters IP followed by two digits. The first digit indicates the level of protection that the enclosure provides against access to hazardous parts and ingress of solid foreign objects. The second digit indicates the level of protection that the enclosure provides against harmful ingress of water.
With all this information in mind PowerLed are able provide LED tape solutions to meet your needs. Including: 4 IP ratings IP20, IP65, IP67 and IP68. A range of wattages from 4.32 ~ 20W.and 4 colour temps (2500, 3000, 4000 and 6000K).
View our full range here: