Dave from

DesignSpark
How do you feel about this article? Help us to provide better content for you.

Dave from

DesignSpark
Thank you! Your feedback has been received.

Dave from

DesignSpark
There was a problem submitting your feedback, please try again later.

Dave from

DesignSpark
What do you think of this article?
A speaking rubbish bin and a blood-oxygen measuring device were among the amazing projects I, Lucy Rogers, saw recently at the UESTC Makerspace in the city of Chengdu in the Sichuan province of Southwest China. At the UESTC Makerspace, the makers were all students from UESTC - one of China's top Universities. UESTC has the aim to be the Chinese MIT.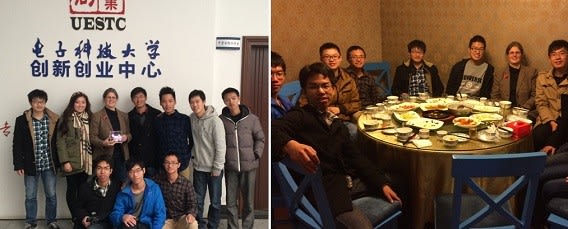 I had an amazing time, and was made to feel extremely welcome. Although my Mandarin Chinese is negligible, some of the students spoke English, and we all shared a common interest in making. Demonstrations need little language, and we found common problems - such as their quadcopter had flown into a wall and broken a strut!
I demonstrated Node-RED, a visual tool for programming the Raspberry Pi and how I used it to control dinosaurs (See BlackgangPi blog). The photos shows their "Pi B+" connected to my prototype motor control board (designed and made by www.ael.co.uk) and a book I saw lying around.


They then took me around some of the other labs in the building. It appears all students work on projects with the aim of getting them into production.
This is a blood-oxygen measuring device. It can be put on a patient's forehead during and after surgery to give instant monitoring: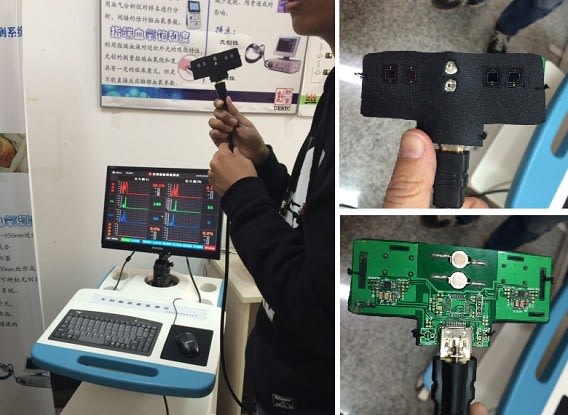 The talking bin also lights up and tells you how full it is:


Other projects included a "carbon free" vehicle that relied on a weight falling to propel it along, a metal detector and a smart white board:


There was also a light for a bike wheel that showed a still image, no matter what speed you were travelling. The image could be changed using an app on your phone.


The students presented me with a 3D printed model of the University Library (See video). 
I have also made it onto their website - although I have no idea what the text says.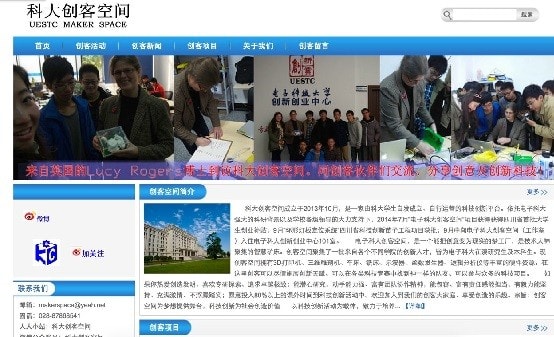 I had been rather nervous about going to a Chinese Makerspace - China is where the majority of our electronic components come from. However, I found the community there very welcoming, friendly and open to suggestions, mistakes and co-operation. The Maker community is a truly international one - one that I feel honoured to belong to.
I was also invited to the Southwest Jiaotong University (SWJTU) Makerspace in the same city, you can read about that visit here. A special thanks to Liz Upton from Raspberry Pi Foundation and Catherine Sun from RS-Components) for making this happen.