Three Aviation Signals to Tune into for Your Next SDR Project
Follow article
You've scoured all the blogs and forums and finally decided on a great new software defined radio (SDR) rig... now what?!? Choosing your first SDR project can seem daunting, not to mention some of the most interesting signals may have seem relatively obscure or unknown if you're new to software defined radios.
We've compiled a list of the most popular aviation related waveforms and signals to explore with your SDR. Before building a new SDR project, be sure to confirm your radio has the appropriate bandwidth and frequency range to detect the signals listed below. Without further ado...
3 interesting aviation signals to tune into for your next SDR project!
1. Air Traffic Control Chatter
Listening to ATC chatter on your SDR can be quite exciting
Air Traffic Control or ATC signals can be an interesting place to start with your new SDR. Since ATC signals us AM, these signals can be picked up from 10s or even over a hundred miles away. AM is used for ATC signals in order to avoid interference from multiple transmitters using the same band. With an AM signal, the stronger of the two will be heard, as opposed to FM where two signals usually cause static due to the interference.
There is a tremendous amount of variety of what can be heard when tuning your software defined radio into ATC signals. You may be able to listen in on civil or private aircraft, commercial airliners, helicopters, and more depending on your proximity to a large airport. You may even be able to pick up voice transmissions from air traffic control towers if you are close enough to an airport. Most ATC signals exist between 108 and 137 MHz, making these a great target for even the most affordable SDRs.
Various types of voice chatter to tune into with your SDR
ATIS - Automatic Terminal Information Service plays a continuous message on a loop and provides general information about the airport, runway conditions and weather.
Clearance requests and approvals can be heard when a pilot requests the appropriate clearance to execute their planned flight.
Ground control chatter can be heard when controllers instruct pilots which taxiways to use in order to taxi to their gate or runway depending if they are arriving or departing.
TRACON - Terminal Approach Radar Control chatter can be heard in areas of heavy air traffic and congestion. The TRACON facilities help deconflict the airspace when multiple aircraft are approaching and departing the airspace around a major airports.
ARTCC - Air Route Traffic Control Center chatter is heard when aircraft are operating outside of the local airport or TRACON airspace. Within the United States, there are 21 ARTCCs across the country that cover the entire airspace. On cross-country flights in the US, aircraft will be handed off from one ARTCC to another as they complete their flight.
To learn even more about the various commercial and civil air traffic signals that you can tune into on your SDR, check out this great resource over at Radio Scanner Guide.
2. ADS-B Aircraft Transponders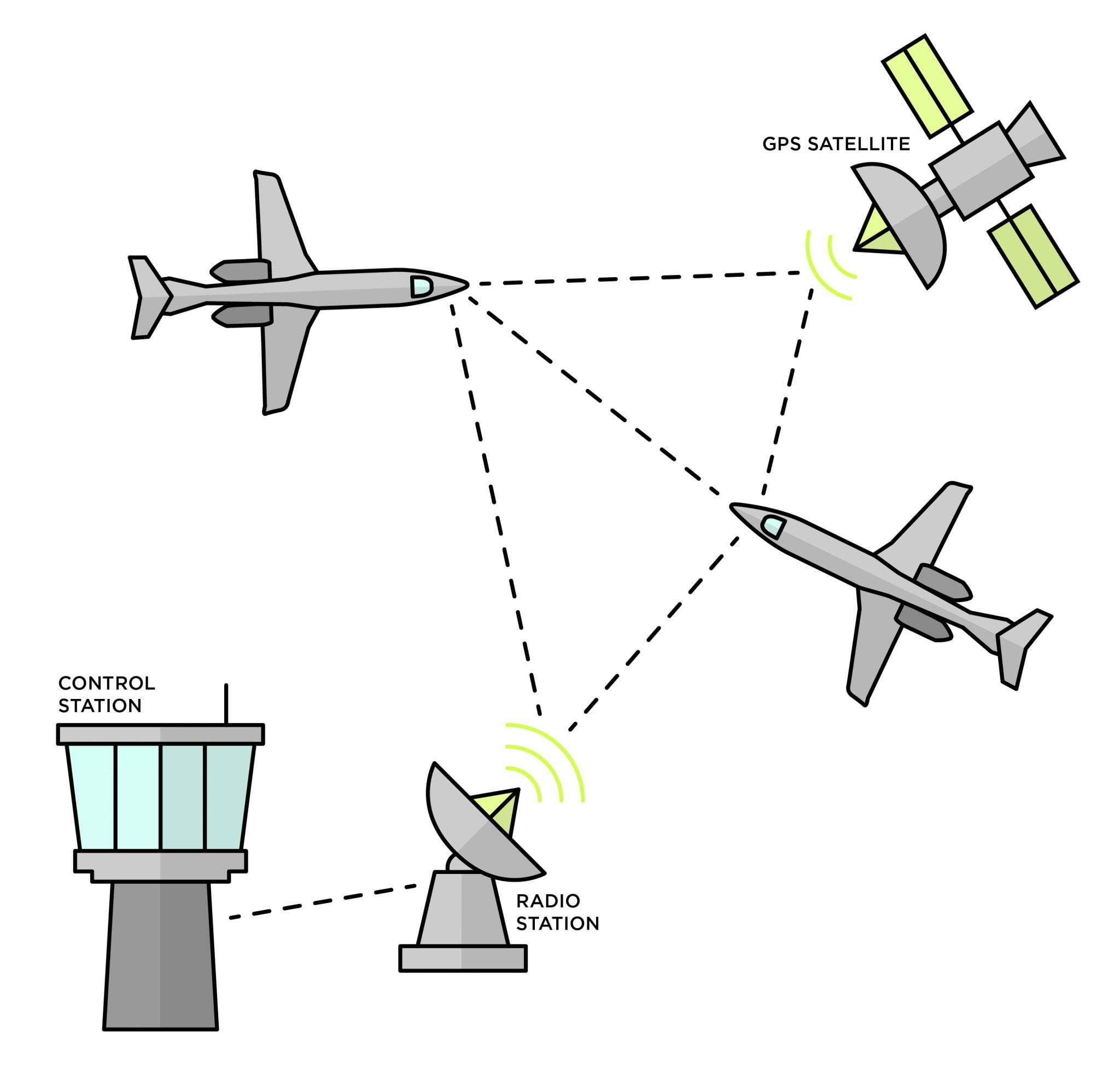 Receiving ADS-B signals with your software defined radio can tell you what planes in the airspace around you
ADS-B is another aviation related signal that makes a great SDR project. ADS-B stands for Automatic Dependent Surveillance-Broadcast and is used to periodically broadcast an aircrafts position. An aircraft equipped with an ADS-B transponder uses navigation satellites to determine its position (including altitude) and vector information which provide accurate data for broadcast. ADS-B can be received by ground stations and even satellites allowing global surveillance of aircraft.
ADS-B consists of two distinct services called ADS-B Out and ADS-B In. These two services are used to transmit and receive ADS-B signals respectively. ADS-B operates as a VHF signal at either 1090 MHz or 978 MHz. In the US, the FAA is encouraging civil aircraft operating at less than 18,000 feet to use the 978 MHz band to help elevate spectrum congestion on the 1090 MHz band. ADS-B signals can be sniffed out by many different software defined radio rigs and RF scanners and because of the waveform's popularity, there are many existing project files and forum pages for various SDRs to get you up and running quickly.
3. ACARS
ACARS is like texting for pilots and the messages can be captured and decoded with a wide variety of SDRs
ACARS or Aircraft Communications Addressing and Reporting System is used to transmit short digital messages between ground stations and aircraft using both air-to-ground communications links and satellite links. The ACARS protocol has been around since the late 1970s and is still used today. The reason ACARS was developed was to do reduce the burden on aircrews, who until ACARS, relied only on voice relayed communication.
ACARS messages come in three basic categories:
ATC (air traffic control) messages used for requesting and providing clearances
Aeronautical operations control
Airline administrative control
In addition to having an appropriate software defined radio capable of receiving the HF and VHF signals transmitted at 1440 Hz and 131.550 MHz respectively, you'll also need software to decode the message into a readable format.
Similar to the other two aviation signals above, ACARS popularity makes it a great SDR project. It is worth noting that many SDRs do not operate at HF, so dialing into VHF ACARS signals much more common. There are several good resources and source code for receiving and decoding VHF ACARS signals with your SDR.
Brand new to Software Defined Radios and SDR projects?
If all of this sounds interesting but you're not familiar with SDRs, we've got a great post to get you started. If you are ready to pick out a great SDR for any budget, we've also got you covered with our recent list of great software defined radios for any budget.