Dave from

DesignSpark
How do you feel about this article? Help us to provide better content for you.

Dave from

DesignSpark
Thank you! Your feedback has been received.

Dave from

DesignSpark
There was a problem submitting your feedback, please try again later.

Dave from

DesignSpark
What do you think of this article?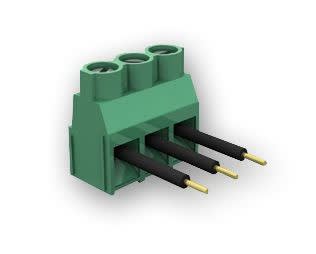 It is easy to be blinded by some of the latest strides being taken in connector design.  Connectors using conventional copper contacts are now regularly handling data speeds that only 10 years ago were considered the realms of high-performance fibre-optics.  In fact, connector design is now advancing so rapidly that processor design is struggling to keep up.  But not every connector needs this kind of rocket-ship performance.
Terminal blocks may seem to be very ordinary when compared to some of the latest developments in the world of interconnection, but they are a vital part of so many designs, and they may not be as "normal" as they might at first appear.
FCI produces a fantastic range of terminal blocks using some of the latest advances in contact design.  Available in both pluggable and fixed configurations, these are a far-cry from the old "chocolate block" type terminals.  The use of rising cage-clamp contact design allows quick installation and disconnect, and the number of options available make this a versatile range of products.
Terminal blocks have a place in almost every industry, but this range is perfect for use in Medical Instrumentation, Power, Security, HVAC and Lighting applications.  To learn more about this great range, click on the link below.