Dave from

DesignSpark
How do you feel about this article? Help us to provide better content for you.

Dave from

DesignSpark
Thank you! Your feedback has been received.

Dave from

DesignSpark
There was a problem submitting your feedback, please try again later.

Dave from

DesignSpark
What do you think of this article?
People pose the biggest threat to ESD sensitive components. However, when properly trained, operators can become the key weapon in the fight against ESD. Every person coming into contact with ESD sensitive items should be able to prevent ESD related problems before they occur or provide immediate action when they occur. Today's blog post will explain in detail the role operators play in ESD Protection and how your company can support them in the fight against ESD.
Introduction
As an employee, the invisible threat of ESD should be of great concern to you. ESD damage can significantly reduce your company's profitability. This may affect your company's ability to compete in the marketplace, your profit sharing and even your employment. Everyone likes to take pride in their work, but without proper ESD controls, your best efforts may be destroyed by ElectroStatic discharges that you can neither feel nor see.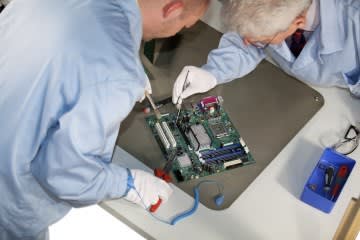 People are often a major factor in the generation of static charges
Perhaps the most important factor in a successful static control programme is developing an awareness of the "unseen" problem. People are often a major factor in the generation of static charges. Studies have shown that personnel in a manufacturing environment frequently develop 5000 volts or more just by walking across the floor. Again, this is "tribocharging" produced by the separation of their shoes and the flooring as they walk. A technician seated at a non-ESD workbench could easily have a 400-500 volt charge on his or her body caused not only by friction or tribocharging but additionally by the constant change in body capacitance that occurs from natural movements. The simple act of lifting both feet off the floor can raise the measured voltage on a person as much as 500-1000 volts.
Educating your personnel is therefore an essential basic ingredient in any effective static control programme. A high level of static awareness must be created and maintained in and around the protected area. Once personnel understand the potential problem, it might help to reinforce this understanding by hanging up a few static control posters in strategic locations. The technician doesn't need an unprotected person wandering over and touching things on the service bench.
The invisible enemy
>The biggest issue with ElectroStatic discharges is that you can neither see nor feel the threat. Daily life has other examples of hidden enemies where careful procedures must be followed to regularly obtain positive results. One example is sterilisation which combats germs and contamination in hospitals.
Damage caused by invisible and undetectable events can be understood by comparing ESD damage to medical contamination of the human body by viruses or bacteria. Although invisible, they can cause severe damage. In hospitals, the defence against this invisible threat is extensive contamination control procedures including sterilisation.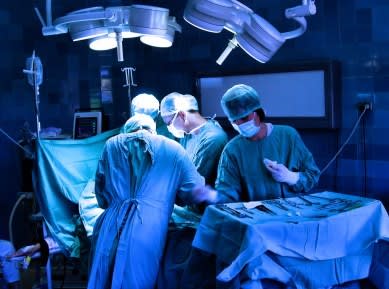 Would you consider having surgery in a contaminated operating room?
We are aware of the benefits of sterilisation in medicine. We must develop the same attitude towards ESD control and "sterilise" against its contamination. Just as you would never consider having surgery in a contaminated operating room, you should never handle, assemble or repair electronic assemblies without taking adequate measures against ESD. For the hospital to sterilise most of the instruments is not acceptable; actually, it may waste money. Each and every instrument needs to be sterilised. Likewise, it is not acceptable to protect the ESD sensitive items most of the time. Effective ESD control must occur at each and every step where ESDs items are manufactured, processed, assembled, installed, packaged, labelled, serviced, tested, inspected, transported or otherwise handled.
Everyone handling sensitive components should:
"recognise ESD threat
know what equipment to use, and how to use it
know the correct ESD procedures, and work to them
know how to check equipment
know which packaging to use
take corrective actions when required." [Source]
It is obvious that ESD training of personnel is prerequisite for a functioning ESD control programme.
Training
ESD training needs to be provided to everyone who handles ESD sensitive devices – that includes managers, supervisors, subcontractors, cleaners and even temporary personnel. Training must be given at the beginning of employment (BEFORE getting anywhere near an ESDS) and in regular intervals thereafter.
"The training plan shall define all personnel that are required to have ESD awareness and prevention training. At a minimum, initial and recurrent ESD awareness and prevention training shall be provided to all personnel who handle or otherwise come into contact with any ESDS [ESD sensitive] items. Initial training shall be provided before personnel handle ESD sensitive devices. The type and frequency of ESD training for personnel shall be defined in the training plan. The training plan shall include a requirement for maintaining employee training records and shall document where the records are stored. Training methods and the use of specific techniques are at the organization's discretion. The training plan shall include methods used by the organization to ensure trainee comprehension and training adequacy." [EN 61340-5-1 Edition 1.0 2007-08 clause 5.2.2 Training Plan]

Training is an essential part of an ESD Control Programme
ESD training should include:
"theory and causes of electrostatic charging, and basic ESD understanding
handling procedures
knowledge of, use, and limitations of protective equipment
identification of ESDS, and understanding of ESDS sensitivity
Safety aspects and high voltage precautions
New techniques, processes, facilities and equipment before they are implemented
Awareness of the 61340-5-1 standard." [Source]
For operators working in assembly, repair or field service, job specific training will be required, too. If visitors are entering an EPA, they must possess basic ESD awareness and understand how to use their wrist straps and footwear.
Operator's safety cones first
One final word of warning: while ESD control is important, it is of secondary importance to employee safety. ElectroStatic charges or static electricity can be everywhere, however conductors can be effectively grounded and charges removed to ground. A fundamental rule in ESD control is to ground all conductors, including people.
BUT: Personnel should not be grounded in situations where they could come into contact with voltage over 250 volts AC.