Dave from

DesignSpark
How do you feel about this article? Help us to provide better content for you.

Dave from

DesignSpark
Thank you! Your feedback has been received.

Dave from

DesignSpark
There was a problem submitting your feedback, please try again later.

Dave from

DesignSpark
What do you think of this article?
The Industrial Maker welcomes you in to the RS Industrial IOT laboratory, where from time to time we will create IIoT projects, fully working and fully replicable for any of you who want's to try them.
Have a look also to the other projects from The Industrial Maker:
When projects start to involve industrial environments, we need to start using industrial components as well, to guarantee high reliability and safety over time.
Today, we will have a closer look at PowerTag from Schneider Electric, a simple solution to a very complex problem.
All of us know Schneider Electric develops connected technologies and solutions to manage energy and process in ways that are safe, reliable, efficient and sustainable, and PowerTag (134-8658) does include all of these key principles.
PowerTag is a compact, easy to install energy sensor which connects to a new or existing circuit breaker, giving precise, powerful, real-time data to building owners and facility managers. With a few easy steps, it provides insight into current, voltage, power factor and energy use, all of which are needed to better manage critical loads. PowerTag offers higher levels of efficiency and reliability to both new and retrofit installations.
PowerTag is available in different versions, from single phase up to three phase to meet any circuit breaker configuration. It can be installed with no space lost inside the distribution board, and thanks to it's embedded wireless, the communication with the Acti 9 Smartlink module does not require any additional wiring.
To see PowerTag in action we have built an application that simulates a typical scenario you can find in building management.
We have built the panel with the following:
The panel replicates the power distribution system of a building with different power lines, each one under the protection of a dedicated circuit breaker.
There is the air conditioning power line, simulated with a fan, then the ground floor kitchen restaurant power line, simulated by an oven, and finally the lighting power line, which is simulated by the floodlight.
As it is, the system is working and in case of any power malfunction, the circuit breakers cut the power on its own distribution line to prevent possible damages or people injuries.
However, with this configuration, there is no way to understand or prevent a power malfunction.
By installing PowerTags sensors on each circuit breaker, and setting set up the monitoring application, we can convert our standard power distribution panel into a smart power distribution application. Quick and Easy!
Now the system is connected, it is possible to access the web interface of the Acti9 Smartlink module by just typing the assigned IP address on the browser and login.
Acti9 Smartlink web interface is easy to use with all the features required to properly set up the system in each part, from giving a name to each PowerTag sensor, right up to, setting the precise alarms thresholds.
In particular, to check monitoring and alarm features, we have set up an over-consumption alarm on the lighting power line by adding a second floodlight.
As expected in a few moments we received an alarm email and the notification on the web interface.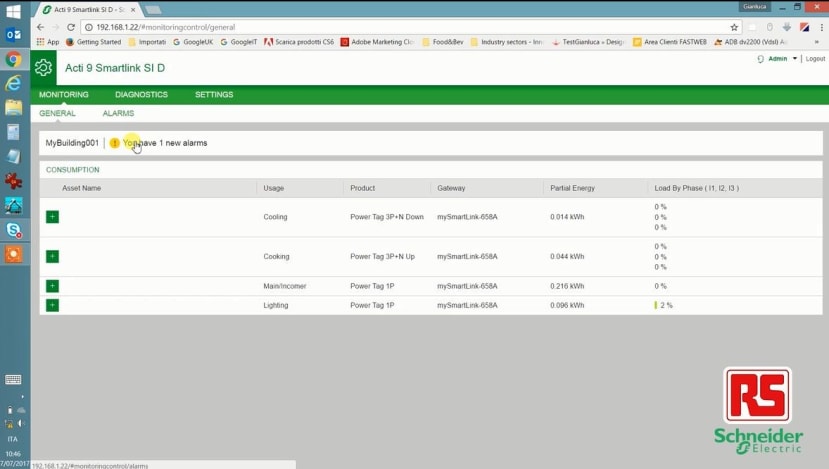 Ok, that's all! We hope you found this application useful for your needs and inspiring for your projects! The Industrial Maker will return again with another IIoT cool project, so stay tuned and don't forget to check our links below.
The playlist:
 The other projects: