Dave from

DesignSpark
How do you feel about this article? Help us to provide better content for you.

Dave from

DesignSpark
Thank you! Your feedback has been received.

Dave from

DesignSpark
There was a problem submitting your feedback, please try again later.

Dave from

DesignSpark
What do you think of this article?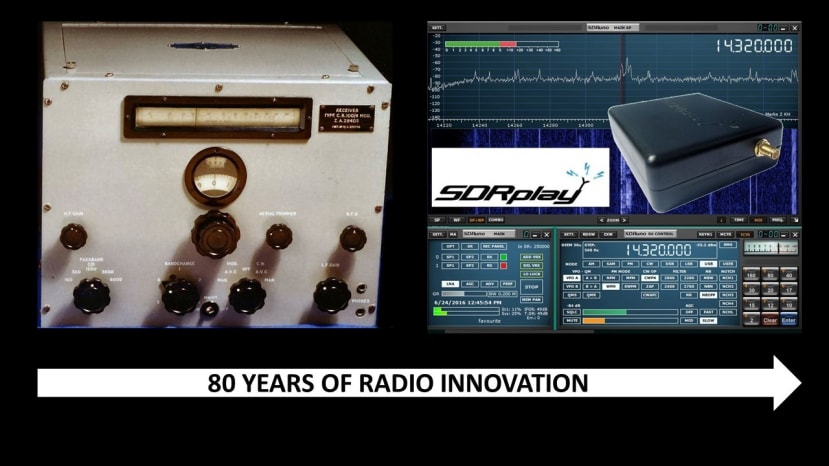 Above: The challenge - how to blend examples of innovation over 80 years into one compelling and fun demo?
With the upcoming 80th anniversary of the founding of 'RadioSpares' - the original name for RS-Components, and the creation of an "Engineers' Playground" as a feature of the 2016 Electronica event in Munich, we thought it might be fun to create an exhibit which could celebrate aspects of Radio receivers spanning that whole period.   What if we were to take an ancient short wave receiver from the late nineteen thirties with its magnificent construction and rugged controls, and to replace the circuitry with a modern Software Defined Radio from SDRplay?  What a great combination that would be!  And so the project began.   
We managed to find a Marconi CR100 for sale on eBay and then reality sank in – where to turn for some experienced help in interfacing traditional knobs and buttons to a PC-based radio?!  The answer came in the shape of Mike  Ladd, KD2KOG - SDR expert – you can check out his website on http://www.kd2kog.com/ - within 2 weeks Mike had put together a package with an Arduino, the necessary software, 2 shaft encoders, buttons and wiring diagrams as a ready-made kit for us to use.  All we needed to do at SDRplay, was to engineer the couplings to the shaft encoders, wire up the buttons and hide a neat little Acer 'Nettop' PC in the Marconi cabinet.  Luckily there was plenty of room!
Above: The compact PC we chose to run HDSDR was the Acer Revo M1601 Nettop, Intel Pentium QC N3700 1.6GHz, 2GB RAM, 32GB SSD running Windows 10. 
As Mike later noted, HDSDR was an ideal choice of software for the project "When Jon told me about gutting out a Marconi CR100 to retrofit an RSP1, I knew the perfect front end controller could use an Arduino programmed to send out HDSDR keyboard shortcuts. We chose to uses 2 rotary encoders and 6 push buttons. The Arduino senses these "state changes" and sends out the appropriate keyboard commands to HDSDR. The code is highly optimized to reduce any lag between commands and uses software de-bouncing. The user's experience had to be transparent. We did not want any hiccups as the user tuned around or made mode changes on the CR100 hybrid. "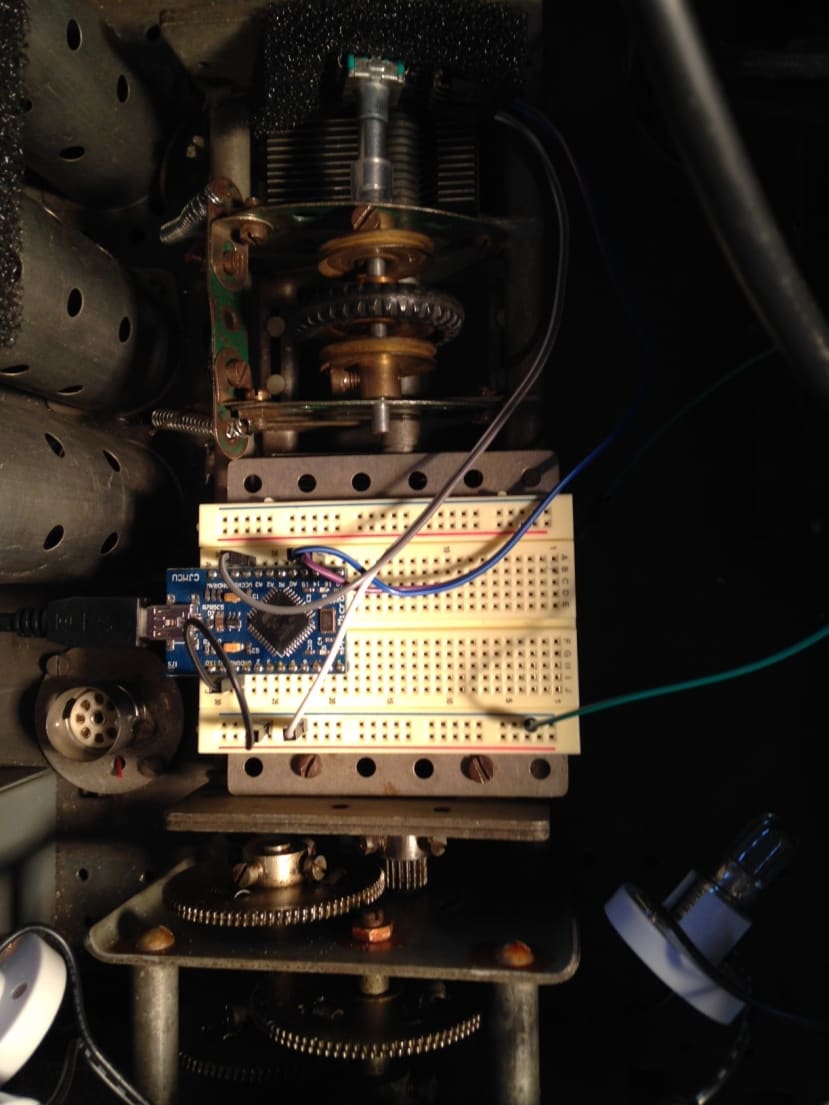 Above:  looking from above - the Arduino board sitting above the original main CR100 tuning capacitor. Meccano and springs were used to couple the tuning dial turning motion to the main shaft encoder!
The end result is something which makes a great talking point for both people familiar with modern SDRs and those who are not.  By plugging in an HDMI monitor we've made it possible to see the advantages of the visual representation of the spectrum - a key advantage of an SDR. Meanwhile, for the traditionalist, to be able to control such a radio without a keyboard and without a mouse makes you feel like you are tuning in the old fashioned way!  Take a look at this video we made of the hybrid radio in action - https://youtu.be/LG4n6_A8OxU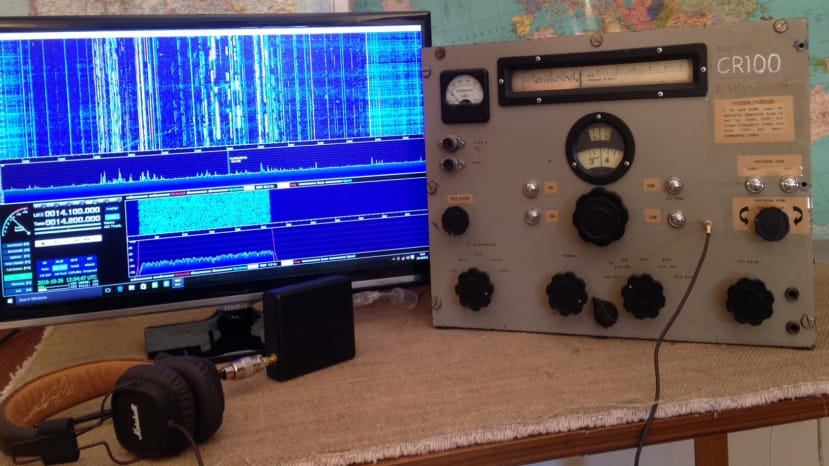 Above: the end result, the Marconi CR100's dials and buttons now control an SDRplay RSP1 SDR running HDSDR!
If you are coming to Electronica, come and play with the SDRplay/MarconiCR100 Hybrid at the RS Components Engineers' Playground - Hall A4, Stand 241, November 8-11th 2016.
(By the way, even though we could have easily hidden the SDRplay RSP1 inside the unit, we left it on the outside so we could show it off!)