Dave from

DesignSpark
How do you feel about this article? Help us to provide better content for you.

Dave from

DesignSpark
Thank you! Your feedback has been received.

Dave from

DesignSpark
There was a problem submitting your feedback, please try again later.

Dave from

DesignSpark
What do you think of this article?

Open Source IPC based on Raspberry Pi
Please note that many of the included diagrams etc. have been created by me through examination of the schematics and architecture, there could be mistakes and if you see one, please let me know so I can correct it!
Controller based on the Raspberry PI 3 Compute Modules
DIO Module
All versions (DI, DO, DIO) have galvanic separation between the PiBridge logic circuit and inputs/Outputs resp. (600 VRMS isolation voltage).
The RevPi DIO version has additional galvanic separation between inputs and outputs. All versions are protected against interference according to EN61131-2 requirements and may be operated between -40°C to 55°C ambient temperature with up to 80% rel. humidity.*
Overall cycle time is typically around 5 ms to 10 ms depending on system configuration but could be longer for a large configuration. This is the time it takes for a change in input or output to be realised in the memory of the RevPI controller, this happens using a background process that polls the modules to read values and writes to them when a change in the local device file is detected. This operating system is patched with a "Realtime Patch" in order to reduce jitter and variations in polling time as it is essential in industrial control applications that timing can be predictable.
AIO Module
There is a wide range of configurations as you can see:
Voltage intput
Current input
Voltage output
Current output

 

0 – 5 V
0 – 10 V
+/- 5 V
+/- 10 V

 

4 – 20 mA
0 – 20 mA
0 – 24 mA
+/- 25 mA

 

0 – 5 V
0 – 10 V
+/- 5 V
+/- 10 V
0 – 5.5 V
0 – 11 V
+/- 5.5 V
+/- 11 V

 

4 – 20 mA
0 – 20 mA
0 – 24 mA
RTD Channels
Besides 4 analog input channels, RevPi AIO also features 2 separate RTD input channels. The 2 RTD inputs enable temperatures to be measured with high precision from -165°C to +600°C in steps of 0.5°C using common RTDs sensors like Pt100/Pt1000 probes. The probes can be connected directly to the module with 2, 3 or 4 cables.
The last module I have is the Gateway Ethernet IP, I will dig into this module in another post as it will be a little more complicated.
So that's all the modules, then came the task of wiring them all up on a DIN rail based test board. This is what I ended up creating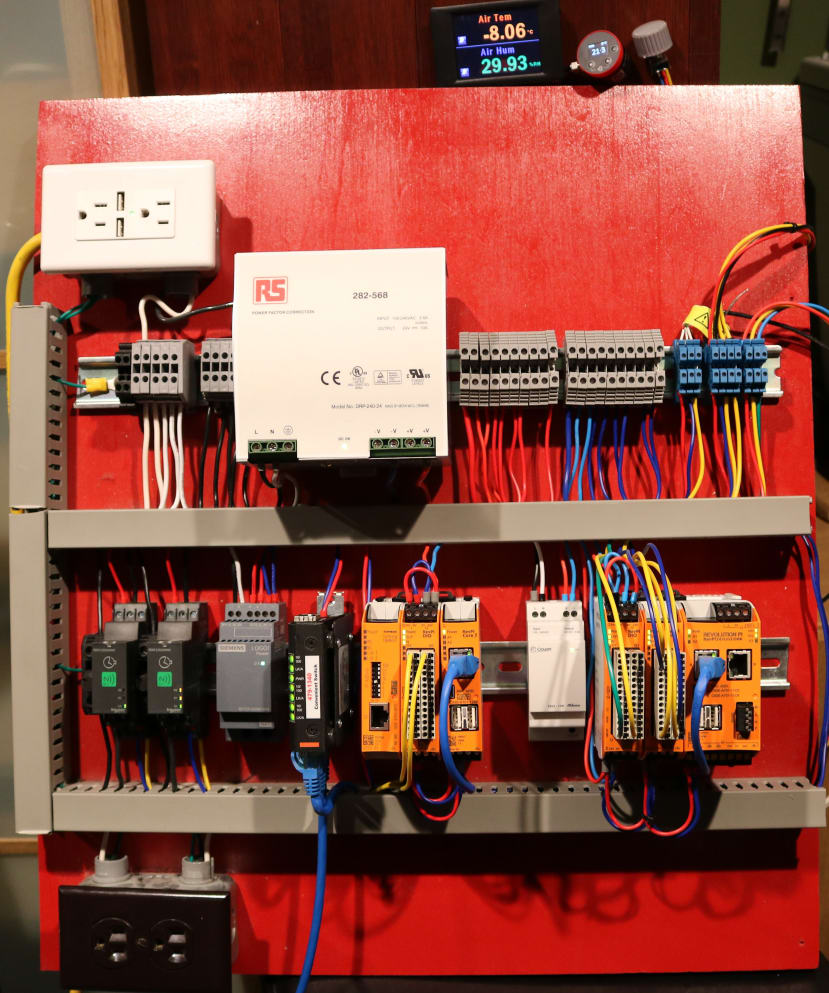 A simplified block diagram is as follows, all the RS part numbers are included in the diagram except the Kunbus modules as they're not available at time of publication, I will amend as soon as I have them.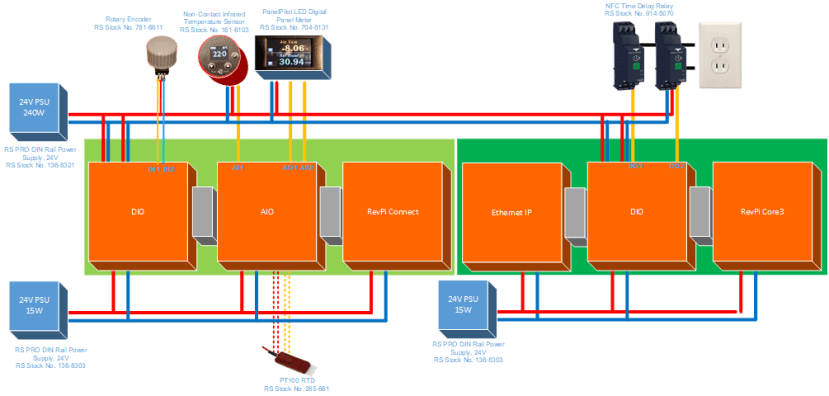 So in preparation for the next post, I have added the following
And to whet your appetite here is a taste of what's to come: