Dave from

DesignSpark
How do you feel about this article? Help us to provide better content for you.

Dave from

DesignSpark
Thank you! Your feedback has been received.

Dave from

DesignSpark
There was a problem submitting your feedback, please try again later.

Dave from

DesignSpark
What do you think of this article?
From displays that sense the pressure of your touch to refrigerators that tell you when you need milk, electronics today are packing in more features than ever before, all while increasing efficiency and shrinking in size.  Compact Power Solutions from onsemi address these challenges with highly-integrated Compact IPMs, and high power density Gallium Nitride Transistors and Trench Schottky Rectifiers.  
Compact Intelligent Power Modules (IPMs)
The STK5Q4U352J-E and STK5Q4U362J-E are 600 V, 8 / 10 A highly integrated compact intelligent power modules (IPMs) with an internal bootstrap circuit for high side gate drive.  The devices integrate components including HVIC, IGBTs, capacitors, resistors, diodes, and a thermistor in a compact DIP package, covering all the key functionality needed for high voltage 3-phase motor drive designs. The output stage employs sophisticated IGBT/FRD technology, enabling elevated levels of performance.    Applications include industrial motor control, white goods, and air conditioning.
Key Features
Reduces PCB space and peripheral components required
Under-voltage lockout for all channels
Upper/lower On prevention circuit
Over-current protection circuit
Thermistor for case temperature monitoring
Click here for  STK5Q4U362J-E RS 8673283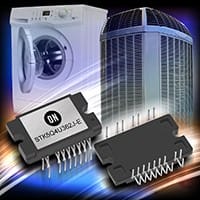 Trench Schottky Rectifiers
Trench Schottky Rectifiers from onsemi utilize new low forward voltage trench-based Schottky technology, enabling low forward voltage drop without the high reverse leakage tradeoff experienced with planar schottky rectifiers.  ON Semiconductor's Trench Technology enables superior performance in industry-leading small package options.  This platform also provides very stable switching characteristics over a wide temperature range and is an ideal output rectifier for switching power supplies.
Key Features
Fast switching with exceptional temperature stability
Low power loss and lower operating temperature
Higher efficiency for achieving regulatory compliance
Low thermal resistance
High surge capability
Compact SO-8FL and SOD123-FL packages
Click here for  NTS1545 RS 8427949
Click here for  NTS260SF RS 8673271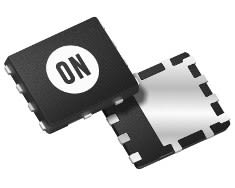 600 V Gallium Nitride Cascode Transistors
onsemi 600 V GaN Cascode Transistors offer superior performance in applications where power density and efficiency are critical.  The NTP8G202N and NTP8G206N target compact power supplies and adapters between 200 W and 1000 W offering typical on-resistances of 290 and 150 mΩ respectively.  onsemi Gallium Nitride Technology enables extremely fast switching, significantly reducing the size of passive components needed within a power supply. The devices are available in an optimized TO-220 package providing simplified integration for existing manufacturing capabilities.
Key Features
Extremely low Qrr
Fast switching
Pb, Halogen, and BFR Free
RoHS Compliant
Click here for  NTP8G202N RS 8829834
Click here for  NTP8G206N RS 8829843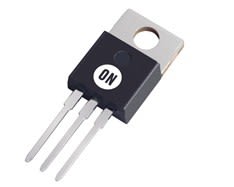 Very Wide Input Voltage Range Linear Regulator
The NCP785A is a high performance >10 mA linear regulator with a very wide operating input voltage range of up to 450 V DC operating and 700 V DC maximum, enabling operation directly from rectified mains voltages.  This, combined with ±5 % output voltage accuracy, extremely high power supply rejection ratio, and an ultra-low quiescent current make it an ideal choice for industrial, home automation, smart metering, and home appliance applications. 
Key Features
45 V to 450 V input voltage range enables operation directly from rectified 120 VAC / 230 VAC mains voltages
Very high PSRR of typical 80 dB at 120 Hz allows for effective filtration of mains AC ripple
Ultra-low quiescent current minimizes system stand-by power consumption
Click here for  NCP785A RS 8829770