Dave from

DesignSpark
How do you feel about this article? Help us to provide better content for you.

Dave from

DesignSpark
Thank you! Your feedback has been received.

Dave from

DesignSpark
There was a problem submitting your feedback, please try again later.

Dave from

DesignSpark
What do you think of this article?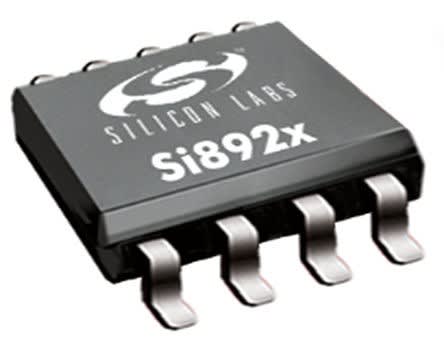 Isolated Current Sensing
High power systems and power converters can benefit with increased reliability and performance when using isolated current sensing. Such systems often use an MCU operating at a much lower voltage than the system they are monitoring/controlling, hence the need for isolation while maintaining a path for real time information flow.  Measuring current on high-voltage rails (up to 1200 V) with a galvanically isolated amplifier provides critical information to the low-voltage controller that improves system response time and efficiency. The Si8920 isolated amplifier provides a differential, low-voltage input scaled for connection to current shunt resistors, enabling the controller to make precise measurements of current on high-voltage rails while maintaining best-in-class electrical isolation. The Si8920 device's industry-leading signal bandwidth (up to 750 kHz) ensures rapid, precise dc current measurement and accurate representation of the primary signal and harmonics.
The Si8920 isolated amplifier uses Silicon Labs' proven, CMOS-based isolation technology, which meets stringent UL, VDE, CQC and CSA standards, supports up to 5 kV withstand and 1200 V working voltage, and offers a wider operating temperature range, better noise immunity and longer lifetimes than competing isolation technologies. The Si8920 amplifier's exceptionally low 1 µV/°C offset drift ensures stable performance over diverse operating conditions.
Market Need

Product Feature

Benefit

Fast Response
0.75 µs signal delay
System can react to transient load conditions faster.

Robust Isolation

5000 kV withstand; 
1200 V working voltage
Reduced repair and maintenance costs.
Low Drift
1 µV/°C offset drift
Performance is stable over operating conditions.
Bandwidth
Greater than 400 kHz
Measure high switching frequency current 
Key Features:
Low voltage differential input

±100 mV and ±200 mV options

Low signal delay: 0.75 µs
Input referred offset: 0.2 mV
Gain error: <0.5%
Excellent drift specifications

1 µV/°C offset drift
60 ppm/°C gain drift

Nonlinearity: 0.1 % full-scale
Low noise: 0.10 mVrms over 100 kHz bandwidth
High common mode transient immunity: 75 kV/ µs
Compact packages

16-pin wide-body SOIC
8-pin surface mount DIP

-40°C to 125°C
AEC-Q100
Evaluation Kit
The SI8920ISO-KIT evaluation board allows for quick connection to a shunt resistor for check out of the functionality of the  Si 8920 Isolated Amplifier. The evaluation board is populated with the Si8920BC-IP device. This allows for connection to a shunt resistor that produces up to ±200 mV at full load. The board features test points for monitoring the inputs, outputs, and supplies for the device. Surface mount component pads are available for input or output filtering circuits. The Si8920ISO-KIT evaluation board demonstrates the functionality, the accuracy, the stability, and the low signal delay of the Si8920 amplifier.
Purchase Links -
Current Sense Amp Eval Kit for Si8920BC (902-6806)
Si8920AC-IP RS (901-3967)
Si8920BC-IP RS (901-3976)
Si8920AD-IS RS (901-3979)
Si8920BD-IS RS (901-3973)