Dave from

DesignSpark
How do you feel about this article? Help us to provide better content for you.

Dave from

DesignSpark
Thank you! Your feedback has been received.

Dave from

DesignSpark
There was a problem submitting your feedback, please try again later.

Dave from

DesignSpark
What do you think of this article?
In the previous article we showed you how it's possible and even easy to use open source technology for industrial automation, building an industrial open source motion control for a robotic arm, using a solution from Industrial Shields.
This time we've decided to go further, integrating the same open source motion control system on the IGUS RobolinkD industrial mechanical arm. Going a step further, we'll show that it's possible to mix the open source hardware with the reliability of industrial standards.
As we showed you in the first tutorial, this project involves four steps:
 ■     The idea: to develop an open source motion control system suitable to be applied to a robotic arm. (Part 1)
■     The real test: to bring the robotic arm in a real industrial environment to test the motion control system. (Part 2)
■     The industrial integration: to transfer the motion control system to a real industrial robotic arm.
■     The next step: to move forward dressing the robotic arm with sensors and smart tools for further applications and developments.
With the integration of the Industrial Shields PLC into the igus robot, we are on the third step of this exciting journey with Massimo Temporelli, President and Founder of The Fablab.
Customers can put the robot together themselves with great ease and speed. The other unique characteristic of this igus RobolinkD robot is the joint, consisting of a stepper motor, and endless screw, and a very particular gear, exclusive to igus, made with a self-lubricating material that allows the robot to completely lower maintenance needs. This is essential for those who use these machines repeatedly.
Compared with the fist steps this time we have slightly changed the list of components to fit the requirements of the Robolink D kit.
Geckodrive stepper motor drivers (RS Stock No 793-4127) 
TRACOPOWER power supply (RS Stock No 511-5371)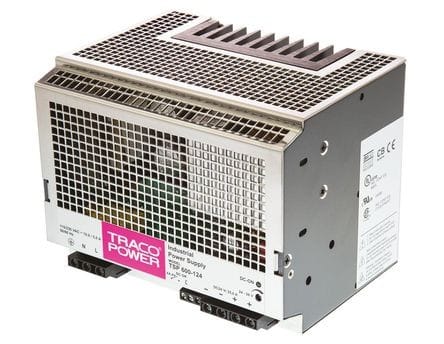 Industrial Shields M-DUINO PLC (RS Stock No 885-0926)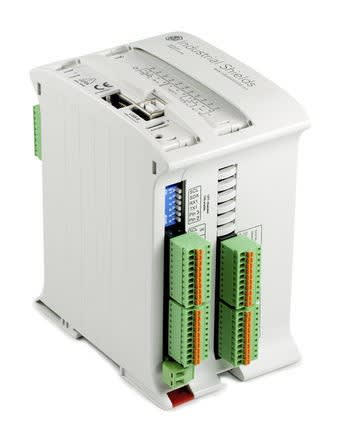 Now, we'll show you how quickly and easily you can build a robot like this.
Once the robot is assembled, it's time for the electronics.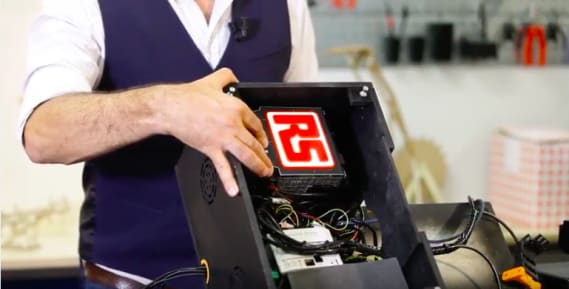 Here you can see a black box containing the Industrial Shields PLC, the open source PLC already used in a previous project.  You can find it on the web to see how it works. Naturally, to run the motors we used, as usual, stepper drivers and a power supply. Now all we have to do is connect the two parts. Let's proceed.
Once the electronics are connected to the mechanical parts, all we need to do is connect one other element: the intelligence, the brain that will control the robot's movements.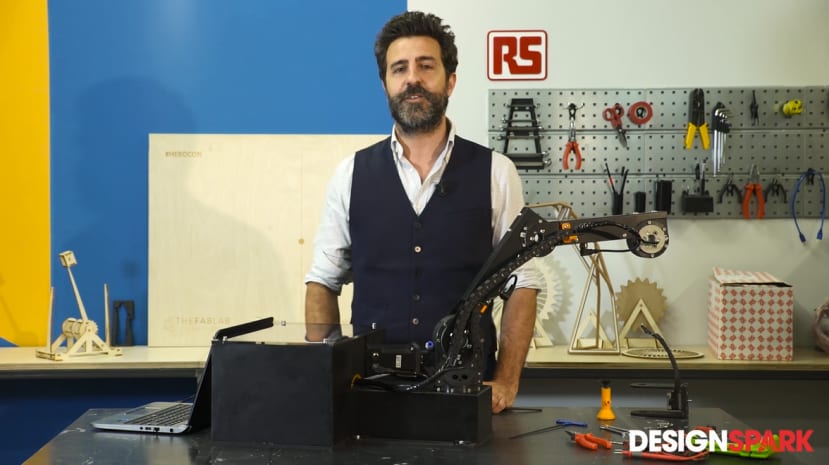 Once everything is connected, we conduct a crash test of the arm before going forward to use it in the field, together with Davide, as always, Massimo Temporelli assists in every experiment.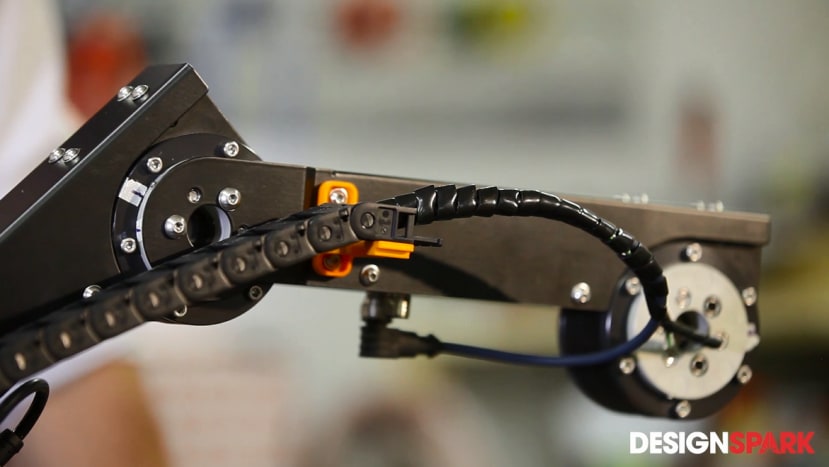 As you can see, the arm works and responds well. The mechanics, electronics, and software are perfectly aligned!
This is a multipurpose machine; it can be used for many applications. In our case, we have a specific need.
In the next step we will go into a chemical factory, where we will have to deal with glassware, and so we have built an end-arm kit, using a 3D-printer and laser cutter, a very delicate gripper, that uses air suction to pick up the tubes and burettes, very delicately. 
So stay tuned for the next step!