Dave from

DesignSpark
How do you feel about this article? Help us to provide better content for you.

Dave from

DesignSpark
Thank you! Your feedback has been received.

Dave from

DesignSpark
There was a problem submitting your feedback, please try again later.

Dave from

DesignSpark
What do you think of this article?
Hi, my name is Avye and I'm 14 years old. I'm a coder, maker, workshop leader, girl in tech advocate, and the founder of Girls Into Coding (GIC). Through GIC I create opportunities for girls to explore coding, physical computing, robotics & 3D printing.
Project Particle Pavilion
For my project, I've decided to explore how spaces can monitor & react to internal air quality in order to improve the experience of the users. 
I think there are a range of spaces that could benefit from this, including classrooms, maker spaces & eating areas in the hospitality sector, to name just a few.
Since the pandemic, social distancing along with the need for additional space and appropriate ventilation has become hugely important. Because of this, I want to also explore the concept of a POP-UP Pavilion - A pavilion that could be installed in different locations to provide space & indoor air quality solutions where needed.
Future Workshop
As mentioned earlier I'm a workshop leader, and I create opportunities for young people, particularly girls, to explore tech, so I hope to be able to develop a version of the Particle Pavilion to be used as an educational tool for future workshops

Scale & Hardware
Ideally, my finished 'Particle  Pavilion' will have a footprint no bigger than A3 (for now) and will be made from laser-cut pieces of plywood & acrylic, the different mechanisms used will involve stepper motors & servos, and will be powered by an ESP-32 or a Raspberry Pi.
Pavilion Ideas / Sketches / Models
Pavilion features
Neopixel inside of the pavilion that changes colour to indicate different co2 levels – alongside some sort of audio alert.
A sliding skylight opens when a specified co2 level is detected. Possibly using a servo with a linear actuator
Vertical Shutter wall that will open & close in response to different co2 levels. Possibly using a stepper motor or servo. Will need to explore making different mechanisms/linkages to get this to work.
I like the idea of using a fan or air purifier which switches on at a certain co2 level. However, I will need to think of an interesting way to include this in the Pavilion idea.
Vertical Shutter Idea / Sketch Models

Which of these will I use to get things moving & how?

Sliding Skylight Mock Up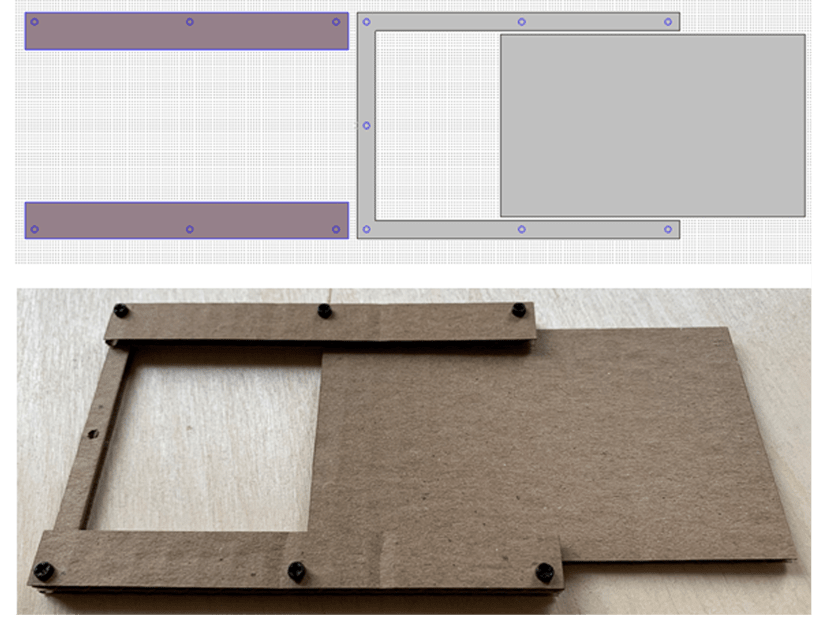 Bill of Materials (this list may change as the project develops)
Adafruit ESP32-S2 Feather with BME280 Sensor
Adafruit Stepper Motor Featherwing
TFT FeatherWing - 2.4" 320x240 Touchscreen For All Feathers
Adafruit SCD 40 - True CO2, Temperature and Humidity Sensor
NeoPixel Ring - 24 x 5050 RGB LED with Integrated Drivers
Mini Air Purifier
5V DC, Axial Fan, 40 x 40 x 10mm, 7CFM
Relay - 5V
4mm Economy Birch Laser Plywood - 600mm x 400mm sheet (quantity to be confirmed)
Clear Perspex Sheet (Cast) 4mm x 600mm x 400mm (quantity to be confirmed)
6mm Poplar Laser Plywood, 600mm x 400mm sheet
Lipo Battery - 3.7 v; 500mAh
AA Battery pack; 3x 1.5V
Jumper wires
USB C to B Cable
M3 button head screws (lengths & quantity to be confirmed)
M3 hex nuts (quantity to be confirmed)
Follow the Pop-Up Particle Pavilion Project: