Dave from

DesignSpark
How do you feel about this article? Help us to provide better content for you.

Dave from

DesignSpark
Thank you! Your feedback has been received.

Dave from

DesignSpark
There was a problem submitting your feedback, please try again later.

Dave from

DesignSpark
What do you think of this article?
Our professional software is free because your ideas are priceless.
We are delighted to announce the launch of DesignSpark Mechanical v4.0, the first update to our free professional 3D CAD software since 2015, providing new functionality, a more intelligent design engine and even faster performance.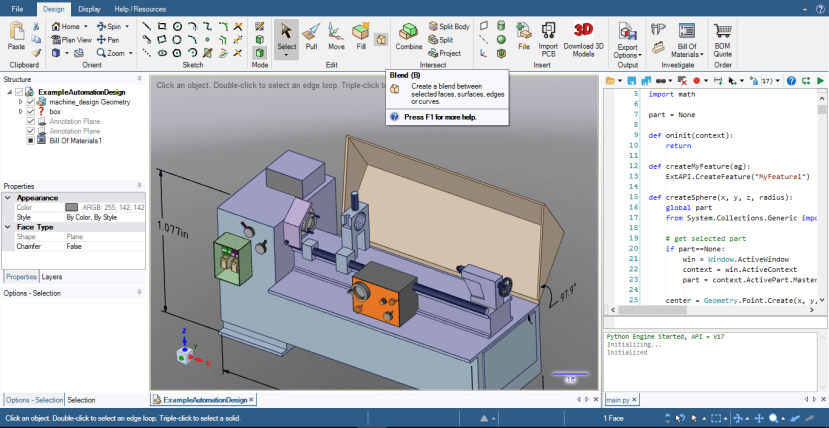 Developed in conjunction with SpaceClaim, the leading provider of flexible and affordable 3D modelling software for engineers, DesignSpark Mechanical uses direct modelling technology rather than the parametric methods used by traditional CAD software. When combined with DesignSpark Mechanical's highly intuitive functionality, this can enable a user to graduate from novice to CAD expert within a matter of hours, as users only need to use a few basic functions within the tool to add or directly modify existing model geometry.
DesignSpark Mechanical also features built-in help text and Quick Guide tutorials, example designs, and access to a 3D catalogue allowing the rapid insertion of tens of thousands of 3D models from leading component manufacturers. It is the perfect companion for your 3D printer.

Since first launching DesignSpark Mechanical in 2013 we have been committed to providing engineers with resources that enable them to rapidly develop prototypes in the product concept design stage and this latest upgrade further enhances our offering with several important new features that have been developed following feedback from our extensive DesignSpark Mechanical user base, to provide an even better user experience.
We have upgraded the entire user interface in line with Windows 10 and introduced a blend (or loft) tool that enables the creation of rotational, periodic or sheet metal blends. We have also introduced an auto-save function and various enhancements to existing tools within the software, plus the ability to analyse solid body geometry for errors, including tips to fix them.
In addition, DesignSpark Mechanical Version 4.0 is the first free software tool to seamlessly integrate the popular open-source Ultimaker Cura slicing software. This major new feature is the result of close collaboration between RS and Ultimaker, one of the biggest 3D printing companies in the world. The feature enables users to optimise their designs using expert-tested profiles for 3D printers and materials, and to streamline workflow for maximum efficiency.
Other key features of the DesignSpark Mechanical v4.0 update include support for 4K and ultra-HD monitors, switching between multiple graphics-rendering drivers and modes; the ability to export 3D geometry into the DreamWorks open-source OpenVDB file format; and various fixes of minor software bugs. Additionally, the tool now supports 14 new languages: Czech, Dutch, Finnish, Hungarian, Korean, Malay, Polish, Portuguese, Russian, Slovak, Slovenian, Spanish, Thai and Turkish.
DesignSpark Mechanical has played a key role in thousands of projects around the world including Project Seaquest, Superman in Space, Locomotive Models and a real-life Iron Man flying suit. You can also see a host of projects on Thingiverse by clicking here.
Get started on your own project today, with the world's greatest free software for both personal and commercial use by downloading DesignSpark Mechanical v4.0 now.
DesignSpark Mechanical Tutorials