Dave from

DesignSpark
How do you feel about this article? Help us to provide better content for you.

Dave from

DesignSpark
Thank you! Your feedback has been received.

Dave from

DesignSpark
There was a problem submitting your feedback, please try again later.

Dave from

DesignSpark
What do you think of this article?
Early in 2016, Richard Browning had a vision. He wanted to build a viable anti-gravity jet-engine suit and inspire solo human flight.
Throughout 2016 he designed, built, redesigned and rebuilt his prototype flight suit – Daedalus – testing, developing and reiterating for a year before getting to the working model you see today.
His strength, perseverance and ambition to change the world are enthralling and RS is excited to be part of Richard's incredible journey, providing tools, components and expertise to support extraordinary engineering in action.

In the second part of an exclusive interview with Richard we discussed why he became an engineer.
DS - Can you tell us a bit about your engineering background?
RB - My family background is very engineering-orientated. I actually went to university to study engineering (but I had a place at Sandhurst to join the army). I did one semester at university but hated all the maths, it seemed to be just calculus the whole time, which I can just about drag myself through, but that's not really me. I'm much more about feeling the design, visualising the structure and going and building and trialling rather than just doing the math.
So I changed to exploration geology still with the intention of joining the army and got towards the end of my university career, met my wife and thought I should go and get a job of some kind and joined BP. I joined the Royal Marine Reserves at the same time.
The other thing that I haven't mentioned is that my dad was an aeronautical engineer and inventor – a brilliant, wonderful engineer – and I used to spend all my time with him in the garage building crazy stuff, which was clearly an inspiration to me.
I do have a bit of a family heritage in aviation and engineering – one grandfather instructed on WW2 Hurricanes, and the other grandfather was Chairman of Westland Helicopters.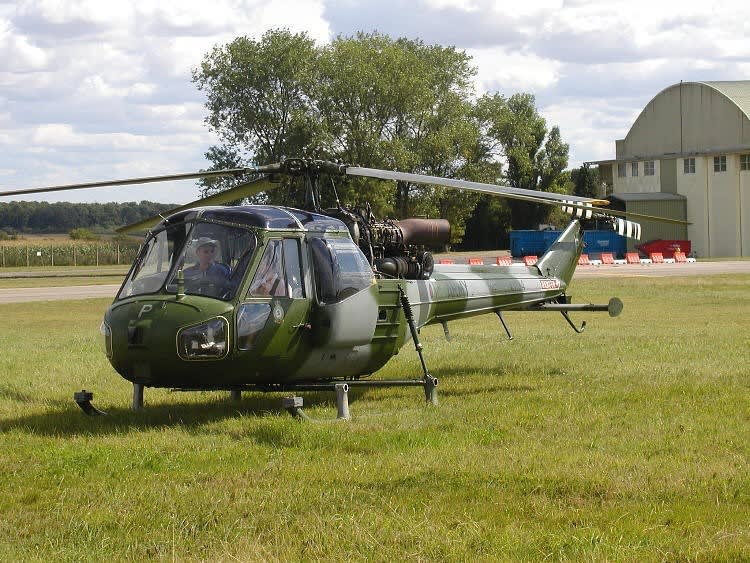 Westland Scout Helicopter
For me, it's that childlike innovation and exploration. There's a wonderful, silly game where you give a child a paperclip and say "what's this?" They will come back with a hundred different things – all sorts of mad things. Give it to an adult and they will say it can be one of 3 things – a paperclip, a toothpick, or a bit of scrap metal.
That's what we have got to tap somehow. It's such a cliché but that's why I like tagging it back to something very practical and physical. That's what I have been doing at BP. I ran around all last year creating real tangible examples of connecting the domain expert, or the drilling engineer, or the ship captain, with a start-up, and within 10 minutes they'd be exchanging amazing ideas which would lead to a trial that we'd go and get on with next week. You wouldn't go and write about how blockchain can change the whole world, instead, we built a blockchain platform in 3 weeks. You have got to make it real, and how much more 'in your face' real can you get than a flying suit!
Image: The original uploader was Arpingstone at English Wikipedia. Later versions were uploaded by Ian Dunster at en.wikipedia. Transferred from en.wikipedia to Commons. Public Domain, https://commons.wikimedia.org/w/index.php?curid=1827062
 See more from our exclusive interview with Richard Browning below:

Other Related Articles