Dave from

DesignSpark
How do you feel about this article? Help us to provide better content for you.

Dave from

DesignSpark
Thank you! Your feedback has been received.

Dave from

DesignSpark
There was a problem submitting your feedback, please try again later.

Dave from

DesignSpark
What do you think of this article?
HARTING views Industry 4.0, as the integration of the Internet of Things (IoT), cloud computing, advanced data processing and other technological advances into the heart of production and manufacturing systems. It allows the merging of the virtual and embedded production process physical worlds through cyber-physical systems, enabling intelligent objects to communicate and interact with one another.
Industry 4.0 utilises both cloud computing and the Internet of Things to take processes that are normally managed internally by both people and machines and move them into the Cloud where they can be managed from anywhere in the world.
New opportunities
Industry 4.0 has the potential to create a number of growth opportunities for manufacturing industries and national economies. Due to the technological advances associated with Industry 4.0 concepts and applications, a greater requirement for individuals to have IT and analytical skills will be required. For a successful conception and implementation of Industry 4.0 based projects, these skills are necessary. Either to have in-house, as part of your team, or it could be sourced using knowledgeable suppliers and system integrators.
If an organisation opts to have in-house resources capable to manage an Industry 4.0 based project, then there will inevitable require some form of retraining or re skilling to help close the emerging IT skills gap that is becoming more prominent as technology and the Industry 4.0 concept advances.
Higher employment levels attributed to the Industry 4.0 trend can be dependent on how successfully organisations apply their learnings to create higher efficiencies, develop new products or solutions and reduce costs.
Making enterprises more competitive
Companies that adopt an Industry 4.0 led strategy can be more competitive. For example adopting an industry 4.0 strategy that enables an organisation to produce a modular manufacturing plant can produce benefits such as increasing flexibility in the production process. This can lead to increased throughput, manufacturing efficiency and reductions in waste, whilst meeting customers' requirements easier and faster.
Adopting an Industry 4.0 strategy does not necessarily mean a high investment in tools, new machinery or that you have to wait to build a brand new "Smart Factory". Organisations can unlock a "Smart Factory" from within their existing, legacy equipment by integrating technologies that can act as an interface that gathers data. This data can then be analysed and used to inform production and other business related decisions in real time, with unique organisational data. 
Such technologies can be easily integrated to existing equipment, removing the need to redesign or purchase new equipment. Often such devices can gather data and transfer to the cloud, enabling multi-site data access, making integration and analysis simple.
Innovative technology and software
The ever-advancing digitalisation of all business processes is increasingly turning attention to the customer benefits that can be generated from the efficient combination of previously separate subsystems. With Industry 4.0 becoming an increasingly popular trend, these processes and systems must continue to grow and be nurtured to meet the needs and requirements for all Stakeholders, whether this be at management level, implementation level or at the field level.
The increasing capabilities of the Industry 4.0 trend could have significant impact on the transformation of several different markets, these including rail, energy, transportation, automation and maybe more significantly manufacturing sectors.
HARTING have identified the following six key trends within Industry 4.0; modularisation, identification, integration, customisation, miniaturisation and digitalisation. These six key trends represent the various development areas for hardware and software, and pave the way for future expansion of technological innovation.
Challenges to implementation
With advances being made in all these areas of digital technology, the integration of Industry 4.0 should be somewhat smoother than the reality to date. A key challenge here is enabling all of this new equipment, being able to register and link with the software required for a seamless integration.
In particular, there is a lack of currently available tools which would allow for more simplified integration of hardware into the software environment that covers different manufacturers as well as different technologies.
Open-source software solutions can help overcome this barrier, but in many cases there is also a barrier due to the industry's lack of standardisation and a lack of knowledge of what is available.
Organisations often follow a specific route or turn to an existing supplier with a control philosophy that they have historically used, with the result that they can get "locked in" in a way that can limit their access or mindset to alternative solutions in the Industry 4.0 environment.
The smart factory of the future
The key to a successful Smart Factory is the ability for machines to communicate to one another at field level, in real time and with an intelligent functionality that gathers all the data together, analyses it and produces meaningful insights.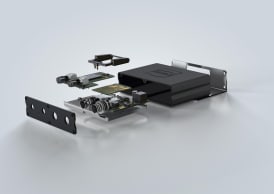 With a unified language, there is communication between machines, enabling full interaction and integration across the whole factory. This communication functionality doesn't need to be built into the machine. Instead flexible modular devices can be added on to capture, process and transfer this data throughout all levels of the factory.
One way in which this philosophy can be implemented is via intelligent, connected devices such as HARTING's MICA: the first Modular Industry Computer Architecture dedicated to industrial applications MICA can be easily added onto machines and equipment even within harsh industrial environments including extreme temperature, dust and humidity. The intelligent hardware provides direct data processing at the machine, along with decentralised collection and analysis of data.
Using MICA, machines will communicate with one another at field level, in real time and with an intelligent functionality that gathers all the data together, analyses it and produces meaningful insights that are then delivered to a management information system. These flexible modular devices can be added to existing equipment to capture, process and transfer data throughout all levels of the factory: creating the opportunity for a "digital retrofit" of the factory.
Click here to download HARTING's guide to Digital Retrofit
http://www.harting.co.uk/digitalretrofit/