Dave from

DesignSpark
How do you feel about this article? Help us to provide better content for you.

Dave from

DesignSpark
Thank you! Your feedback has been received.

Dave from

DesignSpark
There was a problem submitting your feedback, please try again later.

Dave from

DesignSpark
What do you think of this article?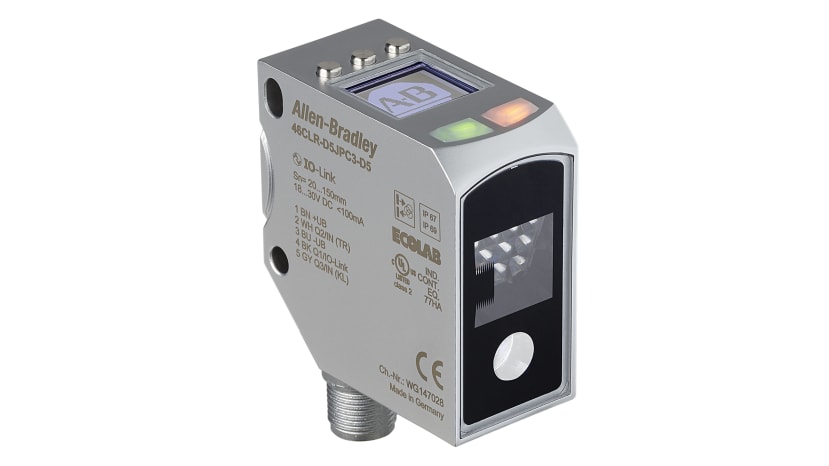 IO-Link smart sensor provides full RGB plus intensity data which offers a unique distance correction technology for consistent colour detection and is packed with features.
Industrial colour sensors have a wealth of applications across industries ranging from electrical engineering to cosmetics, via plastics, films and recycling. Typical uses include, to name but a few, enabling process steps such as sorting, process optimisation and, of course, quality control. As such, colour sensors are an invaluable tool when used as part of modern manufacturing and other industrial process operations. Furthermore, the integration of IO-Link technology makes them much more powerful, while easier to deploy, confirm correct operation and maintain in the field.
Key Features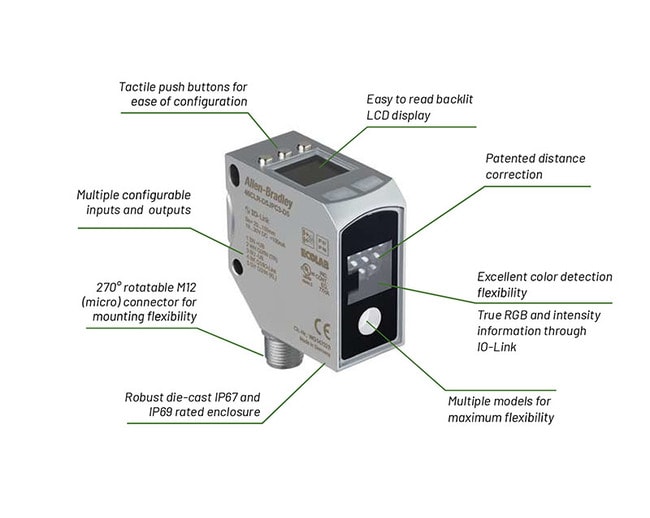 The Rockwell 46CLR sensors stands out due to a number of advanced features and this includes patent pending distance correction technology, which means that they boast consistent colour detection at ranges of up to 65mm. Other key features include:
Three models (more on this later)
Highly flexible and able to detect:

Up to 7 colours in colour match mode y using the binary coded three digital outputs
Unlimited colours by using IO-Link connected to CompactLogix controllers

Additional flexibility due to nine tolerance levels
Three discrete outputs with auto PNP/NPN
IP67 and IP69 rated zinc die cast enclosures
Flexibility is a particular strong point of Rockwell 46CLR sensors and up to seven channels are directly supported, via three binary coded discrete outputs, plus four four virtual outputs. However, when integrated with a CompactLogix controller using IO-Link, the 46CLR is able to detect unlimited colours, thanks to the controller having access to the process data map for RGB+I information, together with a second process data map of internally stored colours within the sensor.
Other IO-Link benefits include access to the sensor raw signal strength value, a location which may be configured to aid maintenance and support, multiple profiles for difference machine configurations, plus internal temperature and target detection counter and timers. In addition an averaging filter may be configured via IO-Link and the local user interface may be remotely locked.
Models
There are three Rockwell 46CLR models:
Glare Suppression (233-7571) . 18-32mm sensing distance.
Small Spot Size (233-7572) . 18-60mm sensing distance.
Long Range (233-7573) . 20-150mm sensing distance.
All of which have 18-30VDC operating voltage, the same white LED light source and feature the same flexible I/O. The Glare Suppression model has the shortest sensing range at 18-32mm, while the Small Spot Size model — which is optimised for small object detection — can sense objects almost twice the distance, and the Long Range model works at up to 150mm sensing distance.
All models are also packaged in the same robust IP67/IP69 rated enclosure, feature the same M12 connector and have the same physical mountings. Meaning that should machine requirements change and a different model sensor be required, this can be easily swapped out.
Installation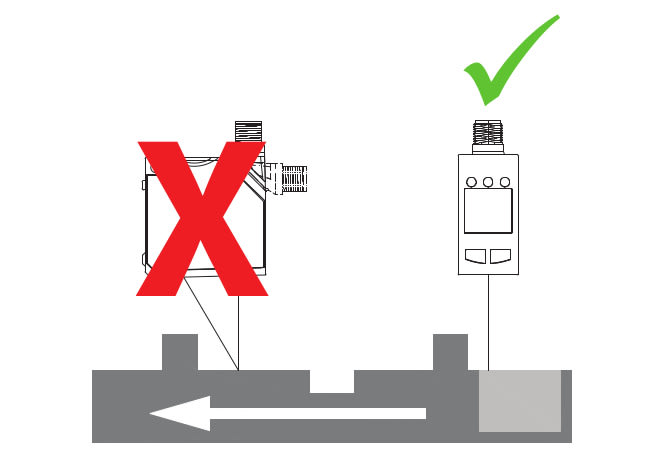 Preferred direction.
Since the direct incidence of high frequency external lighting can impact reliability, it is recommend to position the angle of the sensor to reduce the possibility of external light interference. All sensors should also be positioned so that the distance from the object is within its sensing range.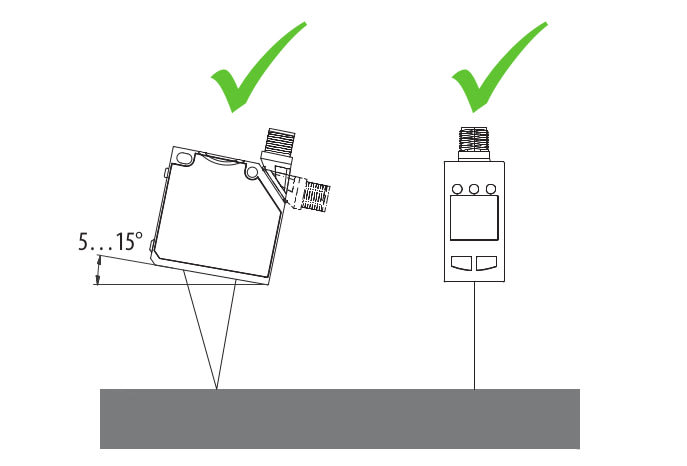 The Glare Suppression model should be positioned at a 5-15° angle as shown above.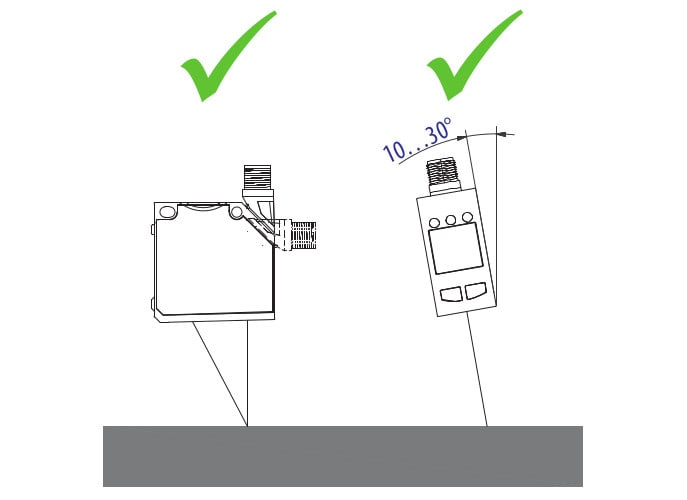 Small Spot Size and Long Range sensors should be positioned at a 10-30° angle as pictured above, so as to minimise the possibility of reflective surfaces distorting the colour detection.
Interfacing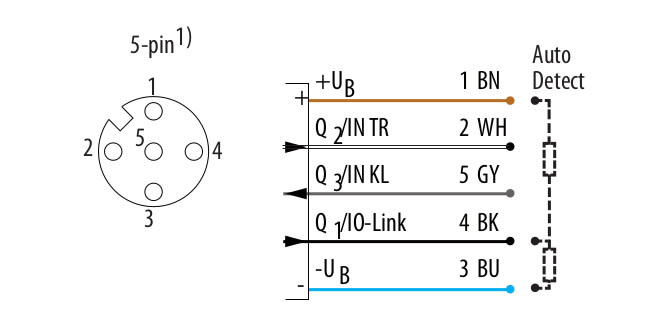 The sensor M12 connector has five pins, two of which are for power and three for I/O. The switching outputs, Q1, Q2 and Q3, are PNP/NPN autodetect, thereby easing integration with existing designs. IO-Link communications are on the same pin as Q1.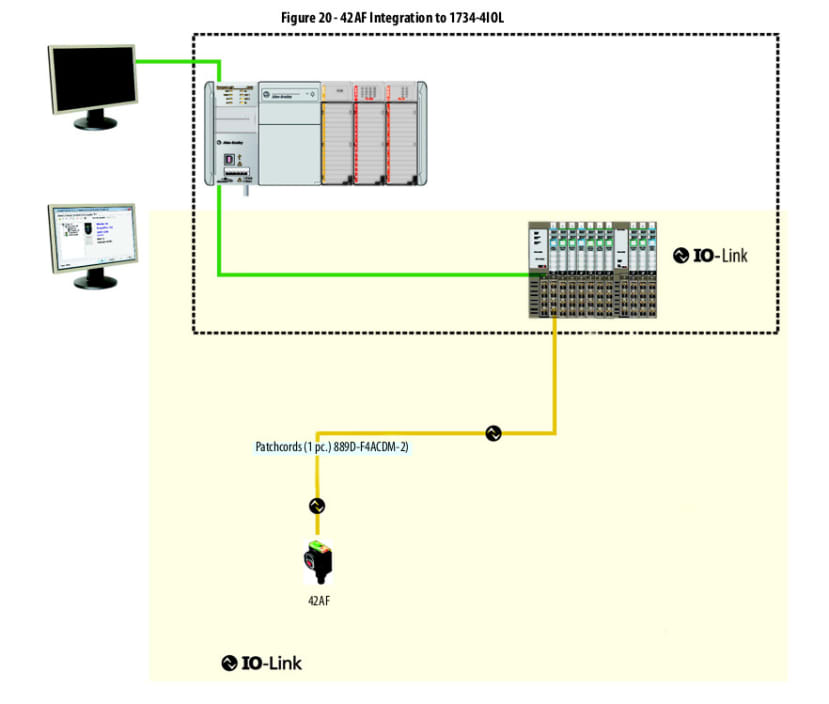 As covered in a previous article, Rockwell Automation provides every piece of the Connected Enterprise and typical hardware which may be used with the 46CLR includes:
CompactLogix or ControlLogix PLC Platform
POINT I/O Communications Interface: 1734-AENTR
POINT I/O IO-Link Master Module: 1734-4IOL
POINT I/O terminal base: 1734-TB
ArmorBlock "On-Machine" IO-Link Master 1732E
ArmorBlock "On-Machine" IO-Link Master next generation 5032 (coming soon)
Furthermore, since IO-Link is an open standard, the sensor may also be used with compatible third party fieldbuses and the relevant IO-Link masters and PLCs.
Configuration

Sensor configuration may be carried out using the integrated display, which also provides status information. Above we can see how the view may be cycled between screens which provide RGB+I values as bar graphs or percentage values. The screen may also be locked/unlocked and rotated.

We can also select each of the switching outputs and again toggle the view mode for the stored settings, and enable the fast teach-in mode.
The sensor can be set to operate in one of three modes: Colour Mode or Best Fit Mode or Colour Scan Mode.
Colour Mode: This mode is optimized for the precise evaluation of several colours or gradient of colours within a given tolerance (up to nine tolerance levels). In this colour inspection and evaluation mode, at least one colour must be taught and there's no need to teach the background to be sure of reliable operation. This method of operation is the most common.
Best Fit Mode: This parameter value enables the sensor to operate as a colour sorting and assignment mode. In this mode, the sensor assigns the colour that is measured into the colour channel that is closest to the internal set colour. Multiple colours must be taught and the background must also be taught using one of the available colour channels. This mode is uncommon and is only recommended for advanced special applications.
Colour Scan Mode: The Colour Scan feature enables you to teach and detect objects with various colours and individual colours to each channel. This includes also to detect the right sequence of colours.

When operating in Colour mode it is also possible to add an additional colour (C) to a switching output (Q), that must or must not be detected, for the output to trigger. However, this functionality (C+/C-) is not available with Best Fit mode.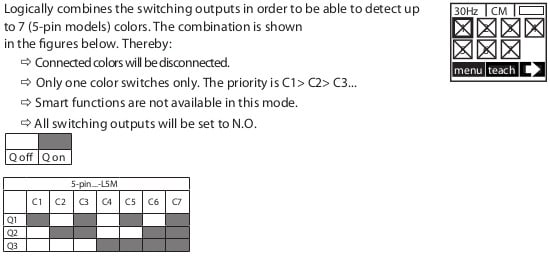 It was noted earlier how the 46CLR is able to detect up to seven colours — using three discrete outputs and four virtual (binary) — and a truth table can be seen above.

The teach-in process allows us to teach a colour on a switching output. Following which we can set the tolerance in nine levels and optionally a second colour (C+/C-). Setup can be that simple.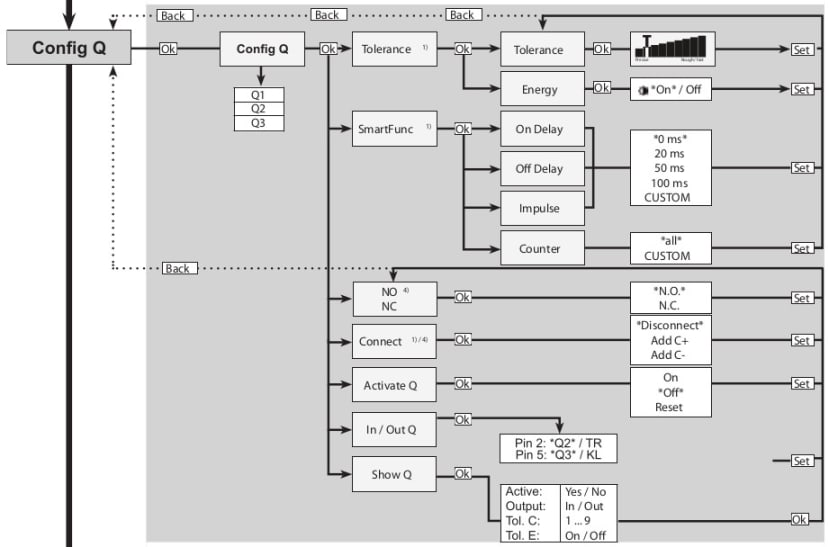 When configuring a switching output (Q) we can set:
Tolerance and Energy. This is only available in Colour mode and allows us to set the tolerance in 9 levels and to optionally turn off energy evaluation, which can be useful with object distances of more than 65mm.
Smart Functions. An on delay, off delay, impulse or counter.
NO/NC.
Connect. An additional colour that must or must not be detected.
Activate. On, off or reset.
I/O Q. Pin.
Some of the above actions can also be executed for all switching outputs via Config Q all.
Finally, the display be may turned off or a screensaver configured, a password may be set, and information such as the device name, part number and software version may be displayed.
I/O-Link Features
Of course, by exploiting the IO-Link capabilities of the 46CLR sensor, via a CompactLogix controller, for example, it is possible to develop much more advanced solutions.
The sensor heartbeat function indicates to the PLC when a sensor has lost connectivity due to failure or faulty wiring.
Access to red, green, blue, and colour intensity information.
Seven colour channels can be taught when operating using IO-Link.
Signal strength indicates the reflectivity level of the reflector. This function is ideal for continuous monitoring and addressing challenging applications.
Location indication helps you to identify the sensor that must be readjusted or taught in the application quickly.
Counter, timers, and monitoring frequency parameters enable operators to add ON delay and OFF delay on the output behaviour.
User interface lock helps prevent unintentional or undesired changes to the sensor setup parameters.
Two process data maps allow operators to use the continuous parameters best suited for the application

Above we can see the 46CLR Process Data Map 0, which may be accessed via IO-Link and this provides access to signal quality, signal quality score and triggered information.

Process Data Map 1 meanwhile provides an IO-Link enabled controller with access to sensor RGB+I values, allowing far more sophisticated applications to be developed, where colour sensing logic is implemented by the controller instead of the sensor.
In addition to the two data maps there are also seven tables, which together provide comprehensive information about the sensor configuration and state, and enable it to be remotely configured.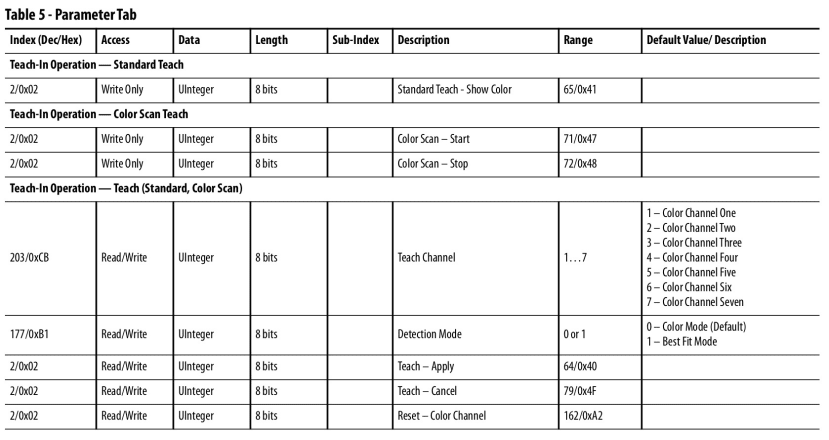 Fragment of 46CLR IO-Link Parameter table.
The Parameter table provides access to a great many R/W parameters, which hold all the configuration values for colour channels etc. and can also be used to enable teach-in.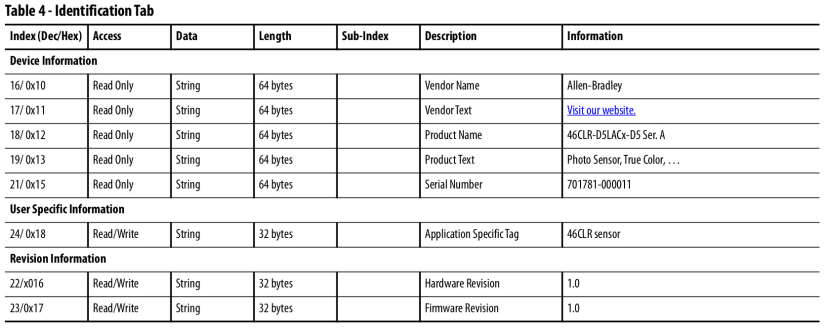 An Identification table provides information which may be useful in both commissioning and maintenance, such as the product name, serial number, hardware revision and firmware revision.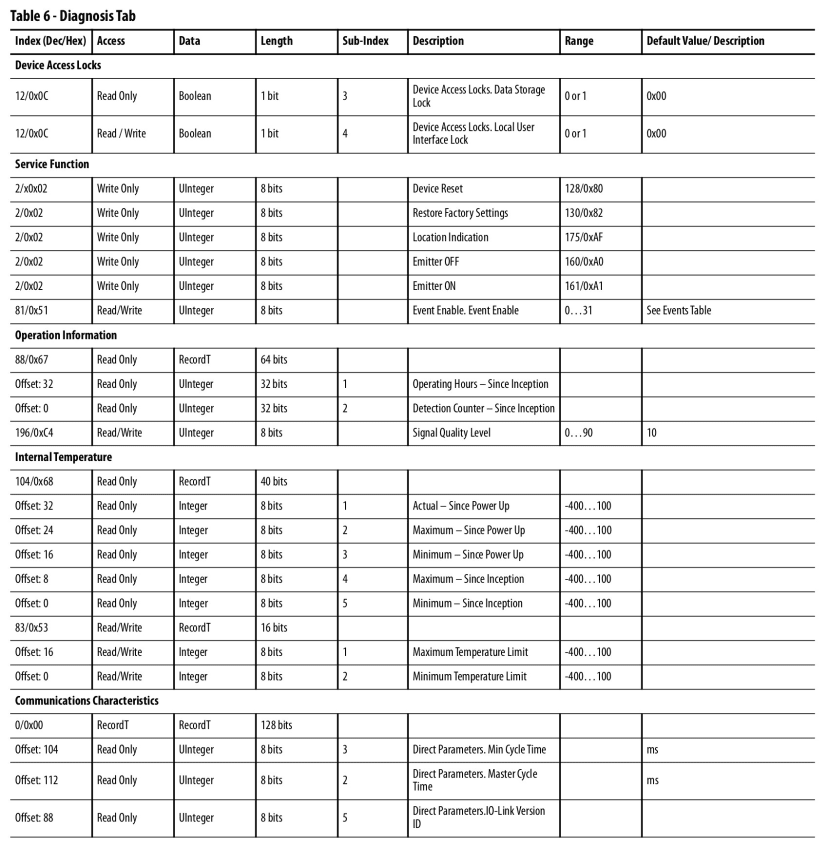 The Diagnosis table provides access to information which will prove valuable in scheduled and preventative maintenance, such as details of operating hours and sensor signal quality level.
The Events table will prove invaluable for maintenance and, importantly, in remote fault alerting and diagnosis.
Seamless, rapid integration is made possible when using other Rockwell Automation IO-Link products, such as CompactLogix and ControlLogix controllers, together with the Studio 500 Logix Designer software. However, at the same time, thanks to IO-Link being an open standard and Rockwell Automation making sensor IO-Link Device Description (IODD) files available for download, 46CLR sensors may also be integrated with third party fieldbuses and IO-Link masters.
Wrapping Up
Rockwell 46CLR ColorSight True RGB Colour Sensors are incredibly flexible and packed with advanced features which will bring significant value to a diverse range of industrial applications. The combination of switched outputs and local configuration, plus IO-Link interfacing, means that the 46CLR can be retrofitted into simpler existing systems with ease now, while future-proofing the investment made as IO-Link integration can then be rolled out at future date.
The benefits of IO-Link being clear, in providing more visibility on the device health status, which helps operators to take smarter decisions and very importantly reducing unplanned machine downtime and faster machine commissioning and uptime which will result in higher overall equipment effectiveness (OEE) of machines and plant.