Rockwell Automation IO-Link Sensors Help Reduce Downtime and Increase Productivity
Follow article

Dave from

DesignSpark
How do you feel about this article? Help us to provide better content for you.

Dave from

DesignSpark
Thank you! Your feedback has been received.

Dave from

DesignSpark
There was a problem submitting your feedback, please try again later.

Dave from

DesignSpark
What do you think of this article?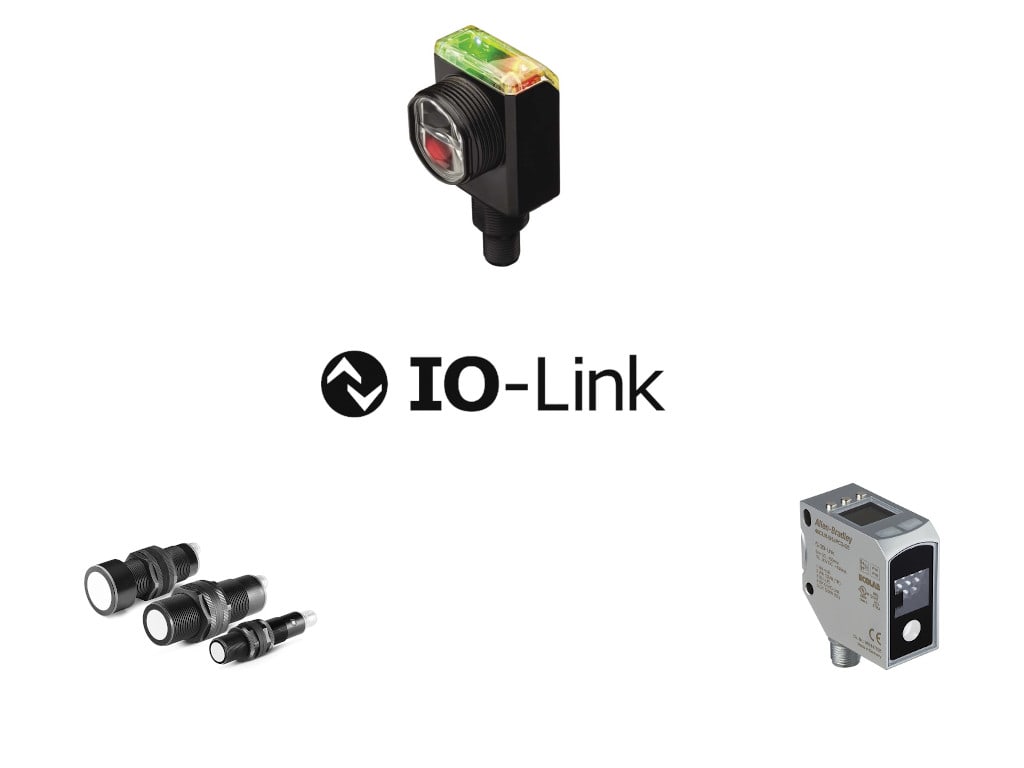 Rockwell Automation sensors provide smart foundations for Industrial IoT.
Manufacturing operations and industrial processes face a constant stream of challenges, with the tireless drive for greater efficiency, coupled with waste reduction as part of increasingly stringent legislation that is set against a backdrop of heightening environmental concerns. Such challenges may be addressed in part through the introduction of new cutting edge processes and machinery, but with this often comes added complexity and effective integration is of paramount importance, with a real-time view of operations and plant status being essential in order to reap the full benefits.
The Industrial Internet of Things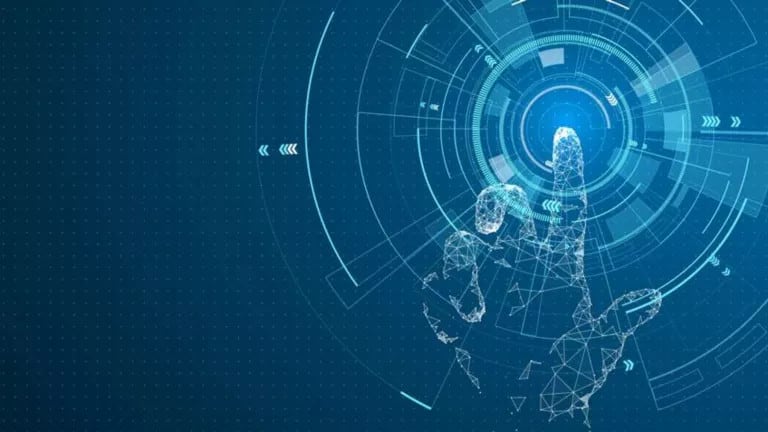 The Industrial Internet of Things (IIoT) embeds intelligence and integrates connectivity at the plant-level, providing a platform for joined-up operations with real-time insights. The Connected Enterprise takes this one step further and converges plant-level and enterprise networks, connecting people, processes and technologies; bringing together operational intelligence, productivity insights and risk management, underpinned by the real-time sensor and process etc. data provided by IIoT.
However, the quality of the information insights provided can only be as good as the quality of the data used to generate them. Furthermore, with the significant investments being made, reliability and minimal downtime are absolutely key if a return on investment is to be realised. Given the harsh environments in which sensors frequently operate and their critical function, it is clear that quality alone is not sufficient — sensors must be able to report their own status so as to enable preventative maintenance and minimise downtime, with features to facilitate servicing procedures.
The IO-Link Advantage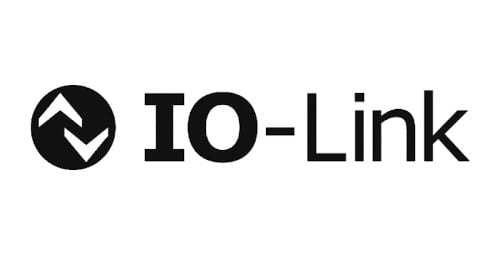 IO-Link sensors provide a smart advantage right where it matters most, at the very coal face of industrial operations, by embedding intelligence that can identify the sensor type and serial number, hold configuration parameters and provide diagnostics. This makes it possible to identify when an IO-Link device needs maintenance, such as an optical sensor which requires cleaning. Thereby enabling maintenance to be scheduled when this will have minimal impact on operations. Should a sensor be damaged and need replacing, commissioning is expedited and scope for error minimised as configuration is downloaded via the IO-Link protocol. While issues arising from cabling errors are reduced as controllers uniquely identify sensors by their serial number.
The IO-Link interface and system has been standardised by the IEC and provides backward compatibility with legacy proximity, switch and other sensors, thereby easing migration. While also utilising tried and tested industrial M5, M8 and M12 industrial circular connectors for cabling.
Example Products
Next, let's take a look at some typical IO-Link sensors. Here we will see that these share certain common features that simplify commissioning, preventative maintenance and servicing. Such as location indication to help distinguish sensors in large installations, plus internal temperature measurement, which might be used to raise the alarm if operating outside the specified range.
Other features may be specific to a family of sensors, such as the margin low alarm which 42AF sensors use to indicate that insufficient light is being reflected and the sensor may be about to fail.
46CLR ColorSight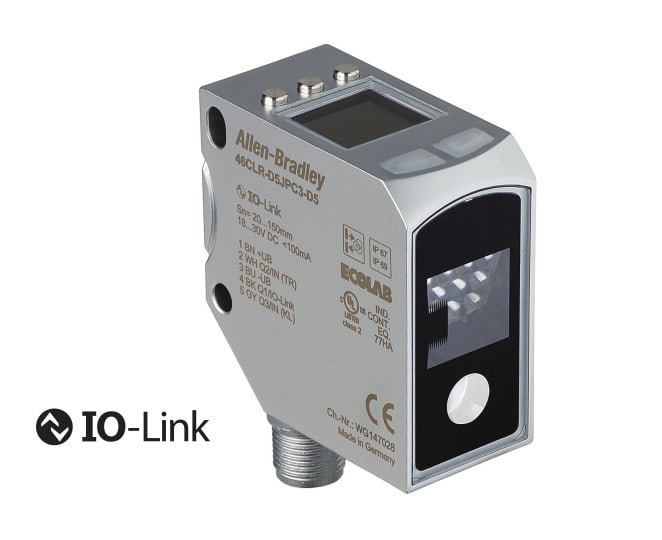 The 46CLR ColorSight is a true colour sensor that was designed to perform the sensing operations commonly found in the automotive, food and beverage, pharmaceutical, and plastics, among other industries. The sensor includes patent pending distance correction technology that confirms consistent colour detection at ranges up to 65 mm. Along with internal storage of up to seven colours and nine adjustable tolerance levels for optimal application flexibility. It is also available in models with glare suppression, small spot size and long range.
The IO-Link features and benefits include:
Triggered for Seven Colour Channels provides indication on each of the available colour channels – three discrete outputs and four virtual outputs.
Two Data Process Maps: data map 0 indicates the individual status of internally stored colours within the sensor, while data map 1 displays the RGB+I information.
Red, Green, Blue and Intensity provides the raw value of red, green, blue and intensity as a process data map.
Signal Strength provides the raw signal strength value reflected by the colour target.
Location Indication helps distinguish sensors in applications where you may need to identify in a large machine.
Multiple Profiles can be set up and stored to support multiple machine configurations. Multiple profiles enable configuring the sensor one time and having the capability to change products instantly without manual intervention.
Internal Temperature helps you determine if the sensor is operating close to its minimum and maximum temperature range.
Counter counts the number of times the target has been detected.
Timers indicates the amount of time the target was present or absent, which can be used to determine how fast your system is operating.
Averaging Filter this parameter changes the number of samples that the sensor takes to stabilize the measurement. This averaging operation provides a consistent representation of the measurement.
User Interface Locks helps prevent undesired or unauthorized changes of the sensor settings.
42AF Long Range General Purpose Sensors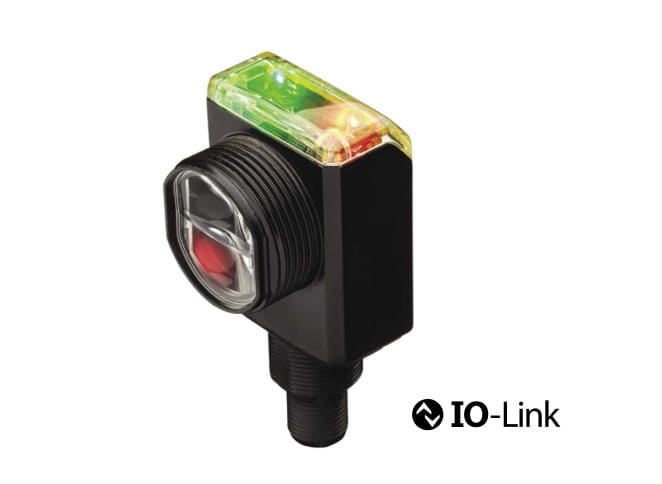 The 42AF RightSight M30 family offers long sensing range in a compact new housing that features a threaded 30 mm nose and threaded 18 mm base for flexible mounting and fast installation. The rugged IP67/IP69k housing is also fully sealed, allowing the RightSight M30 to withstand tough industrial environments, including those involving high-pressure and high-temperature washdowns.
The ultra-bright status and power LEDs can be seen from 360 degrees, simplifying setup, monitoring and troubleshooting. Background suppression, background reflection, polarised retroreflective and transmitted beam sensing modes are available.
The IO-Link features and benefits include:
Output status indicates when the target is detected.
Margin Low Alarm indicates when the target signal is marginal and about to fail.
Proximity Alarm indicates if there is a target in the background that may be in close proximity to the threshold,
Signal Strength provides the raw signal strength value reflected by the target (diffuse) or the reflector (retro).
Location Indication helps distinguish sensors in applications where you may need to identify in a large machine.
Alignment Mode helps sensor alignment in diffuse and polarized retroreflective applications.
Internal Temperature provides the sensor's internal temperature which helps you determine if the sensor is operating close to its minimum and maximum temperature range.
Counter counts the amount of times the target has been detected.
Adjustable Response Time allows operator to change the response time for longer range on background suppression and background reflection models (Time of Flight).
Timer indicates the amount of time the output was present or absent to help determine the how fast your system is operating.
871FM Mini Flat Pack Sensors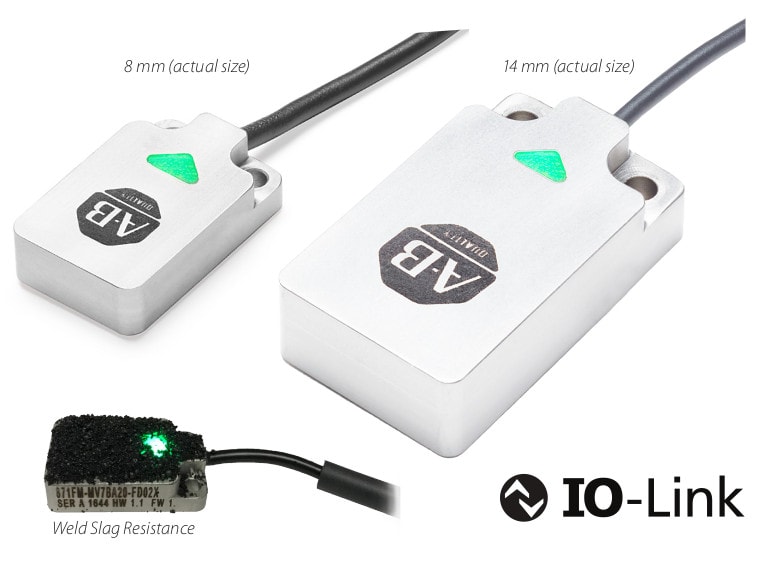 The 871FM rectangular sensors can be applied where traditional tubular proximity sensors cannot. They are designed to sense the presence of ferrous and nonferrous metal objects without touching them at equal sensing range. The 871FM is offered in general purpose and rugged welding versions with sensing ranges up to 10 mm (0.39 in.).
The IO-Link features and benefits include:
Output status provides indication when the target is detected.
Margin status provides indication when the target is detected beyond 80% of the specified operating range.
Timer functions when enabled, reports the sensor output time from ON (Duration Triggered) to OFF (Duration Not Triggered).
Switching mode polarity allows the device output type (i.e., N.O. or N.C.) to be changed for use in standard IO mode.
Detection counter tallies the number of switching operations.
Temperature functions identify the actual internal temperature of the sensor and the maximum internal temperature of the device recorded over the operating life of the sensor.
Signal strength reports information about the quality of the signal received by the sensor. The higher the signal strength, the stronger the signal received by the sensor.
Proximity alarm provides information when the target is approaching and detected but not close enough to switch sensor output on.
Interfacing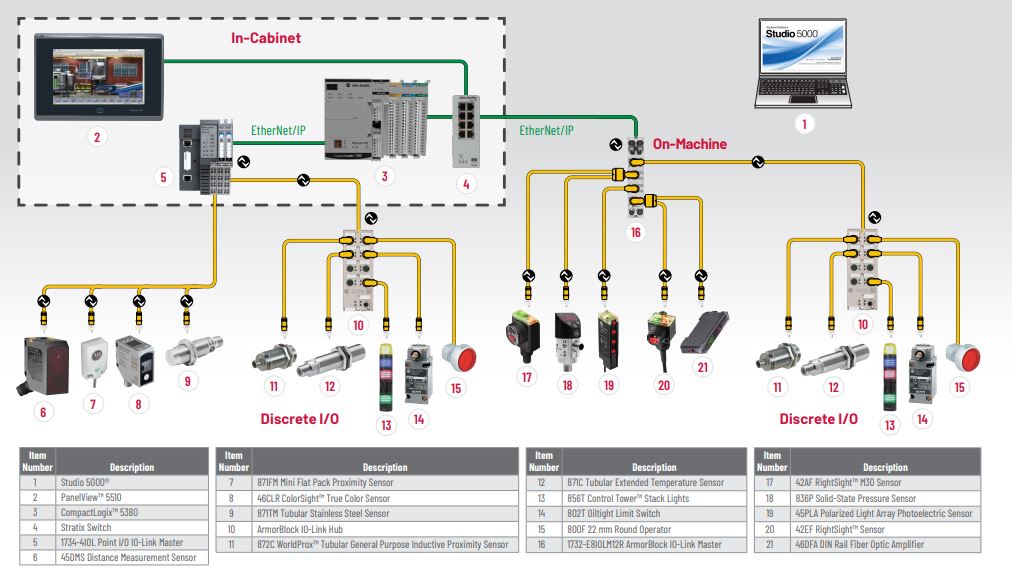 Rockwell provides every piece of the Connected Enterprise solution from top to bottom. Typical hardware for which might include the required IO-Link sensors and cabling plus, for example:
Here the 1734-AENTR would provide Ethernet/IP connectivity to the PLC platform, with the 1734-IOL providing a 4 channel IO-Link master.
Since IO-Link is an open standard, it is also possible to use sensors, interfacing and PLC platforms from other vendors, albeit with reduced end-to-end integration, hence convenience and feature set.
Configuration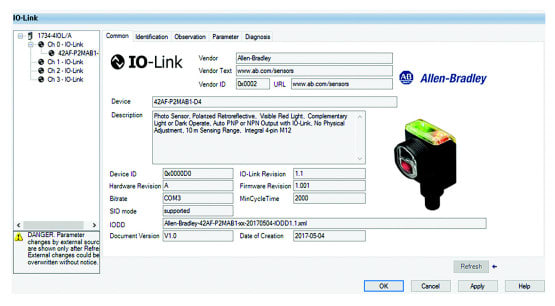 The Studio 5000 Logix Designer software can be used to program the PLC platform, together with configuring the POINT I/O modules and I/O-Link sensors. Meaning that you don't have to keep switching between tools and copying and pasting parameters. Once PLC and IO-Link master basic setup has been completed, sensors can then be registered using their IO Device Description (IODD) file. By default, the IODDs for Rockwell IO-Link sensors are provided in the Studio 5000 Add-on Profile (AOP) library. However, where required IODDs can also be downloaded from Rockwell.
Once registered a sensor may be connected to the IO-Link master and following which, its IO-Link parameters may be explored from within Studio 5000. These are organised via five tabs and using the 42AF long range sensor as an example here we would find:
Common provides general product information about the sensor specifications and IO-link IODD information.
Observation provides the sensor catalogue number, series letter, general product description including the current product firmware, and hardware revisions.
Identification provides device monitoring parameters with signal strength ON, signal strength OFF, contrast, and gain.
Parameter displays and allows you to change the IO-Link parameters offered by the 42AF.
Diagnostic offers the different teach functions available in the 42AF.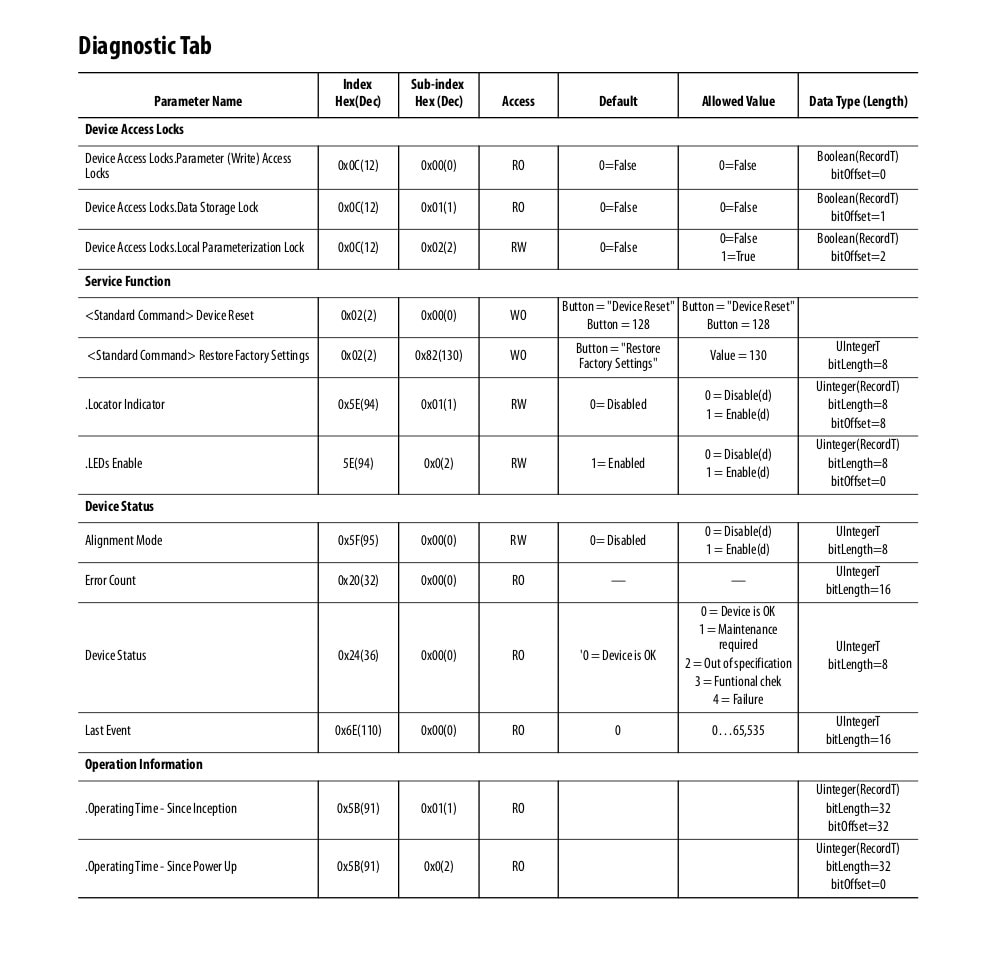 Above can be seen the parameters which may be accessed via the Diagnostic tab, which includes things such as device status, error count, total operating time and operating time since power up.
Further reading
In this article, we've taken a look at just a few of the benefits of IO-Link, the features provided by a small selection of typical sensors, and barely scratched the surface of Studio Logix 5000. Please see the following links for further details of these and Rockwell Connected Enterprise.
DesignSpark staff update: The products featured here will be part of a range update at RS in the coming weeks, check back regularly for updates.