Dave from

DesignSpark
How do you feel about this article? Help us to provide better content for you.

Dave from

DesignSpark
Thank you! Your feedback has been received.

Dave from

DesignSpark
There was a problem submitting your feedback, please try again later.

Dave from

DesignSpark
What do you think of this article?
After many years of anticipation, and not a little hype, 2019 promises to be the year when 5G finally arrives. Although both AT&T and Verizon launched flavours of 5G service in a handful of US cities during the closing months of 2018, the majority of the world's operators are still at the trial stage. However, according to a recent report by the Global Mobile Suppliers Association, (GSA), 80 operators in 46 countries plan to launch 5G between now and 2022. Aside from the US – South Korea, China and Japan are among the countries planning service launch in 2019 whilst most European operators are expecting to go live with 5G in 2020 when at least 37 networks are currently scheduled to be turned on.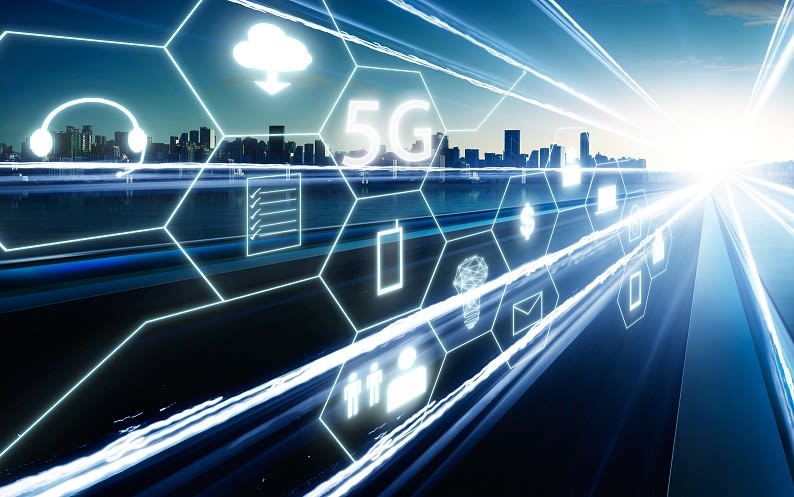 Two significant milestones will ensure that 2019 is key to the evolution of 5G. 3GPP, the organisation tasked with developing mobile specifications, will deliver Release 16 by December, effectively completing the 5G specifications to meet the International Telecommunications Union's, (ITU), 2020 deadline. Also, October of this year will see the ITU's World Radiocommunication Conference, (WRC-19), where the 5G radio spectrum allocations will be agreed.
Of course, the industry hasn't been sitting on its heels awaiting these developments; according to the GSA, 192 operators in 81 countries are actively investing in 5G. Elsewhere in the 5G ecosystem, chipset manufacturers, such as Qualcomm with their Snapdragon X50 modem along with a host of device manufacturers including Nokia, Sony, HTC, Samsung, Huawei, Motorola and Xiaomi, are preparing to bring 5G products to market.
5G represents a transformation of wireless networks, based on a completely new architecture from previous generations. The growing demand for high speed, low latency communications, along with the sheer numbers of devices that are forecast to be connected – over 29 billion by 2022 according to Ericsson – has forced a total re-think of mobile communications technologies and techniques.
Recognising that current 4G/LTE networks were approaching capacity, the ITU, in 2015, defined the requirements specification (Figure 1) for the next generation of networks – 5G.

Figure 1: Selected Key Performance Indicators of 5G according to ITU-R
(Source: "5G for Connected Industries and Automation", 2nd edition, White Paper, 5GACIA, November 2018)


In order to meet these demanding requirements, network designers have had to employ some highly sophisticated and state-of-the-art technologies. Massive MIMO with beam-forming is used within the 5G Radio Access Network, (RAN), to improve spectral efficiency, enabling higher bandwidths to be obtained at existing wavelengths. Whilst continuing to use lower frequency spectrum, 5G will also make use of the mmWave frequencies at 30GHz and above in order to deliver the massive bandwidths required by the 5G specification. Infrastructure design at these wavelengths is more complex and expensive due to the short distances over which signals propagate, requiring network cells to be much smaller and denser than for 4G/LTE networks.
5G will also employ a number of enhanced network management features, including network slicing, which will allow operators to offer services tailored to specific applications. Self-driving cars, for example, require extremely fast, low latency connections to support real-time navigation, but many IoT sensors transmit data in periodic bursts, requiring high speeds and a lower class of service.
5G offers much more than previous generations of mobile technology and will be about much more than handset-to-handset communication. In 2018, according to Ericsson, more IoT devices were forecast to be connected wirelessly than mobile phones and these devices include connected cars, machines, meters, wearables and other consumable electronics. By 2022 it is estimated that 18 billion of the forecast 29 billion connected devices will be IoT related.
The ITU defined 3 broad categories of use case for 5G services and released the diagram shown in Figure 2 to show how various applications map onto the 5G functionality.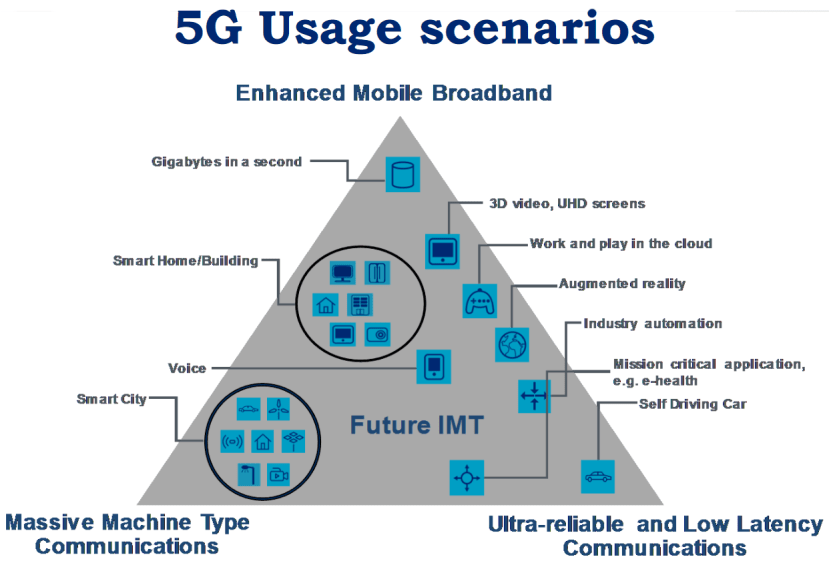 Figure 2: 5G use cases
Source: ITU


The Industry 4.0 smart factory replaces static sequential production systems with versatile production techniques, combining human expertise with automation, including cyber-systems. The speeds and latencies offered by the eMBB and ULLC functionality of 5G frees production systems from the tyranny of hard-wired networks, enabling production systems to be reconfigured more rapidly.
Augmented Reality (AR) is an emerging technology which lends itself to a number of applications, including gaming, healthcare and training. 5G bandwidths and latencies reduce the costs of this technology by enabling the content to be stored and accessed from the cloud, reducing the complexity of the AR wearable device.
The MMTC capabilities of 5G support large scale sensor networks such as may be found in refineries, factories or in agricultural situations which may not need to transmit data regularly and which may be required to run on battery power for extended periods of time.
To realise the benefits and make money from 5G, operators must invest heavily in infrastructure. The higher frequencies of 5G require a much higher density of network cells, new RAN equipment must be deployed to existing masts, backhaul networks must be upgraded to fibre, network management systems must be upgraded and spectrum must be acquired. More base stations also imply more power consumption in the network and, with base stations accounting for almost 60% of total mobile network power consumption, this threatens to further impact profitability. Analysts are however optimistic on this front as a number of energy efficient techniques such as "sleep mode" and increased software functionality are expected to ensure that 5G base stations are more energy efficient than 4G equivalents. Also, 5G base stations will serve many more users than 4G, increasing their power-efficiency per user.
Many operators haven't finished rolling out their 4G/LTE networks, making the 5G business case difficult and requiring that roll-outs must be carefully planned. For instance, at lower frequencies, 5G services can be provided from extended LTE networks, enabling operators to monetise certain 5G use cases whilst delaying full 5G roll-out until shortage of bandwidth demands it. Other strategies may involve focusing on Fixed Wireless Access, (FWA) as Verizon has done in the USA, enabling revenue streams from targeted investments. Other approaches will likely involve focusing SA investments in key urban areas and cities where take up of service will be rapid.
Businesses adopting 5G also face investment and roll-out decisions and must address security concerns raised by the increased attack surfaces presented by the proliferation of connected devices and also the increased volumes of data flowing across the network to the cloud.
Despite the above, and many more challenges, the prize for those who get it right is significant. The GSMA, a trade body representing the interests of mobile network operators worldwide, predicts that 5G connections will reach 1.1 billion by 2025, causing operator revenues to grow at a CAGR of 2.5% to reach $1.3 trillion. At the same time, a recent study from Ericsson[i] predicts that ICT players will generate 234 billion USD of 5G revenues from the manufacturing vertical. In manufacturing, PWC reports[ii] that by 2020, European companies will be investing €140 billion annually in industrial Internet applications enabled by 5G, and expect to achieve on average 18% efficiency improvements over the next five years.
There is no doubt that 2019 will be the year when the world begins to see the long-anticipated arrival of 5G. The benefits that you will see this year will very much depend on where you live; if you're in a large city in the USA or the Far East then the chances are you will be able to use a 5G handset before the year is out. If you're in a rural area then 5G FWA may dramatically increase your broadband speed.  But wherever you are, even if it doesn't reach you this year then 5G is literally just around the corner.
[i] The Industry Impact of 5G, Insights from 10 sectors into the role of 5G, Ericsson
[ii] Industry 4.0 – Opportunities and Challenges of the Industrial Internet, PWC