Dave from

DesignSpark
How do you feel about this article? Help us to provide better content for you.

Dave from

DesignSpark
Thank you! Your feedback has been received.

Dave from

DesignSpark
There was a problem submitting your feedback, please try again later.

Dave from

DesignSpark
What do you think of this article?
Challenges for Robotics
Humans and robots are working more closely together. Sensors help robots make more intelligent decisions and give them the ability to sense objects, the environment, or their own position. Thanks to sensors from SICK, robots perceive more precisely - the prerequisite for close collaboration. For all challenges in the field of robotics: Robot Vision, Safe Robotics, End-of-Arm Tooling, and Position Feedback. Flexible automation solutions thanks to Robot Vision technology and freely accessible robotics applications - this is the future that has already begun. Sensor solutions from SICK make this future possible. Humans and machines work hand in hand - just like SICK together with its customers.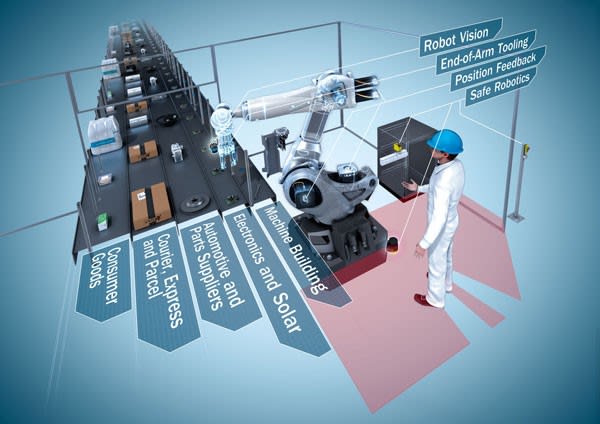 ROBOT VISION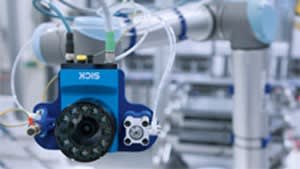 Image-based solutions which enlarge the field of vision of the robots are increasingly
becoming the focus. Thanks to vision technology from SICK, the robot localizes and
identifies defined objects in advance and decides by itself how to grip the respective
part. Thereby, there is no need for mechanical attachments such as object guides.
Even measurements and quality inspections can be carried out. For example, optical
monitoring systems can monitor the position and quality of products and harmonize
the sequence during the joining process.
SAFE ROBOTICS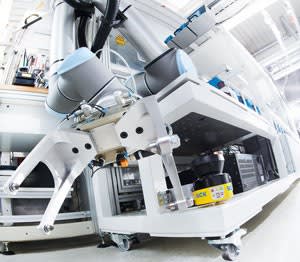 The close and, at the same time, safe collaboration between humans and robots on
an equal footing is the prerequisite for high productivity, increasing efficiency, and
improved ergonomics. Safety technology thereby plays a key role. SICK's extensive
portfolio of safety solutions enables unimpaired and safe human intervention into
the robot system and reduces downtime in production. This can be achieved with an
adaptive perception of the environment with the aid of intelligent, rugged, and reliable
sensors and safe systems.
END-OF-ARM TOOLING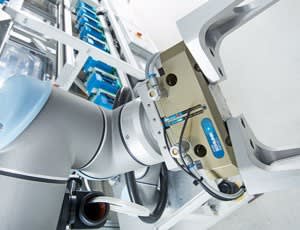 The sensitivity of gripper arms is becoming increasingly important, especially when
it comes to flexible production and batch size 1. Intelligent object detection is the
key to complex automated applications Light sources and detection functions can be
customized and preset in line with special object properties relating to material, surface,
or form, for instance. The intelligent sensors from SICK cover all applications
for End-of-Arm Tooling and the respective feed systems.
POSITION FEEDBACK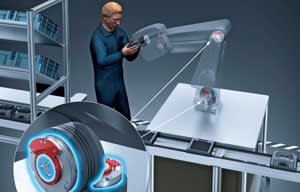 Motor feedback systems in the field of robotics deliver the data on speed and position
as well as on the condition of the drives to the control system. They thereby
create the sensory foundation for all robot movements. These Smart Motor Sensors
from SICK are right in the centre of the action and provide the necessary data for the
efficient control of the robot and the plant.
Download the brochure attached for further details.
See SICK at RS Online.