Dave from

DesignSpark
How do you feel about this article? Help us to provide better content for you.

Dave from

DesignSpark
Thank you! Your feedback has been received.

Dave from

DesignSpark
There was a problem submitting your feedback, please try again later.

Dave from

DesignSpark
What do you think of this article?
What I learned from the everywoman in Tech Forum!
Last week I got the chance to be invited to the everywoman in Tech Forum 2021 by the lovely Amy at RS-GrassRoots. A 3-day-event during the week, hard for me to take part in every event, but the one I went to were extremely interesting, and it will be my pleasure to report back on my 2 favourites!
First of all, my name is Jeanne, I am a 4th-year Mechanical Design student at the University of Glasgow and the president of FemEng, our local society to empower women in engineering. The link between the Tech industry and mechanical engineer is not obvious, and this is exactly my problem. When starting university, I naively chose this course because why not, but soon realised that I loved coding, so this event was the perfect way to step a foot in the tech industry and see what this is all about! This was even more informative as this event was organised by professionals for professionals, so I really was in immersion in the tech industry!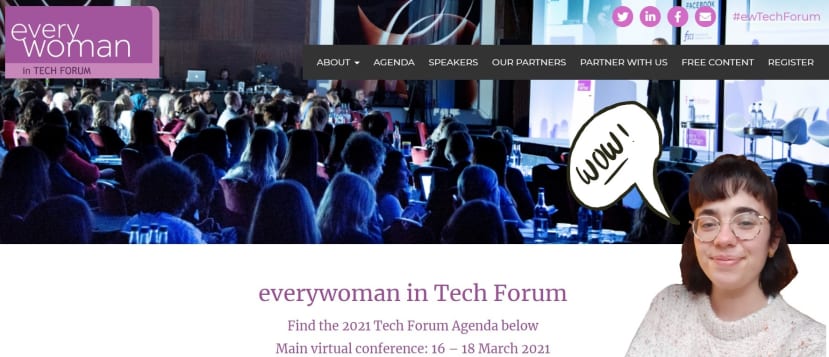 Make an Impact by Jodie Goldman
Jodi is a coach, she teaches women in the industry how to make an impact, how to make sure people remember you as this strong and independent woman you want to be!
She started the talk with one of the storytelling techniques that we taught the FemEng members during a GrassRoots workshop, she started by asking questions, questions that referred to the situation to which all of the women in the room have been confronted like: you are in a meeting knowing that you have the answer to a problem but not feeling confident enough to speak. It is crazy how this interactive opening already made an impact!
One of the examples that really spoke to me was the one about the swimming pool. As a human, we are stuck between the comfort zone where things are predictable and sweet and a deep desire for more. So now imagine you sitting by a swimming pool, the comfort zone is to stay dry, you know you enjoy having your feet on the floor, it is easy and sweet, and on the other side, you are called for an adventure, plunging in this dangerous and unknown body of water. If you decide to get in, it is going to be messy, very ugly to see first swimmers moving about, but with time and effort, you will learn, gain confidence in this new skill. And it is this confidence that you have gained that allows you to make an impact!
Tech for good: how can we leverage the digital to build a better world?
How many times have I considered dropping my mechanical study to start over for software engineering? Well, too many times Ahah! But one of the reasons that always made me stay, is that the Tech sector seemed deprived of a purpose, the incarnation of over consumerism, building new technologies for people that don't know they need it and all of this at what cost?
This panel had 3 amazing panellists :
Anna Borgström, CEO, NetClean: their technology aims at stopping the dissemination of child sexual abuse content online<
Amanda Obidike, Executive Director, STEMi Makers Africa: NGO looking at equipping young Africans with STEM tools and skills <
Sarah Fatchett, CEO and Founder, 365 Response: their technology aims at improving transport solution for users with medical requirements. <
Right, there I can't say that these women are not working towards altruistic and sustainable goals! It was truly eye-opening to hear how this technology has a social impact. So yes they are not creating something material for a clearly defined need, but they are filling up a gap, helping out a part of the population that has been left on the sidelines!
One question that I was still left width is that if we look at the UN sustainability goals most of them refers directly to a population that does not have access to technology like no app is going to give access to clean water to remote communities you know? To this Amanda took the time to answer me as she works with rural communities in sub-Saharan Africa, she agreed with my point, taking the example on teaching programming to children that don't have access to data, you can't do it alone, but you can do it with partners! They don't have computers, get a computer company to give you some and little by little you can make a big impact! I am sure that this will ring a bell to our FemEng in Malawi team!
To end this panel, we finished on call to all industry to always consider the welfare of their user and of the environment as a number one priority. If you take care of a child now he might become a key stakeholder in the future, so even in term of profit, you need to look after the communities and resources that you impact.
To put it all in a nutshell, this forum really broadened my horizon of what tech is and who are the inspiring women working in it. I am curious to see where my engineering skills and my quest for sustainability could take me if I was to decide to step a foot in the tech for a good industry!