Dave from

DesignSpark
How do you feel about this article? Help us to provide better content for you.

Dave from

DesignSpark
Thank you! Your feedback has been received.

Dave from

DesignSpark
There was a problem submitting your feedback, please try again later.

Dave from

DesignSpark
What do you think of this article?
For many manufacturers, improving machine and overall performance efficiency has become critical as they seek to reduce costs and stay ahead of competitors. Variable Speed Drives play a key role in driving efficiency at the design stage and on the shop floor.
The latest new generations of variable speed drives (VSDs) now play a critical role in improving performance efficiency - both in terms of developing OEM machinery as well as during production. Sources estimate that using modern Variable Speed Drive technologies can improve the design, installation, and operational efficiency by as much as 30%.
But what makes up this 30%? We consider the ways in which VSDs can improve overall design, implementation and performance efficiency:
1. Energy Efficiency
Variable speed drives help to avoid energy waste.
Due to oversizing many machines consume more energy than they absolutely need to. But if designs are specified and built correctly, "rightsizing" and avoiding negative impact on performance levels is perfectly achievable.
For example, in the field of pump motor control, an oversized pumping system combined with permanent flow reduction carried out by a throttle results in a lot of energy wastage. In cases where flow is variable or requires high levels of accuracy, VSDs provide an efficient, active solution, constantly and intelligently matching the speed of the motor to the flow that is actually required.
For applications with variable loads, such as fans, compressors or pump applications, for example, variable speed drives can help businesses consume up to 50% less energy. If an application requires starting repeatedly, using speed drives in the place of more conventional contactors limits starting current and as a result reduces losses and load peaks. The initial outlay of investment in the new drive technology will be paid back quickly as electricity bills come down – potentially within a timeframe of less than one or two years (depending on application).
Customers who have used both Schneider Electric and alternative competing devices have fed back that Schneider Electric Altivar ATV320 VSDs used up to 10 percent less energy. This is because the ATV320 drives are tuned to provide precisely the right levels of current to flux and control motors.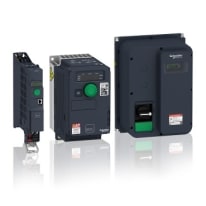 A full selection of ATV320 Variable Speed Drives is available from RS Components
2. Easy Integration
ATV320's unique form factors and IP ratings help machine builders to optimize new machine designs and reduce machine footprint. The ATV320 offers versatile form factors including book or compact format that will fit into virtually all machine layouts. Its IP66-rated design allows for decentralized mounting in cases when the drive can't be positioned in a cabinet or a machine.
In addition, "Altivar Logic", (the ATV320's embedded programmable logic functions) also helps OEMs to customize specific functions without the need to update the PLC program. It will work without additional equipment and its programming capability offers machine builders the design flexibility they need to speed up machine integration time. The standardized machine program can be used to carry out any customisation which is needed.
3. Reduced Commissioning Time
For OEMs, it is vital that processes are kept as simple as possible to reduce the time spent on commissioning. For many manufacturers, a variable speed drive represents complexity, but when compared with other VSDs available in the marketplace today, the ATV320 is simple to configure using management interface software which is intuitive and easy to understand. Setting production parameters is quick and simple, resulting in a reduction in commissioning time.
4. Driving Operational Efficiency. Helping Predictive Maintenance
During operation, a VDS can act as a smart sensor, collecting data on all of the key parameters which affect the lifetime of the driveline: operating time, temperatures, torque, voltage, motor overload, etc). This means that it helps maintenance engineers to calculate and predict future outcomes for certain, specific chain elements, prompting them to replace or maintain critical parts as required. If parameter ceilings are exceeded, the VSD can trigger alarms, warnings or stop operation and reduce the impact of unexpected downtime. When a VSD is used to automatically transmit data to monitoring dashboards, access to specific critical documentation such as early field service reports is instant – unexpected changes in performance or requirements for emergency maintenance are flagged clearly and quickly.
Visit the Schneider Electric website for more blogs on this subject.