Dave from

DesignSpark
How do you feel about this article? Help us to provide better content for you.

Dave from

DesignSpark
Thank you! Your feedback has been received.

Dave from

DesignSpark
There was a problem submitting your feedback, please try again later.

Dave from

DesignSpark
What do you think of this article?
If you are familiar with Analog Discovery test and measurement solutions from Digilent, such as Analog Discovery 2 or Analog Discovery 3000 series, I am sure you will be very happy to hear about the latest addition to the Discovery family - Analog Discovery Pro (model ADP5250) (241-4277) portable high resolution mixed signal oscilloscope, which brings higher sample rate and bandwidth as well as a more rugged design compared to its predecessors. With continuous support from free WaveForms software, the ADP5250 offers various virtual instruments, including Oscilloscope, Waveform Generator, Digital I/O, Logic Analyzer, Spectrum Analyzer, just to name a few. This all-in-one testing solution will be a great addition to your workbench!
In this episode of DesignSpark Unboxing video series, I will unbox one of the ADP5250 devices, go over the hardware and software features and perform some test measurements for demonstration purposes.
What to expect?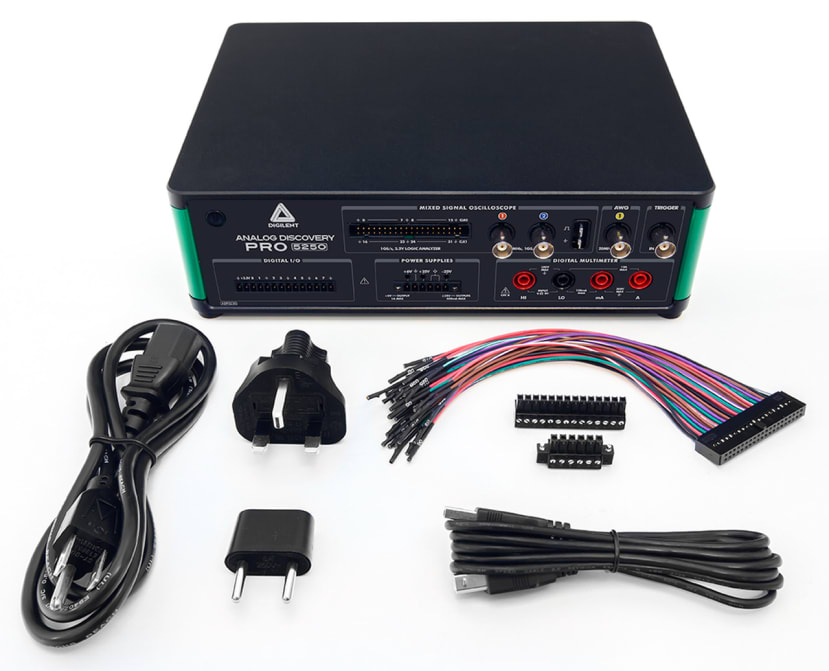 Outer box
Analog Discovery Pro, safely protected using a foam
Leaflet with instructions
Box with accessories*


USB A to B cable
Power supply cable (US)
Power adapter (EU, UK)
2x18 Logic Analyzer MTE Cable
1x14 Digital I/O Screw Terminal Adapter
1x6 Power Supply Screw Terminal Adapter
*Not included in the accessories box, but can be purchased separately:
Walkthrough of ADP5250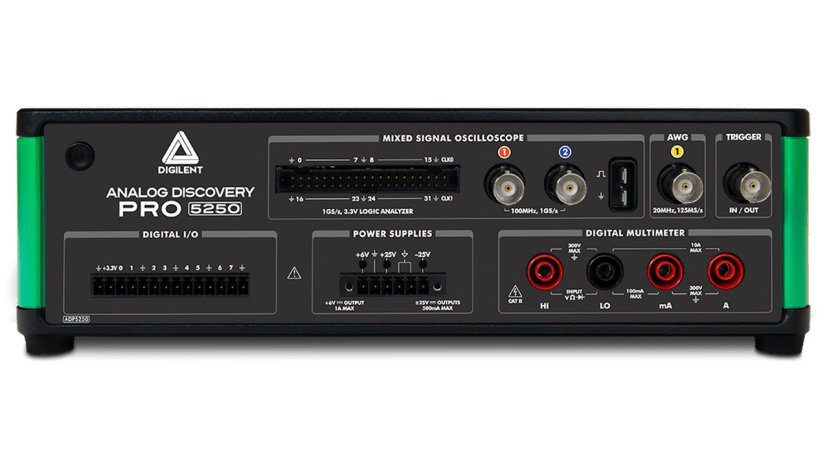 Starting with the mixed-signal oscilloscope section of the ADP5250 device, it combines 2 analog channels and 32 digital input channels.
Digital inputs
The digital input channels have a maximum sampling rate of 1GS/s with a typical record length of 1 MS. The input voltage range is between 0 and 5V. These channels can be used with the Logic Analyzer instrument to capture and view digital signals.
Analog inputs
The two single-ended, analog input channels are accessible via BNC connectors. These have analog bandwidth of 100MHz, 8-bit resolution at a maximum sampling rate of 1GS/s and a maximum record length of 1MS per channel. The maximum input range is 40V peak to peak and the inputs handle both DC and AC coupling modes. The analog input channels are used for various virtual instruments within Waveform software, such as Oscilloscope, Data Logger, Network Analyzer, Spectrum Analyzer, and Impedance Analyzer.
Waveform Generator
Next to the MSO, there is a single channel arbitrary waveform generator with 14-bit resolution and update rate of 125 MS/s. It can produce sine, triangle, sawtooth, noise as well as user-defined arbitrary waveforms.
Triggering
The top half of the device is completed by an external trigger connector.
Digital IO
The bottom row starts off with the 8-channel digital I/O pins that can be used along with Static IO instrument to emulate a variety of user input/output devices such as LEDs, buttons, switches and more.
DC power supply
0 to 6 V variable, 1 A max current
0 to 25 V variable, 500 mA max current (isolated)
0 to -25 V variable, 500 mA max current (isolated)
Digital multimeter
And lastly, there is a digital multimeter with a resolution of 5.5 digits for your standard AC/DC voltage and current as well as resistance measurements, which can be used in the DMM instrument.
Software
The WaveForms software package can be used to access virtual instruments with the device. You can download and install software directly from Digilent's website using this link.
Available instruments:
Oscilloscope
Wavegen
Supplies
DMM
Logger
Logic Analyzer
Static IO
Spectrum
Network
Impedance
Script
You can also find numerous tutorials on each one of these instruments on the ADP5250's product page.
Resources
Difference between 3000 vs 5000 series of ADP
Analog Discovery Pro ADP5250 vs ADP3450: How Do They Stack Up?
Understanding Digital Oscilloscope Sample Rate and Analog Bandwidth Specs
Power Measurement with the Analog Discovery Pro (ADP5250)
Using a Logic Analyzer: An Important Tool in Every System Designer's Toolkit!