Dave from

DesignSpark
How do you feel about this article? Help us to provide better content for you.

Dave from

DesignSpark
Thank you! Your feedback has been received.

Dave from

DesignSpark
There was a problem submitting your feedback, please try again later.

Dave from

DesignSpark
What do you think of this article?
Introduction
The 2022 Formula Student (FS) season saw UH Racing enter their 25th anniversary vehicle, UH25, at both FSUK in Silverstone and FSAE Italy in Varano. Despite a number of setbacks resulting in the car not running, the team held their heads high and delivered an exceptional performance in the static events whilst seeking to learn as much as possible about not only their car, but also the competition.
UH25
UH25 is an all-wheel drive electric Formula Student car built around a steel tubular spaceframe chassis. It features a combination of direct and pushrod-actuated suspension utilising new, lightweight dampers, steel wishbones and machined aluminium uprights which house bespoke in-hub motors and epicycle gearboxes. Two inverters distribute power from an in-house accumulator, contained within the rear of the car. Fibreglass bodywork and carbon fibre wings complete the University of Hertfordshire's newest entry to the Formula Student competition.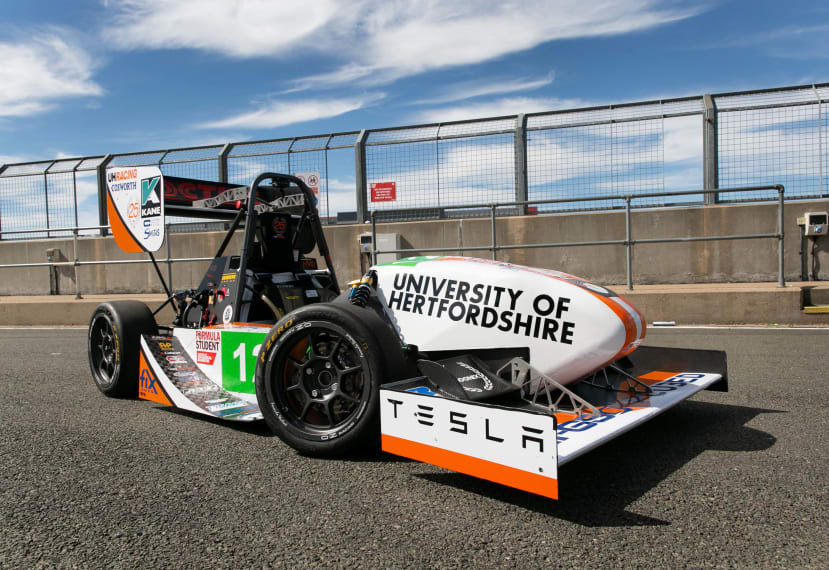 The Journey to UH25
UH25 is the culmination of four years of development as a result of the COVID-19 pandemic. It began life as UH23 in 2019-20, the team's return to electric after they pioneered the first competing electric Formula Student car back in 2009 and 2010. Due to the pandemic, this car never saw production until the 2020-21 season when, against a multitude of challenges, the team attempted to finish as much of UH23 as they could. Though far from completion, the team took the vehicle to FSUK 2021 to display what they had achieved so far, and garnered lots of attention from other teams who were interested in pursuing the electric powertrain.
Come the 2021-22 season, small changes to the UH23 chassis resulted in a name change to UH25, in line with UH Racing's 25th year as a team. A complete overhaul of the low voltage wiring loom followed, along with a revised aerodynamics package and small adjustments to the suspension. The team's partners new and old provided exceptional support, both technically and operationally. Key examples of this are feedback on PCB design and the Business Plan presentation. Safety is paramount at UH Racing and establishing a safe environment and procedure for assembling the high voltage accumulator took a great deal of time and effort from both team members and university staff alike. A packaging issue within the accumulator was discovered at Silverstone, which would not have allowed the system to be as safe as it could be. Unfortunately, there was insufficient time to resolve the issue, and hence the responsible decision was made not to run the accumulator. It was an emotional moment after all that had been given to the project, however the team regrouped and focussed on ensuring their static event entries were of as high a quality as possible.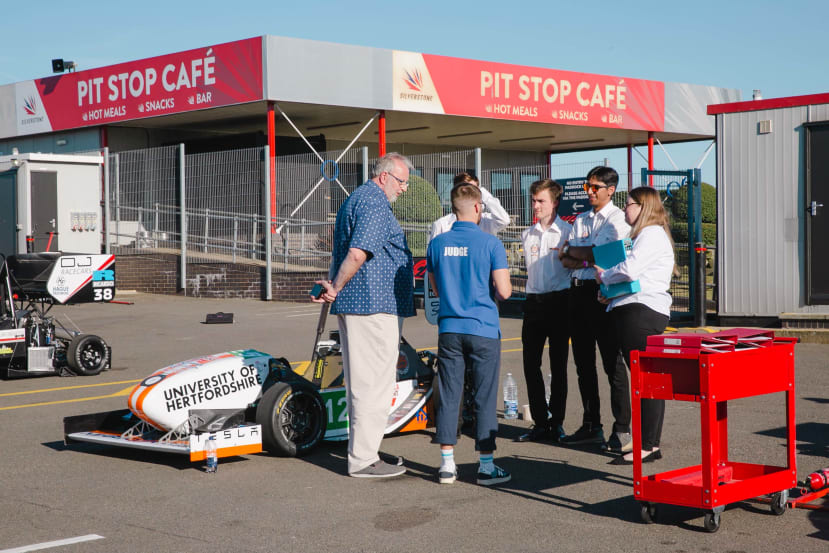 Formula Student is first and foremost a learning opportunity. No other competition allows students the chance to gain so much experience in so many aspects of engineering. It is easy to look at UH Racing's 2021-22 season as another year of failure, another year without a running car. But if any member of this team were to be asked what they had learned this year, they could probably write a book about it. Engineering is about problem solving, and not a day went by during the design and build of UH25 where a new problem was not discovered, discussed, and resolved. As a learning opportunity, this season has been incredibly successful, and because of that the members of this team leave Formula Student as more mature, experienced engineers than when they started.
Scrutineering
The team were thrilled to pass Chassis, Safety and Tech scrutineering - the three areas that did not require a running car. Furthermore, the team took part in electrical scrutineering to gain valuable feedback on the systems that they had implemented. Additionally, though they did not officially enter high voltage scrutineering, advice was provided by the high voltage scrutineers whilst the team were working on the accumulator. The FS scrutineers, like the judges, marshals, and support staff, have an invaluable breadth and depth of knowledge that the team were honoured to be able to learn from.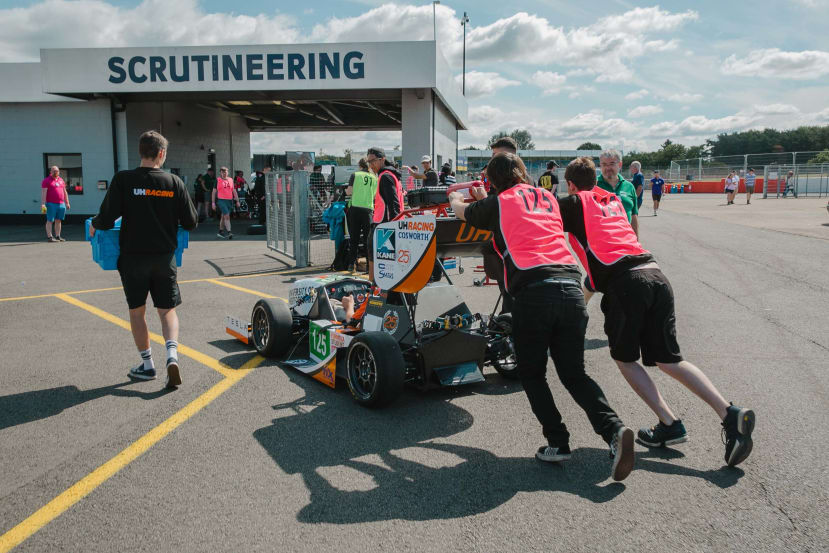 Results
The lack of a running vehicle did not dampen the team's spirits or hamper their chances of a good result. UH Racing has their strongest static events result for many years at FSUK, finishing 2nd in Lap Time Simulation, 5th in Cost and Manufacturing after reaching the finals, 6th in Business Plan, and 10th in Design, resulting in 3rd place overall for Static Events - a fantastic result that the team are incredible proud of. Because of this the team placed 12th overall out of 54 entries.
It was a similar result in Italy, the team achieving 2nd place in Cost and Manufacturing, losing out on first place by less than half a point - a fine example that every point counts! Additionally, the team achieved 6th in Business Plan, and 14th in Design, placing the team 14th overall in class. Given the number and caliber of teams that were running at this competition, the team are exceptionally proud of achieving this position.
Future Plans
The team have two main goals moving into the next season - get UH25 functional and testing, and take the lessons learnt from this year and implement them effectively into UH26. A sizeable impact of the pandemic has been the lack of knowledge transfer which has hampered teams all across the globe. A clear ambition going forward is to ensure the transfer of knowledge from the outgoing team, as well as alumni that now work in industry, to strengthen not only next year's team, but all future iterations of UH Racing so that every year is a little stronger than the one that preceded it.
In terms of specific technical developments, the key areas in which UH25 is limited are cooling and packaging. As well as testing and refining the new electric powertrain, those two areas are where focus will be placed.
The team also looks to build upon its strong results in the Static events, taking on board all the feedback that was received at competition to try and better the position in all events next season.
A Final Thank You
This year has been full of highs and lows, as is the case with every Formula Student team. We as a team have learnt an incredible amount, not only from our own experiences but also from those of others. Engineering is about the people, and though there may be twenty-three students in UH Racing, the team is far larger than that. We would like to give thanks to the faculty advisors, sponsors, University staff, technicians, judges, scrutineers, marshals, event organisers, other teams, friends, and family for all of the advice and support that has been provided this year. We go forward as better engineers and as better people because of it.