Dave from

DesignSpark
How do you feel about this article? Help us to provide better content for you.

Dave from

DesignSpark
Thank you! Your feedback has been received.

Dave from

DesignSpark
There was a problem submitting your feedback, please try again later.

Dave from

DesignSpark
What do you think of this article?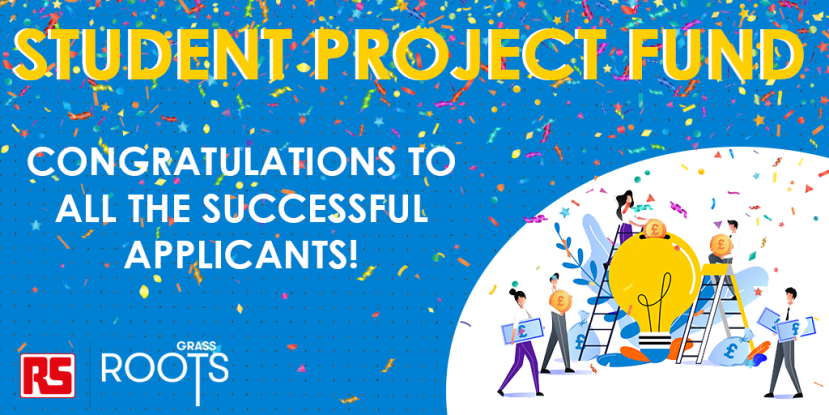 For the second year running, we are delighted to announce the Winners of this year's Student Project Fund Competition.
The Student Project Fund is helping Engineering students to elevate their projects through hands-on prototyping and experimentation as we believe the practical skills to be key skillsets for young engineers education journey. We continue to inspire students to develop innovations that may change the world.
The Grass Roots Student Project Fund received applications from across the world - all entrants will be offered exclusive opportunity to enhance their professional profile, supporting their professional development using DesignSpark platform with the support from RS Grass Roots.
The winners of the Student Project Fund will be provided with up to £250/equivalent in RS Components, tools and components to help them bring their projects to life! You will be hearing a lot from the winners in the coming months as they share the journey of their projects on DesignSpark - as part of their commitment to the Student Project Fund.
We are also excited to host a Virtual showcase of the winning projects for people to vote for their favourite winning project by liking their favourite project article on DesignSpark. The article with the most likes by 30th of June 2022 will be eligible for a Cash Prize worth a maximum of £250/equivalent.
The Winners
| | |
| --- | --- |
| Alexander - | University of Bath |
| Andres Ernesto - | University of Sheffield |
| Ankit - | University of Glasgow |
| Arjun - | Cranfield University |
| Balazs - | University of Sheffield |
| ChunTe - | Imperial College London |
| Ciprian-Florin - | Middlesex University London |
| Clara - | University of Glasgow |
| Colm - | University of Sheffield |
| Daniyal - | The University of Strathclyde |
| Ece - | The University of Sheffield |
| George - | The University of Sheffield |
| Hasitha - | University of Glasgow |
| Jack - | University of York |
| Jacob - | University of Bath |
| Kaitlyn - | University of Glasgow |
| Michalis - | The University of Sheffield |
| Paul - | University College London (UCL) |
| Samuel - | University of South Wales |
| Seashun - | Loughborough University |
| Shrey - | Imperial College London |
| Sohan - | Cranfield University |
| Theodore - | University of Leeds |
| Zoe - | Cranfield University |