Dave from

DesignSpark
How do you feel about this article? Help us to provide better content for you.

Dave from

DesignSpark
Thank you! Your feedback has been received.

Dave from

DesignSpark
There was a problem submitting your feedback, please try again later.

Dave from

DesignSpark
What do you think of this article?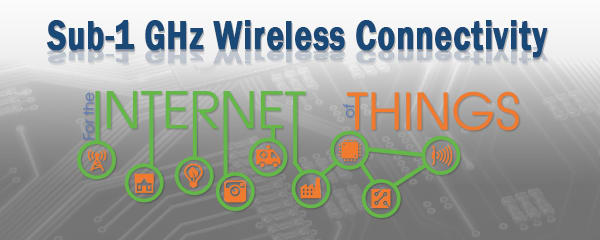 onsemi Sub-1 GHz RF devices provide an easy entry into high-performance wireless connectivity for IoT. onsemi RF products are designed to provide maximum performance with ultra-low power consumption for every major wireless sub-1 GHz standard, as well as proprietary wireless solutions. These solutions combine RF and baseband components, ultra-low-power microcontroller technology and support for high-performance firmware stacks on one chip.
Applications
Market Segments
Sigfox, POCSAG, AND FLEX Infrastructure IoT Networks
EnOcean, Wireless M-Bus, and Wireless KNX Standards
ZigBee and 6LowPAN systems 
Proprietary sub-1 GHz systems
Automatic Meter Reading
Internet of Things
Home and Building Automation
Security
Wireless Networks
RF ICs

onsemi provides a wide range of sub-1 GHz RF transceivers, receivers, and transmitters covering multiple standards including Sigfox, KNX, Wireless M-Bus, and EnOcean. onsemi transceivers offer high efficiency and sensitivity in the range of -110 dBm to -126 dBm for 1.2 kbps (narrow-band or general-purpose). AX5043 is the leading sub-1 GHz transceiver for data ranges from 0.1 kbps to 125 kbps and features a unique combination of ultra-low power consumption for transmit and receive operation with high sensitivity and selectivity.

 

AX5043-1-TA05

, Ultra-low Power RF Transceiver, 27-1050 MHz

(915-8732) AX5031-1TA05,

RF Transmitter IC, Low Power, Highly Efficient

(915-8723) AX5051-1-TA05

, RF Transceiver, Low-Power

(915-8735) AX5243-1-TA05,

RF Transceiver, Ultra-low Power

(915-8739) AX-SFEU-1-01-TB05

, Sigfox™ SoC for Up-Link and Down-Link

(915-8757)
RF Microcontrollers
The AX8052F1xx family combines the superb performance of onsemi wireless transceiver technology with an ultra-low power microcontroller featuring 64 kB Flash, 9.25 kB RAM, and sleep current consumption of 500 nA to 1500 nA. The AX8052F100 core is specifically designed to enable one-chip radio solutions for all levels of complexity. Its low power consumption and extensive feature set make it the ultimate choice for numerous RF systems. The AX8052F143 offers the same leading edge performance as the AX5043 combined with the flexibility and features of a leading edge 8-bit microcontroller on a single SoC without any performance loss.

 

AX8052F100-2-TA05

, RF Microcontroller, Ultra-low Power

(915-8748)

AX8052F131-2-TB05,

 RF Microcontroller, Ultra-low Power

(915-8741)

AX8052F143-2-TB05,

 RF Microcontroller, Ultra-low Power

(915-8745)

AX8052F151-2-TB05,

 RF Microcontroller, Ultra-low Power

(915-8754)
Development Kits

onsemi's comprehensive suite of development kits simplifies the entry into wireless solutions. Development kits are supported by a suite of software tools consisting of code generators for full RF application C-code and an integrated development environment which comes with a source code debugger and C-compiler.

The DVK-2 features the AX8052F100 ultra-low power microcontroller on the main boards, allowing developers using onsemi radio chips and microcontrollers to design, program, and evaluate their applications under real world conditions. A range of RF-modules with different RF ICs for various carrier frequencies are available as add-on kits.

DVK-BASE-2-GEVK, DVK-2 BASE KIT (914-4288)
ADD5043-169-2-GEVK, ADD-ON KIT FOR DVK-2 (914-4281)
ADD5043-433-2-GEVK, ADD-ON KIT FOR DVK-2 (914-4285)
ADD5043-868-2-GEVK, ADD-ON KIT FOR DVK-2 (914-4294)
ADD5051-868-2-GEVK, ADD-ON KIT FOR DVK-2 (914-4297)
AXDBG-2-GEVK, DVK-2 DEBUG ADAPTER (914-4291)
 The Sigfox DVK enables instant testing via AT commands for ON Semiconductor's single chip solution for a node on the Sigfox network.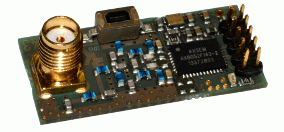 The F143-Mini-DVK is onsemi miniaturized development kit for the designer starting out with the AX8052F143 SoC RF-Microcontroller. The F143-Mini-DVK hardware consists of a USB debugging adapter and a pair of RF modules (F143-Mini-A-MOD and F143-Mini-B-MOD modules) and includes all software necessary to develop systems in shortest times. The modules have a tiny footprint of just 33 x 15 mm2. One module comes with a chip antenna the other is equipped with an SMA connector.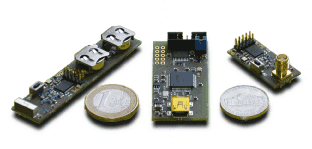 F143-MINI-A-MOD-GEVB
, AX8052F143 MINI DVK MOD
(914-4308)
F143-MINI-B-MOD-GEVB, AX8052F143 MINI DVK MOD  (914-4317)