Dave from

DesignSpark
How do you feel about this article? Help us to provide better content for you.

Dave from

DesignSpark
Thank you! Your feedback has been received.

Dave from

DesignSpark
There was a problem submitting your feedback, please try again later.

Dave from

DesignSpark
What do you think of this article?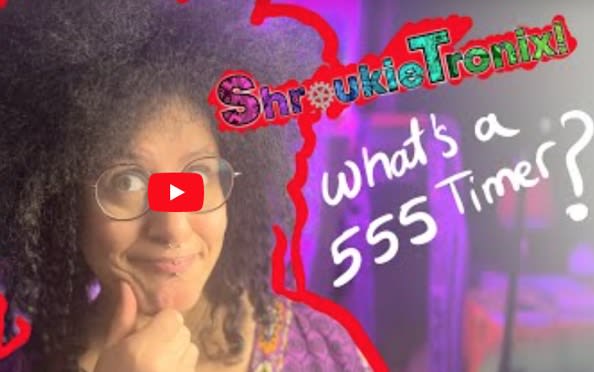 What's a 555 timer?
Parts list
Qty
Product
Part number
1
SAD-101, Breadboard Solderless Breadboard 83 x 52 x 9mm
189-2277
1
555 Timer IC
346-7024
1
M2M Jumper wires
791-6463
1
Duracell Ultra Power Duracell Alkaline 9V Battery PP3
841-7002
1
RS PRO 9V PP3 Battery Holder
185-4754
1
Capacitor,ceramic,multi layer,radial,5mm pitch,conformally coated,Z5U,20%,50Vdc,1.0uF
538-1578
1
Vishay 100nF Multilayer Ceramic Capacitor MLCC 50V dc ±10% , Through Hole K104K15X7RF53H5
852-3270
1
RS PRO 470kΩ Carbon Film Resistor 0.25W ±5%
707-7883
1
Yageo 1kΩ Through Hole Fixed Resistor 10W 5% SQP10AJB-1K
199-1726
1
RS PRO 1MΩ Carbon Film Resistor 0.25W ±5%
707-7903
1
RS PRO 1.5kΩ Carbon Film Resistor 0.25W ±5%
707-7681
1
4 V White LED 5mm Through Hole, Cree LED C512A-WNN-CZ0B0151
904-7360
Hello friends!
Parts list above to make your very own timer circuit! Play around with various capacitors and resistors to see how they affect the output on the LED. Some links below to optional equipment:
This >multimeter (123-3366) is great to start with. If you're getting super serious about electronics and want to invest in more equipment, I can't recommend my Fluke 177 (025-2793) enough!
For this project, a PC-based PicoScope (07934711) would be more than enough. But if you are after another serious investment, I absolutely LOVE my LeCroy (177-1268)
Keep tinkering!
Shrouk ☀️
By Senior Electronics Engineer Shrouk El-Attar, MEng (She/They -> why is this here?)
BBC 100 Most Influential Women 2018 | United Nations refugee agency Young Woman of the Year 2018 | IET top 6 Young Women Engineers 2019 | Women's Engineering Society award winner 2020 | Difference maker and big smasher of stereotypes! ✊