Dave from

DesignSpark
How do you feel about this article? Help us to provide better content for you.

Dave from

DesignSpark
Thank you! Your feedback has been received.

Dave from

DesignSpark
There was a problem submitting your feedback, please try again later.

Dave from

DesignSpark
What do you think of this article?
The PSR-MC42 safety relay has two dual channel input circuits allowing, for example, an emergency stop circuit and up to 30 PSR-SWITCHES to be monitored at the same time, offering a complete safety solution in one relay.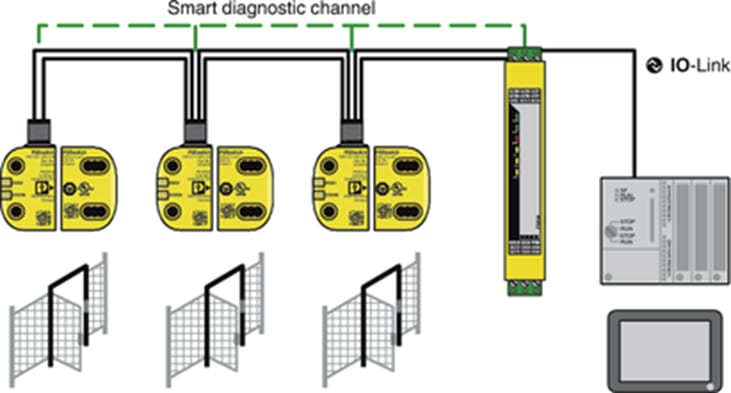 As well as being a safety relay, the PSR-MC42 is an IO-LINK device allowing all of the possible 30 switches in a chain to be monitored individually and status reported back to an IO-LINK master.
This information can be used at the main controller or displayed on an HMI directly for example using our stand-alone IO-LINK MASTER.

This means you can monitor the behaviour of your safety system accurately and simply regardless of the chosen network. This reduces machine downtime and ensures the highest level of safety and compliance with the current standards.
EN ISO 14119 (Safety of machinery-Interlocking devices associated with guards)
This standard deals with the issue of fault masking and the possibility of defeat (intentional or accidental) of the safety system.
This video shows how this all works…
We will have working demonstrations available very soon so feel free to contact me directly if you would like to learn more about our IO-LINK solutions: ljenkins@phoenixcontact.com
Written by Leigh Jenkins, Product Manager- Safety & Lighting