Dave from

DesignSpark
How do you feel about this article? Help us to provide better content for you.

Dave from

DesignSpark
Thank you! Your feedback has been received.

Dave from

DesignSpark
There was a problem submitting your feedback, please try again later.

Dave from

DesignSpark
What do you think of this article?


Water Filtration: Keep it Clean - The Washing Machine Project
THE CHALLENGE: Create a filtration solution that allows wastewater from a Divya wash cycle to be collected and reused for washing, cooking, cleaning, or agricultural farming.
Imagine spending 20 hours a week on the backbreaking task of handwashing clothes because you don't have access to an electric washing machine. That's the reality for 70% of the world's population – walking long distances to wash their clothes in rivers, and carrying buckets to bring water to their communities as an alternative.
Background
Inspirational British Engineer Nav Sawhney witnessed this first-hand on a sabbatical in South India in 2018, motivating him to set up The Washing Machine Project (TWMP). He recognised that the time spent handwashing clothes created a significant barrier to education for low-income and displaced people worldwide, as well as causing physical hardship through the onset of chronic joint and back pain.
This experience inspired Nav to develop a prototype for an affordable off-grid manual crank washing machine – The Divya. Unique in its application for humanitarian purposes, it requires no electricity to operate. Designed to be sustainable with its use of recyclable off-the-shelf components, it's easy to set up, maintain, and be operated anywhere – by anyone.
And the results achieved with its use? Time spent handwashing is reduced by 75%, with 50% less water required!
In an ideal world…
We would have a filtration system connected to the Divya washing machine that collects the used polluted water after each wash cycle to prevent it from re-entering local water sources.
This wastewater could then be filtered so that we can maximize its reuse for washing, cooking, cleaning, or agricultural farming. Filtering the waste to reinforce life.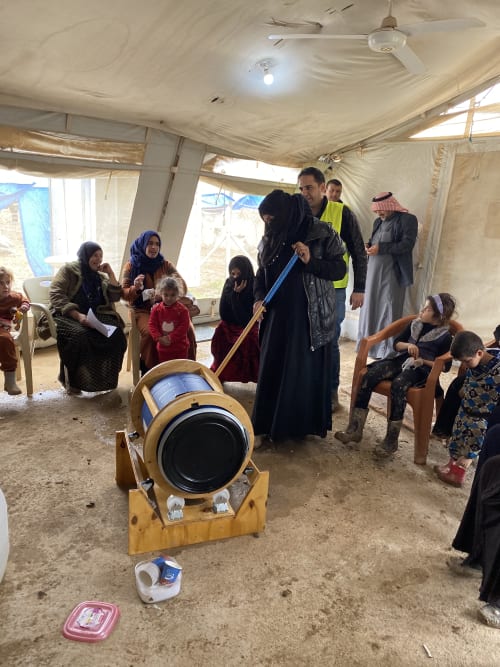 Interested?
Applications are now Closed!!
Please refer to the overview for full competition information. 
Entry Criteria
Teams of 3 to 5 people
All team members aged 18-30 at the time of entry
All team members registered with DesignSpark
All entries must be in English (be able to communicate in English)
A passion for sustainability!
Searching for our #RSINNOVATORS

We are looking for 20 teams to take through to the next phase of the competition, where we will support you with a program of mentoring and masterclasses to turn your ideas into innovations!

THE TIMELINE:
25 October - Event: Turn your ideas into Innovations! / Competition open for entries 
30 November – Submission Deadline, get your entries in!
December – A shortlist of teams will be invited to submit a video
January – 10 finalist teams announced
February & March – 6-week masterclass and mentoring program to equip your team with the skills and knowledge needed to turn your idea into a reality (teams will need to commit to 1 masterclass, and 1 mentoring session a week)
27th to 31st March – The virtual final, pitch the solution your team has been working on to a panel of judges, and be in with the chance of winning 3 grand prizes!
Prize
In case you missed it...
1st Place - £10,000 GBP!
2nd Place - £5,000 GBP!
3rd Place - £3,000 GBP!
A total of 3 teams will be crowned ultimate champions! That's 3 chances of winning! 
An opportunity to further develop your solutions further through an amazing accelerator program