Dave from

DesignSpark
How do you feel about this article? Help us to provide better content for you.

Dave from

DesignSpark
Thank you! Your feedback has been received.

Dave from

DesignSpark
There was a problem submitting your feedback, please try again later.

Dave from

DesignSpark
What do you think of this article?
Fluke ii910
Join us in the Innovation room as we unbox, discuss and test the Fluke ii910, which is an ultrasonic leak detection camera. The ii910 (206-6117) is designed to help you quickly identify leaks and cut down on energy consumption. In this video, we will give you a breakdown of the technical specifications and show you how easy it is to operate the camera. We also discuss the benefits of conducting air leak surveys and the services RS Ireland can offer.
How does it work?
The Fluke ii910 is equipped with an array of 64 microphones that scans a frequency range of 2kHz to 100kHz, as a leak happens it vibrates at a frequency above human hearing. (Human hearing reaches a maximum of 20kHz, but this is age-dependent) The microphones capture the frequency range and creates a decibel per frequency spectrum, this spectrum will highlight any spikes or harmonics which may indicate a leak is happening within earshot of the microphones. The ii910 then creates a soundmap from the frequency data and overlays it on the live image. With visual feedback, a leak can be easily located, even in loud environments due to the ii910's ability to equalise and adjust the listening bandwidth. The operator can manually adjust the bandwidth to change the visual on the screen, helping you to eliminate any unwanted reflections or signals.
RS Leak detection survey:
Contrary to popular opinion, compressed air is not free. The truth is quite the opposite, with a typical industrial air compressor costing >€50,000/year in electricity costs alone, with compressors accounting for as much as 30% of the total electricity used in some facilities.1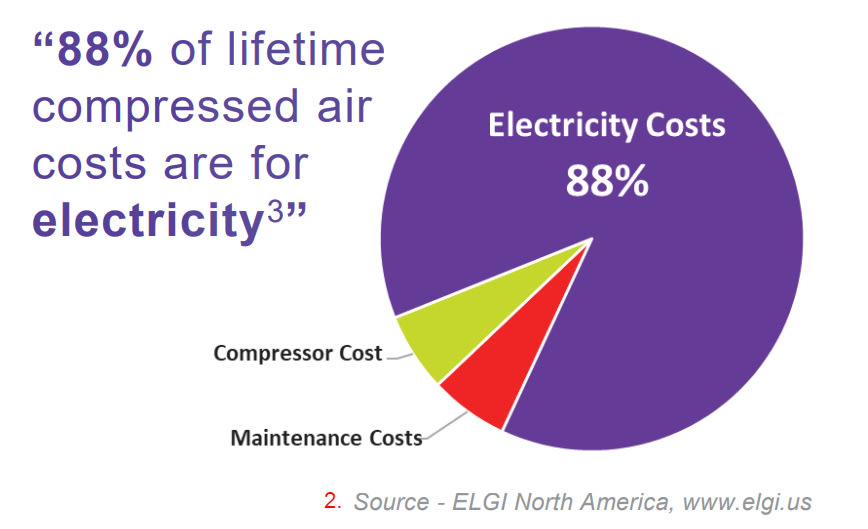 One of the most cost-effective ways to get the most out of your compressed air system is to repair leaks. Adopting a plant-wide ultrasonic air leak survey is a great way of both identifying and quantifying the size and cost of those leaks. Armed with this information, a more systematic approach to cutting compressed air costs can be applied, allowing prioritisation of repairs based on the size of the leak, expected cost of repair or expected payback.
An RS Ireland leak auditor will attend your site and perform a non-intrusive fault-finding survey of your compressed air systems using the Fluke ii910 ultrasonic camera to both identify the fault and to assess the severity of the fault in terms of cost. A full itemised report is then generated, with details of leak size, cost and estimated payback time if remedial work is carried out.
The outcome:
We provide a comprehensive site audit report, including an itemised listing of faults, annual leakage cost summaries and total air loss in litres. For each fault found we will provide asset information and reference images, component type, fault location, fault type and estimated air loss from fault, as well as digital images to pinpoint the fault location in our report. You can then use this report to make repair recommendations to correct the fault, in turn demonstrating the return on investment, once remedial work is carried out.
The benefits:
Reduce energy usage
Itemised cost-benefit report
Improve compressor lifespan
Prioritise repairs
Reduced energy bills
Demonstrable ROI of preventative maintenance
If you wish to learn more or have any questions, please do get in touch at ValueAddedServicesIreland@rs-components.com
Sources:
1 Source, Energystar.gov, OIT Energy Tips; Determine the cost of compressed air for your plant
2 Source, ELGI North America, www.elgi.us