Dave from

DesignSpark
How do you feel about this article? Help us to provide better content for you.

Dave from

DesignSpark
Thank you! Your feedback has been received.

Dave from

DesignSpark
There was a problem submitting your feedback, please try again later.

Dave from

DesignSpark
What do you think of this article?
PicoLog 6.2 Cloud public beta – call for beta testers!
Be part of the biggest upgrade to Pico data loggers since the release of PicoLog 6 nearly 3 years ago. PicoLog 6.2 Cloud massively broadens how and where our data loggers and oscilloscopes can be used – your live captures, in the Cloud… for free*

As before, our loggers and oscilloscopes are PC connected, whether it's with a Windows PC, macOS, Linux or even the small form factor Raspberry Pi, but now the real game changer introduced to PicoLog 6.2 Cloud is that our loggers and oscilloscopes can stream live captures to a secure and reliable cloud service hosted by a well-known global cloud service provider.

It's totally secure. Create your secure PicoLog Cloud account with the knowledge that your personal data, live captures and saved captures are protected using well known SSO providers for authentication.

Setting up a Cloud capture is just as easy as a local capture with no confusing Cloud or IT configurations required, the only difference is logging in to your PicoLog Cloud account. Your acquisition is safe even if your internet access drops during capture, PicoLog automatically saves to local disk until internet access resumes and synchronises data to the Cloud.

Viewing your live PicoLog captures is easy from anywhere in the world on PC, Mac, Linux PC or Raspberry Pi using the same PicoLog 6.2 Cloud app in remote view mode.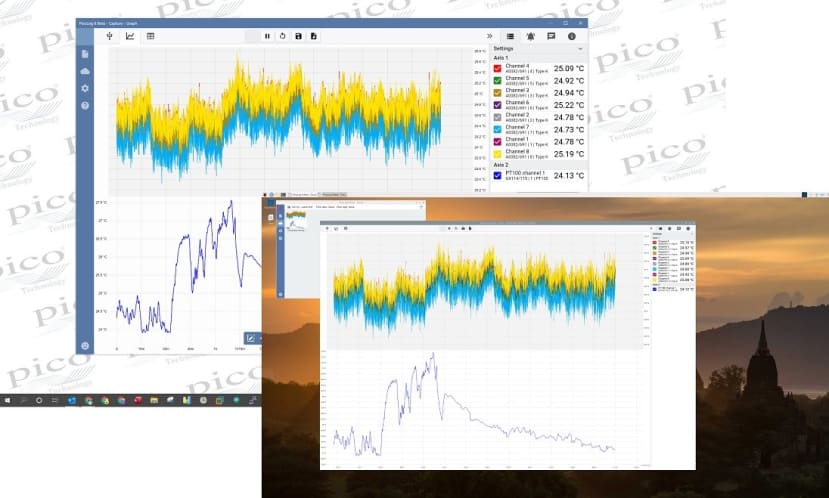 Watch our demonstration video below:
*All the above for free - Both new, and our existing customers of Pico USB loggers all benefit from this free upgrade.
In the coming months, a premium version of PicoLog 6.2 Cloud will be a released with many new cloud features and enhancements over the free version, this will be available on an annual subscription, at a very reasonable price of course.

Sign up to the beta program here, and the first 100 users to sign up will receive 1 year's free subscription to the premium service when this becomes available.
Giving feedback is essential in beta testing. We've made it easy to submit your questions or opinions, just click the smiley face icon in the bottom left of the PicoLog app and complete the short online form.