Dave from

DesignSpark
How do you feel about this article? Help us to provide better content for you.

Dave from

DesignSpark
Thank you! Your feedback has been received.

Dave from

DesignSpark
There was a problem submitting your feedback, please try again later.

Dave from

DesignSpark
What do you think of this article?
All electronic data loggers require some form of computer, either embedded within the logger or connected to it to enable data to be stored, viewed, processed and exported
For reduced cost and maximum performance and flexibility, Pico data loggers use an external PC, transferring acquired data via a USB cable. The PC stores the data and hosts PicoLog software for viewing and analysing the data.
However for many applications using a PC or laptop may not be ideal, especially in situations where the logger is left unattended for long periods and often in remote locations.
The Raspberry Pi small form factor computer provides an ideal solution.
Raspberry Pi computers are small, inexpensive and highly versatile. Over the years, new versions have been released with increasing amounts of RAM, higher processor speeds and on-board internet connectivity opening up the Raspberry Pi to industrial and professional grade applications.
Introducing PicoLog 6 for Raspberry Pi computers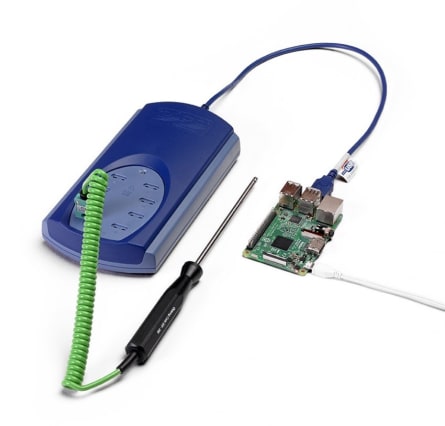 Pico have released an new version of PicoLog 6 data logging software that now supports Raspberry Pi 4B, 3B and 3B+ on Raspbian Buster (the Operating System)
Coupled with a Raspberry Pi, this new version of PicoLog 6 software expands the flexibility and opens the door for Pico's data loggers to be used in new and different ways:
You can connect the logger to the Pi and remove the keyboard, mouse and video to make an inexpensive stand-alone logger, storing its captured data locally on a Pi SD-Card.
Or, by connecting your Pi by WiFi or Ethernet, you can internet-enable your Pico logger, which you can then access remotely using an open-source VNC server and viewer freely available
And utilising the Power over Ethernet (PoE) capability on the Raspberry Pi 3B+ paired with the PoE PiHAT (RS Stock No. 173-5595), not only eliminates the need for an external power supply and powered USB hub, it also internet-enables your logger at the same time
In conclusion, Pico Technology data loggers can now simply and inexpensively be converted into a powerful, standalone or internet enabled loggers, when used in conjunction with a Raspberry Pi.
Raspberry Pi is a trademark of the Raspberry Pi Foundation.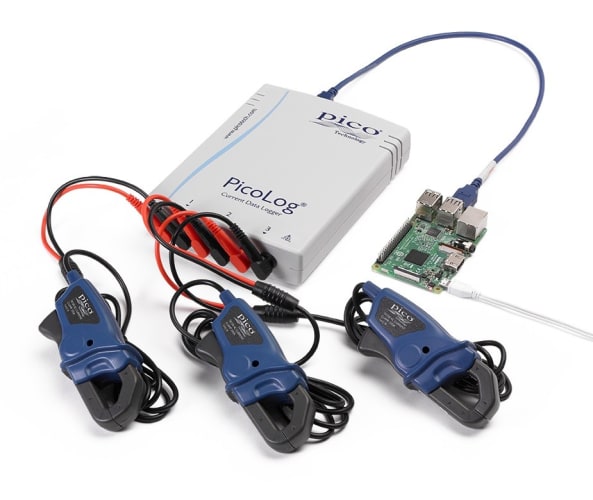 For more information on Pico Dataloggers visit www.picotech.com/products/data-logger
See the range of loggers available from RS here:
(666-8154)                 PicoLog 1012 with Small Terminal Board
(666-8163)                 PicoLog 1216 with Small Terminal Board
(536-8828)                 ADC 20 High-Resolution Data Logger + Terminal Board
(536-8834)                 ADC 24 High-Resolution Data Logger + Terminal Board
(739-8607)                 PicoLog CM3 current logger with 3 clamps.
(492-5105)                 USB TC-08 Thermocouple data logger