Dave from

DesignSpark
How do you feel about this article? Help us to provide better content for you.

Dave from

DesignSpark
Thank you! Your feedback has been received.

Dave from

DesignSpark
There was a problem submitting your feedback, please try again later.

Dave from

DesignSpark
What do you think of this article?
Pedal n Spin
Foot-cranked Washing Machine
Abstract
The Pedal n Spin washing machine is a foot-cranked washing machine that rotates easily using a combination of the principle of a treadle system and pedal system. It is a pedal-powered connected rod driven rotating drum washing machine system that is purely mechanical in nature. It improves the user's posture, ease of use, and sustainability of the current Divya washing machine, allowing longer-term adoption, improved hygiene, and increased rotation efficiency with a huge mechanical advantage. 
Introduction
The current Divya washing machine is a hand-cranked washing machine that was designed to be used by people all over the world in all types of environments while keeping a focus on portability, maintainability, and usability through its low-cost, ergonomic design. Hence the Washing Machine Project in partnership with RS Components started the People.Planet.Product Student Design Challenge to further improve the design, usability, and sustainability of the current Divya washing machine through student innovation. 
The aim of this project was to improve the design of the current product while maintaining the key aspects of the original design for ease of implementation and adoption for all parties involved around the globe. This freedom of innovation led to the development of my Pedal n Spin foot-cranked washing machine that will be detailed in this article. 
Product 
The 'Pedal n Spin' washing machine was designed and built to improve the design and usability (including user posture and efficiency) of the Washing Machine Project's current hand-cranked Divya washing machine. The solution is to move the user input power from a hand-powered to a foot-cranked design based on the well-proven treadle system.
The project is sustainable through its use of readily available materials, using wood with its low carbon footprint, and steel being recyclable. The strong design ensures a long lifespan and its ease of use allows for long-term use and adoption. Furthermore, the new design reuses the current design's washing drum rotation system with the adaption of the cranking system from hand to foot cranked for the purpose of sustainability and ease of implementation of the project. 
Pedal n Spin consists of a 52L drum with a water-tight lid seal. The drum is encased by an external frame which allows the drum structure to rest on the base cradle unit via frictionless caster wheels. The drum support set-up is therefore similar to that of the current Divya washing machine. The foot cranked pedals are connected to the external frame of the drum via connecting rods (conrod) and a modular cage set up on either side of the barrel. The two parallel foot pedals are supported by a wooden plank on the flat-bottomed base unit at a calculated distance away from the drum for easy cranking of the pedals to rotate the barrel via a seated operation on a standard chair.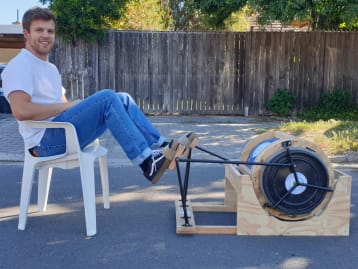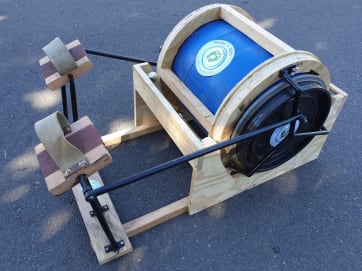 Photographs showing the final Pedal n Spin design
A CAD drawing showing the final design and different subsystems of the Pedal n Spin Washing Machine along with its dimensions can be seen below. The CAD model was drawn using RS component's DesignSpark Mechanical. (The full CAD drawing sheet is attached at the bottom of this article)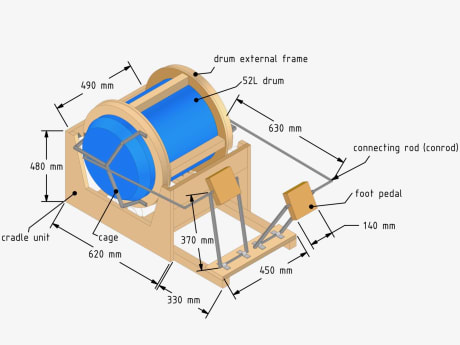 Mechanical CAD drawing of the final Pedal n Spin design
Mechanics explained:
The pedals connect to the metal cage via the conrods positioned symmetrically opposite on either side of the drum. When one pedal is fully depressed, the other pedal is fully extended. As the extended pedal is pressed, the depressed pedal is returned back to the extended position. The drum is enclosed by two wooden rim assemblies (top and bottom of the barrel, with wooden batten supports), the two rim assembly rotates on 4 castors each, positioned underneath and left and right (sides) allowing for a smooth rotational movement and preventing the drum from jumping off its roller track (a circular lip around each rim assembly prevents the drum slipping off the casters). A cage connects to both the top and bottom of the barrel via the rim assembly with a quick-release attachment method with one wingnut (ease of removal for quick barrel access). The two wood pedals have foot straps and sandpaper for added grip and to rotate easily on their connecting framework of the pedal structure. A bottom support bar improves the rigidity of the pedals. 
Operation explained: 
Remove wingnut from each side of the cage and release cage from top and bottom of the drum.

Lift drum out of the cradle.

Remove drum lid and fill with water, soap, and clothes (25L water and 5kg clothes)

Replace lid and seal. 

Lower barrel back into the cradle.

Reclip and attach the cage onto the barrel. 

The washing machine is ready to operate.

Crank operation: sit on a chair in line with crank pedals, start cranking in an alternating crank pedal fashion to rotate the drum. 

Crank until washing is cleaned (approximately 5 to 10 minutes based on crank speed)
Video demonstration and explanation: 
The final working design can be seen in the above video and is explained in detail. Different aged (12 to 85 years old) and sized people are also shown operating the washing machine with ease in the video. The quick disassembly is also demonstrated in the video. 
My journey in this challenge started with a product idea, a sketch, and an explanation of how it improves on the current washing machine. After being selected as a finalist in the challenge, rapid prototyping of the idea began in order to create a robust, efficient, and functional final design. The prototype development and parameter adjustments needed to arrive at the final design can be seen in the ease of implementation section below. 
Ease of implementation
The history and design of the well-known and tested treadle sewing machine were studied in detail. This system works well but required a double flywheel system which would have caused long-term maintenance and size issues. Hence the treadle concept was converted to a direct drive treadle crank system using two conrods to connect the pedals with the washing drum. 
The design was achieved by taking this treadle concept and making the 4 different prototypes to pinpoint the best parameters to use for the treadle crank system, then modifying the perfected treadle drive to attach to the already manufactured drum rotation system of the Divya washing machine, replacing the hand-cranked system of the current design. Therefore the new version is simply an improved rotating system of the drum only. This rapid prototyping and reuse of aspects of the Divya washing machine allow for ease of implementation. 
Prototype development and evolution: 
This prototyping began with V1, in the first design the focus was on testing the treadle design concept with no drum or roller but instead two rotating wooden disks on a spindle. V1 was successful as the treadle/foot cranked pedal system rotated the wooden disks comfortably.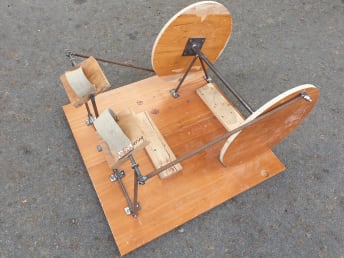 Pedal n Spin V1 prototype
In the next stage, V2 had an adjusted design to allow the 52L drum to be installed and filled with increasing water weight load until 25kg was reached. The newly weighted drum was easily rotated with the treadle crank system.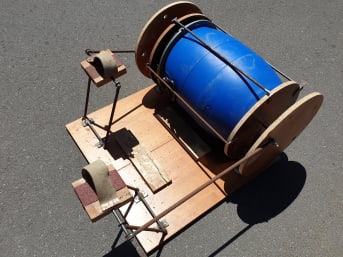 Pedal n Spin V2 prototype
The last phase of testing was conducted on V3 with multiple adjustable design parameters to ensure optimization on all possible con rod lengths, rotation diameter, pedal pivot positions, and total pedal movements for the most efficient operation of the final design due for the manufacturer. These parameters were also adjusted for the maximum user comfort and ease of movement and fluidity of movement. A variety of different sized and aged people tested this adjustable version, testing the various parameter options available. 
After rigorous design parameter testing, the final version was adjusted and constructed with confidence that allows for maximum efficiency through the following final design specifications: 
The conrod rotation position is 105 mm from the center of the drum, giving the crank pedal 210 mm of forward-backward movement, leaving enough power to easily rotate the 25 kg drum of water without an uncomfortable large amount of movement. (compared to the 400 mm movement in V1 and V2)

The final crank pedal height is 350mm from the bottom pivot point to the rotating center of the wooden pedal, reducing this parameter caused an awkward movement and any higher, an uncomfortable sitting position. 

The length of the conrod was 600 mm long this optimized the most compact space for the unit without sacrificing power and fluid movement which happens when the conrod is shortened. 

Total weight of drum and external frame (without water) = 6 kg 

Total weight Pedal n Spin washing machine (without drum) = 13 kg 

Total Dimensions = 950 x 480 x 330 mm (without drum)
Due to the above fine-tuning of all movable parts, the drum rotates freely on the cradle roller system that was very efficiently designed by the Washing Machine Project with minimal user effort required to crank the system via the foot pedals allowing a high rotation speed. Hence allowing the user to be seated in a relaxed position with their hands-free to do any other tasks. No physical strain or discomfort was experienced by the broad spectrum of differently sized and aged users who tested the final design (as seen in the video). The users enjoyed it and were impressed by its ease of use. 
Cost of concept
The different materials and subsystems needed for the final washing machine design along with their costs and use are summarised in the cost analysis table below: 
Pedal n Spin Washing Machine Final Prototype – Bill of Materials

Part

Use in Washing Machine 

Quantity

Unit cost $

Total cost $

52 Litre UN approved drum

Washing machine barrel

1

22.30

22.30

Lid seal

Watertight sealing of barrel

1

  0.13

  0.13

Large castor wheels

Bottom barrel support wheels

4

  2.17

  8.68

Small castor wheels

Side barrel support wheels

4

  1.66

  6.64

450 x 450 x 18 mm plywood

Drum Rim

4

  3.34

13.36

460 x 460 x 9 mm plywood

Drum Rim lip

2

  2.06

  4.12

380 x 35 x 35 mm wood battens

Drum Rim support

4

  0.22

  0.88

620 x 330 x 18 mm plywood

Support cradle

2

  3.40

13.60

450 x 100 x 20 mm solid wood

Support cradle

5

  0.75

  3.00

900 x 35 x 35 mm wood battens

Support cradle

2

  0.53

  2.12

140 x140 x 30 mm blocks of wood

Used for foot pedals

2

  0.38

  0.76

200 x 70 mm rough sandpaper

Foot pedal grip

2

  0.32

  0.64

40 mm wide fabric webbing (0.3 m length)

Used for foot straps

2

  0.06

  0.12

M4 x 16 mm length wood screws

Cage and pedals

32

  0.02

  0.64

M4 x 20 mm length wood screws

Caster attachment

32

  0.02

  0.64

M4 x 40 mm length wood screws

Cradle and rim structure

42

  0.03

  1.26

12 mm nuts

Pedal/cage/con rods

14

  0.06

  0.84

10 mm washers

Pedal/cage

8

  0.01

  0.08

16 mm hollow steel tube (4.2 m length)

Pedal/cage assembly/con rods

1

  4.01

  4.01

10 mm solid steel bar (1.3 m length)

Pedal/cage (location pins) assembly

1

  0.81

  0.81

M8 x 60 mm bolts

Cage assembly

2

  0.16

  0.32

M10 wingnuts

Cage assembly

2

  0.18

  0.36

20 mm x 3 mm flat steel bar (0.36 m length)

Crank pedal and barrel cage

1

  1.03

  1.03

30 mm x 3 mm flat steel bar (0.08 m length)

Wing nut cage connection plate

1

  0.15

  0.15

Total cost:

 

 

  

$86.49
Manufacture
The current design and prototypes were manufactured in a wood workshop with basic metalwork facilities available (repairs department of the workshop) similar to the workshops used to develop the current Divya washing machines (this was confirmed by the Washing Machine Project), which allows for ease of manufacturing. 
The following basic processes are required to manufacture the final design: 
Metalwork - Cutting, welding, grinding and drilling, and spray painting.
Woodwork - Sanding, cutting via bandsaw, jigsaw, drilling, and screwing.
These skills are readily available around the world at low costs. 
Furthermore, the manufacturing process is simplified due to the reuse of most of the Divya washing machine's design and its manufacturing infrastructure already in place, hence only metalwork needs to be added to the production line. 
Materials
Wood for the drum rotation system was used as this process of the design is already in production and has proved to be an efficient rotation system through its use in the current Divya washing machine. 
Steel was used for the treadle drive system as it is strong, readily available, easy to fabricate, and be repaired in a basic workshop without injection mounting, CNC, or other engineering processes being required. Hence, the device can be serviced or fixed without needing an expert and virtually all the components can be hand-assembled with basic DIY skills.
Choice of materials:
Metal: Flat bar steel, solid round, hollow round steel tube 
Reason: Strong, slim, lower maintenance, cost-effective, low size high strength
Wood: Plywood and planks
Reason: Lightweight, easily formable, and waterproof
Supply chain
The Divya Washing Machine has an existing successful distribution network and I am positive that the Pedal n Spin with its improved design and the fact that it taps into the current manufacturing systems of the Divya washing machine design will encourage this network to improve and increase. 
Furthermore, the raw materials required to build the Pedal n Spin washing machine are readily available around the world at costs similar to the Divya washing machine. Welders and woodworkers are also readily available, hence allowing the manufacturing supply chain of the new design to be successful and sustainable into the future with the possibility of a backup supply chain if materials are ordered from different suppliers. The modular design allows the new washing machine to be broken down into smaller parts for ease of shipping to its end destination, this allows for a smooth transportation supply chain. 
Originality
After extensive internet research, the treadle washing machine concept was unable to be found anywhere in existence. Therefore, it is an original idea and its originality allows it to improve on existing pedal-powered washing machines that use a bicycle pedal system and it improves on the Diyva hand-cranked washing machine through its following design advantages: 
The treadle pedal movement is really fluid, easy, and exerts minimal load onto the user's legs.

The seated and relaxed operation position allows the upper body to be free for other tasks.

The drum can be easily removed via the cage and pedal connection, hence allowing ease of transportation. 

Less potential joint and back pain due to improved user posture. 

Utilizes lower body strength.

The double crank system distributes the effort to both legs, reducing bodily exertion and strain.

Easier maintenance (compared to bicycle-based chain crank washing machines which are not reliable in very remote areas and have higher manufacturing costs).
The Pedal n Spin washing machine is new and inspirational as I had positive feedback from many people who used it (refer to video) saying that it is a brilliant idea to use a well-known and tested treadle system to spin a washing machine. 
Adoption 
The motion of the treadle pedal system once in motion is very intuitive requiring little thought on how to operate whilst operating. A pamphlet and video displaying how to use the washing machine from loading the washing barrel, using the pedal mechanism, and unloading the washing will be provided to improve the wider adoption of the machine.
Its design is similar to the Divya washing machine design that has a good adoption rate in its targeted communities. Therefore these communities will also be the end-users of my improved design, hence an increased adoption rate is expected. 
Sustainability
The new washing machine will have a longer lifespan due to more durable material selection and any off-cuts of metal are 100% recyclable. Potentially broken products can also be repaired easily with their basic existing materials at workshops around the world, allowing low waste and reuse. It uses no electricity and the manufacturing process is not harmful to the environment. 
The new and improved design of the Pedal n Spin Washing Machine, in turn, should have positive effects on the end-user due to its abilities to spin faster, spin for longer with less effort, free up hands to do other tasks whilst washing is being done which will greatly help increase the quality of life of its end users and allow it to have increased popularity. These positive features help achieve the UN's Sustainable Development Goals (SDGs) with a focus on SDG 6 (Clean Water and Sanitation) and SDG 3 (Good Health and Well-being).
Cultural relevance 
As a South African, I feel that this concept is very relevant to our current social and economical environment due to a large population living in rural or urban areas that are limited to no access to devices that can be used to wash clothing easily. Instead, they are forced to hand wash clothing which requires a lot of time and effort that could be better used elsewhere. Hence, my Pedal n Spin washing machine could help improve the sanitary living conditions of these people in South Africa and around the world. 
Conclusion 
In conclusion, the foot-powered basic design and easy-to-use washing machine discussed in this article proved to be a success with its low cost, high durability, and already high adoption rate as seen in the video. I am looking forward to spreading this design around the world to communities that need it to improve their standard of living and hygiene levels. 
Contact
For more information or collaboration, please contact me on: 
Email: kaigoodall@gmail.com 
LinkedIn: Kai Goodall