Dave from

DesignSpark
How do you feel about this article? Help us to provide better content for you.

Dave from

DesignSpark
Thank you! Your feedback has been received.

Dave from

DesignSpark
There was a problem submitting your feedback, please try again later.

Dave from

DesignSpark
What do you think of this article?
The STMicroelectronics' IIS3DWB (201-0404) system-in-package (SiP) features a 3-axis digital vibration sensor with an ultra-wide and flat frequency range of up to 6kHz. The device is well suited for vibration monitoring and predictive maintenance applications within the industrial environments due to wide bandwidth, low noise, very stable and repeatable sensitivity as well as the capability of operating over an extended temperature range (up to +105 °C).
Key features
3-axis vibration sensor with digital output
User-selectable full-scale: ±2/±4/±8/±16 g
Ultra-wide and flat frequency response range: from dc to 6 kHz (±3 dB point)
Ultra-low noise density: down to 75 µg/√Hz in 3-axis mode / 60 µg/√Hz in single-axis mode
High stability of the sensitivity over temperature and against mechanical shocks
Extended temperature range from -40 to +105 °C
Low power: 1.1 mA with all 3 axes delivering full performance
SPI serial interface
A low-pass or high-pass filter with a selectable cut-off frequency
Interrupts for wake-up / activity - inactivity / FIFO thresholds
Embedded FIFO: 3 kB
Embedded temperature sensor
Embedded self-test
Supply voltage: 2.1 V to 3.6 V
Compact package: LGA 2.5 x 3 x 0.83 mm 14-lead
ECOPACK, RoHS and "Green" compliant
The IIS3DWB vibration sensor is featured on the STWIN SensorTile wireless industrial node (STEVAL-STWINKT1B) (210-2301) development kit, making it even easier to develop your predictive maintenance and condition monitoring applications.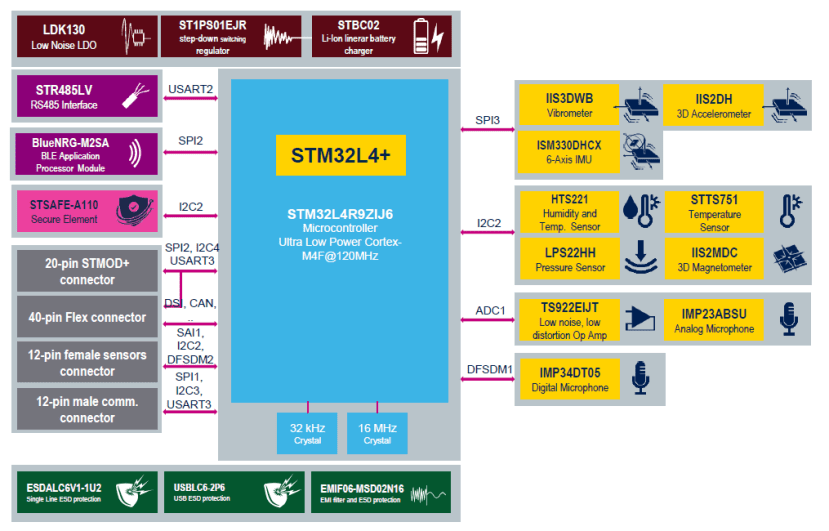 Other Sensors for Predictive Maintenance & Condition Monitoring from STMicroelectronics
Part Numbers
Key Features

IMP23ABSU


High-performance MEMS microphone with an extended frequency response of up to 80 kHz

Single supply voltage operation 1.52 V - 3.6 V
Omnidirectional sensitivity: -38 dBV ±1 dB @ 94 dBSPL, 1 kHz
High signal-to-noise ratio:  64 dB
High acoustic overload point: 130 dBSPL typ.
Ultra-flat frequency response
Ultrasound bandwidth (up to 80 kHz)
Low latency
Ultra-low-power: 150 µA max

 

ISM330DHCX (193-5451)


iNEMO inertial module: always-on 3D accelerometer and 3D gyroscope with digital output


3D accelerometer with selectable full scale: ±2/±4/±8/±16 g
3D gyroscope with extended selectable full
scale: ±125/±250/±500/±1000/±2000/±4000 dps
Extended temperature range from -40 to +105 °C
Embedded compensation for high stability over
temperature
SPI/I²C serial interface