Dave from

DesignSpark
How do you feel about this article? Help us to provide better content for you.

Dave from

DesignSpark
Thank you! Your feedback has been received.

Dave from

DesignSpark
There was a problem submitting your feedback, please try again later.

Dave from

DesignSpark
What do you think of this article?
Back in 1993, HARTING launched the Han-Modular® range. This was a recognition that industry was changing and increasingly embracing modularisation, especially in mechanical engineering. Han-Modular® allowed different contacts, such as data, signals, power and compressed air, to be mounted side by side in the same housing. For the first time, customers could design a bespoke connector and, with over a hundred different inserts, they had access to a wide range of options.
Han-Modular® drastically improved flexibility, opening up applications and opportunities in new markets. For example, improved contact density and the ability to pair signal and power transmission made it ideal for robotics. Likewise, the modular aspect was perfect for the wind energy market. As a result, Han-Modular® is now relied upon in generators, pitch control systems and wind tracking. It's also used to transmit power, data and signals from the nacelle to the rotor hub.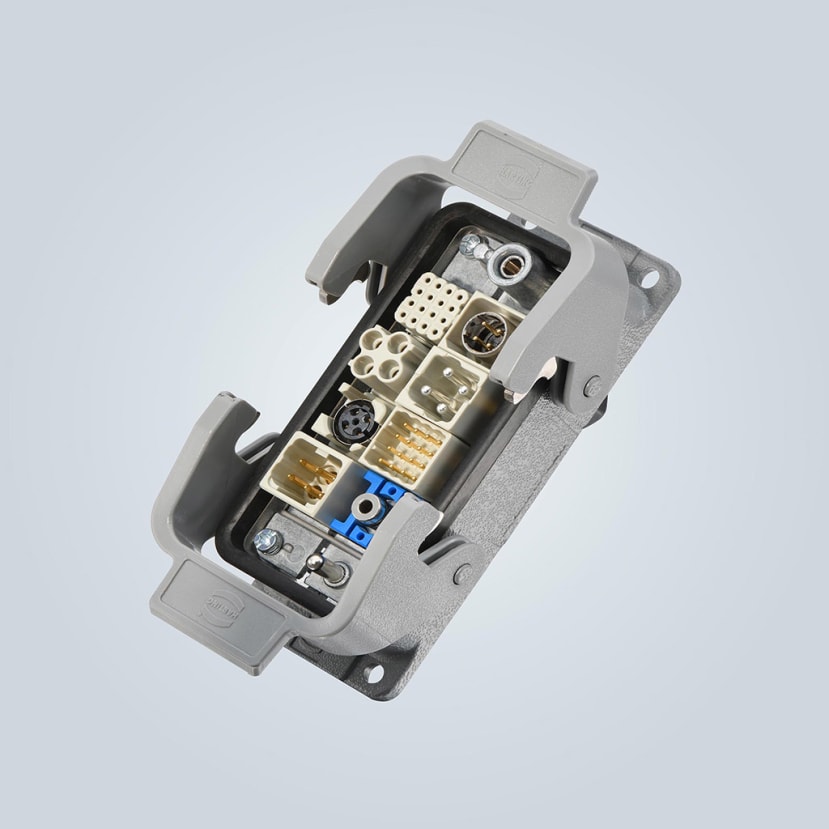 In rail, the increasing demand for data communications to power information systems and fast, reliable internet access led to the development of modules like the Han® Gigabit, which enabled Cat. 7A transmission in the inter-vehicle area and delivered higher frequency bandwidth for the flow of data. Likewise, the new Han® M12 module for Cat.5E and Cat.6A (D- or X-coded), will set the future standards for industrial interfaces in rail vehicles.
Almost 30 years on from the original launch of Han-Modular®, HARTING has released the new Han-Modular ® Domino range, which offers space savings of up to 50% compared to the current design.
A domino module is made up of two building blocks or 'cubes' and the Han-Modular® mating face is divided in two, meaning even larger contacts can be accommodated. The cubes allow users to configure customised connectors which are exactly tailored to requirements. Power, signal, data or compressed air can also be combined in one module, reducing the total number of interfaces required.
As the technology becomes smaller and more lightweight, it's now possible to fit more modules and module types into one connector. As a result, difficult-to-access assembly areas can be efficiently equipped or even opened for assembly for the first time.
There are now over 250 modules to choose from and many thousands of potential combinations available. The new modules are also fully compatible with the current Han-Modular® series, so they can be easily integrated into existing systems and machinery.