Dave from

DesignSpark
How do you feel about this article? Help us to provide better content for you.

Dave from

DesignSpark
Thank you! Your feedback has been received.

Dave from

DesignSpark
There was a problem submitting your feedback, please try again later.

Dave from

DesignSpark
What do you think of this article?
In today's blog post, I want to share my excitement about an innovative outdoor air quality monitor that I recently received from DesignSpark. This device aims to bridge the gap between indoor and outdoor air quality monitoring. By focusing on outdoor air pollution levels, specifically NO2 emissions from vehicles, this monitor provides valuable data for understanding and addressing air pollution issues in local areas. Join me as I unbox and explore this intriguing device.
Unveiling the Monitor: As I eagerly opened the package, I discovered a sturdy and weather-sealed device. The design impressed me with its durability, clearly indicating that it is built for outdoor use. The device features a selection of sensors, including temperature and humidity sensors, PM2 sensor, a radiation detector sensor for gamma, and a NO2 sensor. This comprehensive sensor setup promises to provide detailed and accurate data.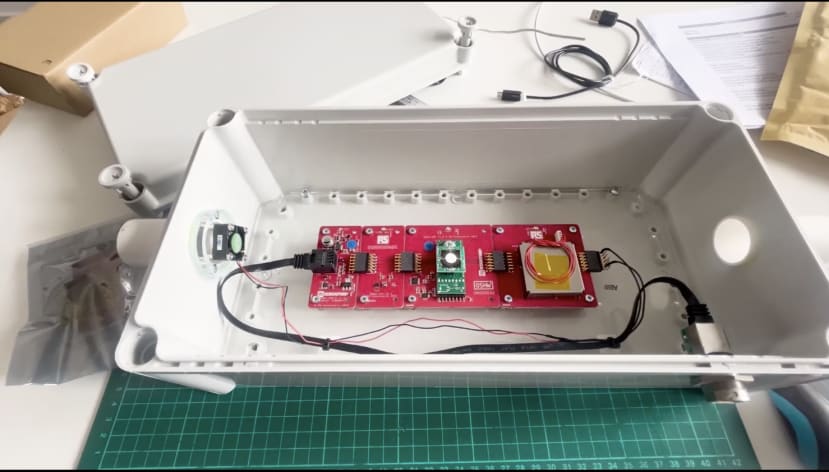 Examining the Setup: Upon closer inspection, I noticed the thoughtful attention given to the enclosure. It ensures that the sensors remain protected at a distance and unaffected by external factors. The build quality and attention to detail in this outdoor monitor were evident, making it a significant upgrade from the existing ESDK indoor air quality monitoring kits available.
Connecting and Implementation: One key feature of this outdoor air quality monitor is its compatibility with an Ethernet cable, allowing for easy connectivity indoors. This connectivity opens up opportunities for real-time data analysis and interpretation. With this device, schools and local authorities can access and understand the data in a more engaging and inclusive way. The Outdoor monitor will work as an API for the Mindful droid to read from and areas can be isolated based on data results.
Future Prospects: I am particularly excited about the potential of this outdoor air quality monitor in generating real-time data and encouraging informed decision-making.
The enclosure of the outdoor air quality monitor offers an exciting opportunity for school children to engage creatively and express their ideas. It can be seen as a blank canvas that can be personalized and designed according to their preferences. This interactive element empowers the children to actively participate in the implementation of measures against air pollution and raises awareness about this critical issue.
By utilizing this device, we can validate the need for local authorities to address air pollution concerns and bring about positive changes. Its exposure in vulnerable areas allows for accurate data collection and, in turn, effective solutions.
Follow Michaels's weekly progress in developing the Mindful Droid.