Dave from

DesignSpark
How do you feel about this article? Help us to provide better content for you.

Dave from

DesignSpark
Thank you! Your feedback has been received.

Dave from

DesignSpark
There was a problem submitting your feedback, please try again later.

Dave from

DesignSpark
What do you think of this article?
Principles of Alps Alpine Magnetic Sensors
Magnetic sensors are used to change electrical signals after detecting a magnetic state.There are various kinds of magnetic sensor, typical ones being Hall sensors and MR sensors.As implied, Hall sensors make use of the Hall effect, while MR sensors use magnetoresistance (MR) effects.
The Hall effect is the occurrence of a Hall voltage when a magnetic field is applied across a Hall element, whereas magnetoresistance effects are the changes in the electrical resistance of an MR element when a magnetic field is applied across the element.Alps Alpine magnetic sensors are MR sensors.

The Difference Between Hall Sensors and MR Sensors
A Hall sensor detects the strength of a magnetic field perpendicular to it, whereas an MR sensor detects the angle of a parallel magnetic field.
For that reason, MR sensors generally have a wider detectable area that absorbs layout error.

Alps Alpine MR sensors also have an excellent signal-to-noise ratio as output is at least 10 times higher than a Hall sensor.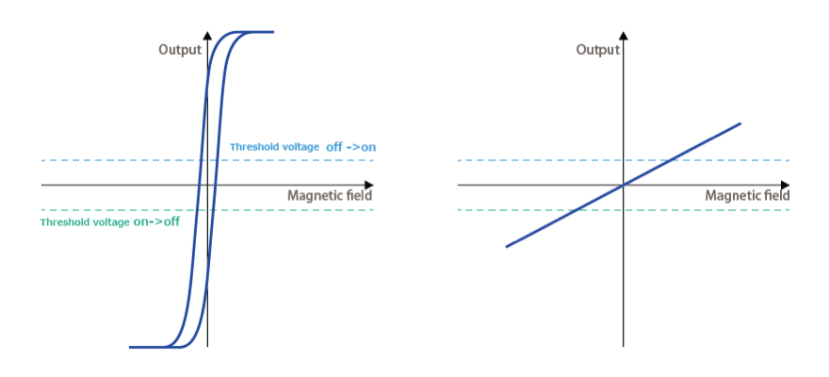 Features of Alps Alpine Magnetic Switches
Besides the detectable area and signal-to-noise ratio mentioned above, Alps Alpine magnetic switches enjoy lower sensitivity variation than Hall sensors, allowing consistency even with temperature fluctuation.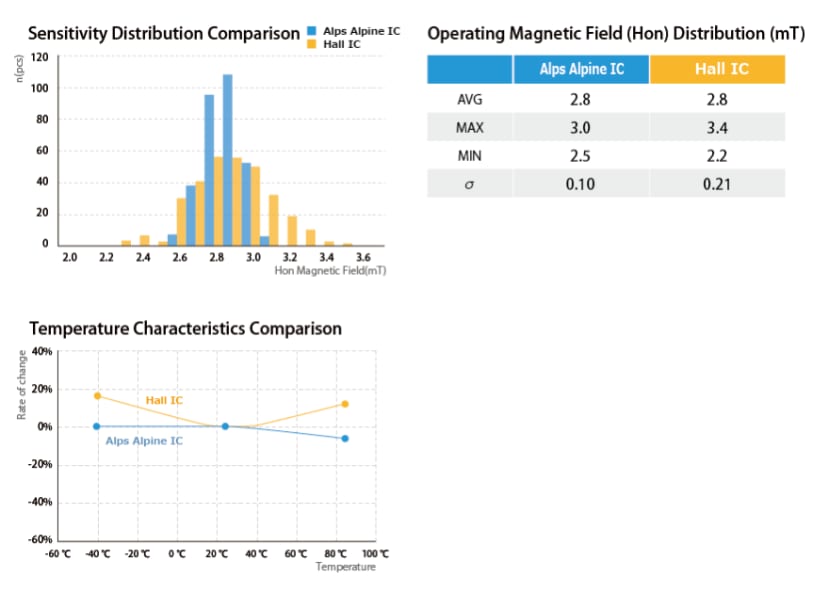 Alps Alpine Magnetic Switch Lineup
Alps Alpine magnetic switches come in a number of varieties depending on the mounting method (size), drive voltage and output type.
Part number
Appearance
Size
Operating voltage
Operating magnetic field
Output
HGDESM021A
1.1×0.9×0.55
Typ. 1.8V

(1.6 min. to 3.6V max.)

Hon.(+)

Typ. 2mT

(1.3 to 2.7mT)

Hoff.(+)

Typ. 1.2mT

(0.5 to 1.9mT)

Single-pole, single-output
HGDEPM021A
Double-pole, single-output
HGDEDM021A
Double-pole, double-output
HGDEST021B
2.9×2.8×1.1
Single-pole, single-output
HGDEPT021B
Double-pole, single-output
HGDFST021B
Typ. 5V

(4.5 min. to 5.5V max.)

Single-pole, single-output
HGDFPT021B
Double-pole, single-output
HGDVST021A
3 to 30V
Hon.(+)

Typ. 2mT

Hoff.(+)

Typ. 1.4mT

Single-pole, single-output