Dave from

DesignSpark
How do you feel about this article? Help us to provide better content for you.

Dave from

DesignSpark
Thank you! Your feedback has been received.

Dave from

DesignSpark
There was a problem submitting your feedback, please try again later.

Dave from

DesignSpark
What do you think of this article?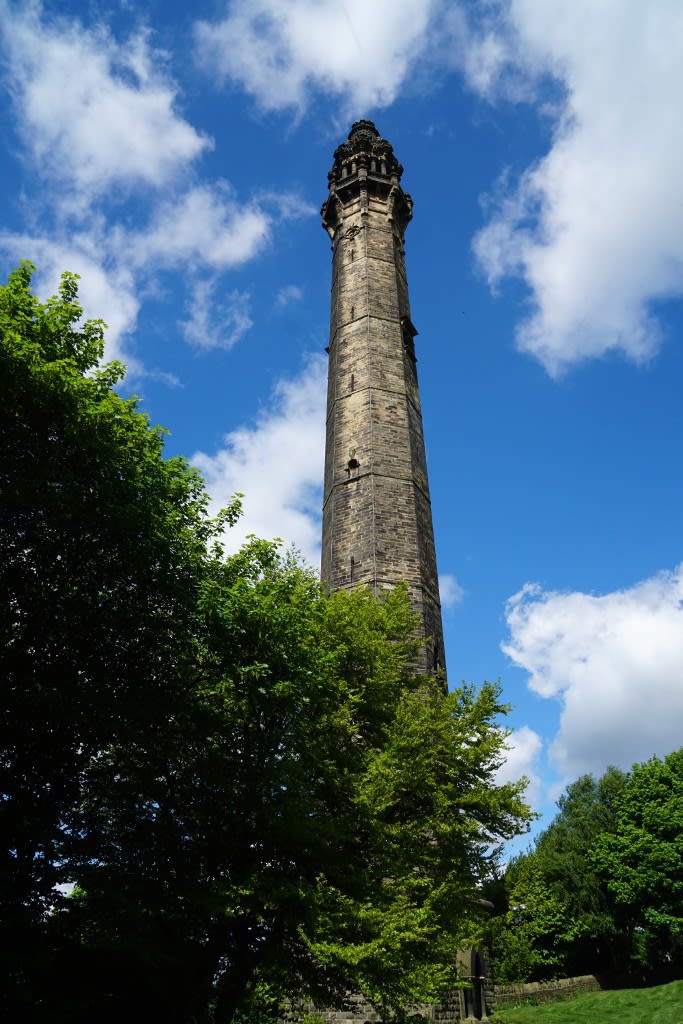 With power available for as little as 3 hours a day, a creative solution was called for with this The Things Network gateway installation.
AB Open were fortunate to have been selected late last year to partner with the Digital Catapult on the delivery of the IoTUK Boost programme, which provides focused support to SMEs with products and services that would benefit from the integration of LPWAN technology.
Six Boosts are being run across the UK in total and with the Calderdale LPWAN Boost the particular technology being used is LoRaWAN. Of course, providing training and support to participants is of limited benefit if there is no network service available, so with one key aspect of the programme being for each Boost to install and manage an LPWAN gateway.
Aiming high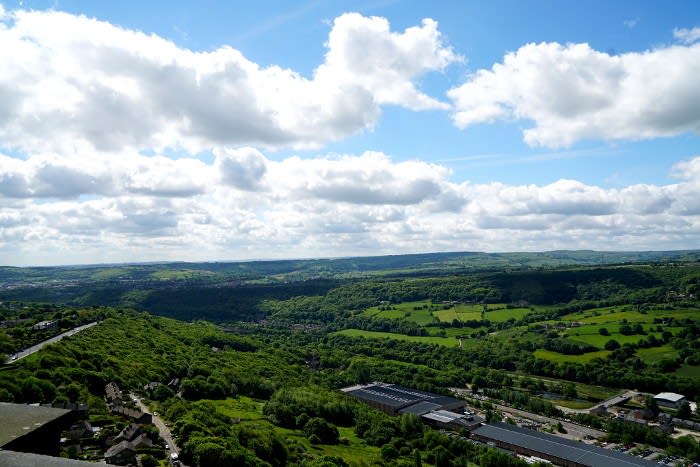 Another important aspect of the programme is building additional key partnerships and we were also very fortunate to have secured support from partners Calderdale Council, RS Components, The Things Network (TTN) and Microchip Technology.
If you wanted to locate a LoRaWAN gateway in Calderdale where it would provide service to the greatest number of users, where would you put it? The answer to which if you know the area is Wainhouse Tower — a Victorian structure that is getting on for 300 feet tall and lays claim to being the tallest folly in the world!
We're now pleased to be able to report that, thanks to the excellent support received from Calderdale Council, we have been able to install the Boost gateway on the top of the tower, following all the necessary due process concerning planning and conservation etc.
However, given that power is only available at the top of Wainhouse Tower when the architectural lighting is illuminated — which in some months can be as little as 3 hours a day — there were other challenges to be solved. Luckily help was at hand from Katie Birney and Andrew Shorley at RS.
Filling in power gaps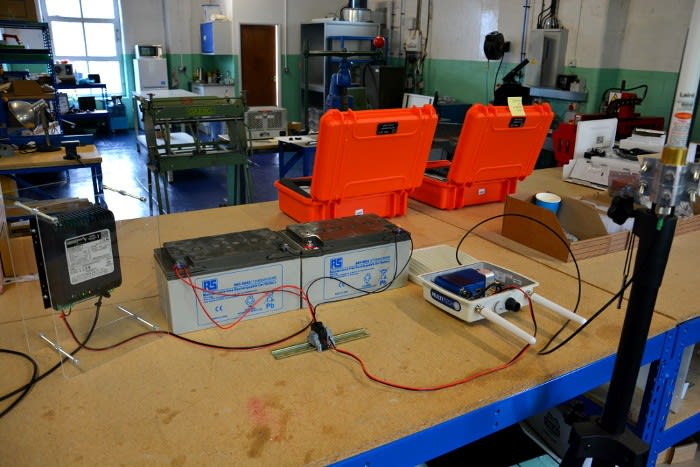 With the the power circuit timer located at the foot of the tower, one option would have been to simply run another cable, which is to say 300ft+ of steel wire armoured cable! This would have not only have been a very costly exercise, but one which would have also required more substantial works for routing and fixing this in place. So a better solution was sought.
Working together with Katie and Andrew, an RS Pro sealed lead-acid battery and charger solution was specified that would not only provide power to the gateway when the mains supply was not available, but which would also fully recharge in under 3 hours.
Since the gateway takes a supply of between 9-32 volts, we settled on a 24V battery configuration, comprised of 2x 12V 65Ah gel batteries (883-8862) , paired with a variable voltage 10A switch mode charger (885-3675) . This can be seen above during bench testing, where mains power was supplied for 3 hours a day via a plug-in digital timer (821-5049) .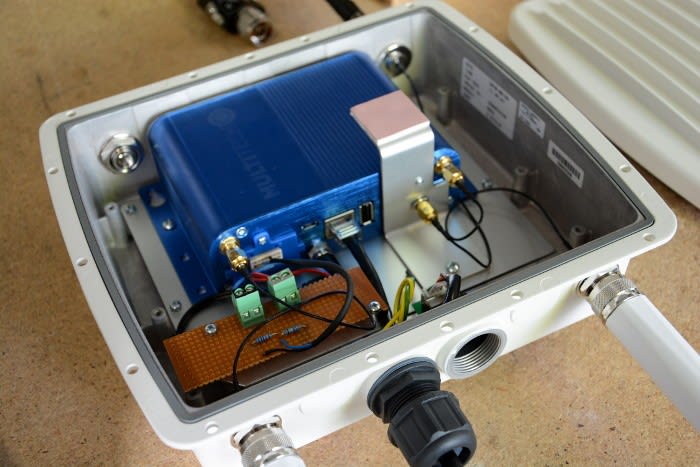 It would obviously prove beneficial to be able to remotely monitor the battery voltage and so the gateway was equipped with the MTAC-GPIO card, with ADC channel 0 connected to the batteries via a simple voltage divider circuit. A Python script is started at boot time which takes the ADC reading, converts it to volts and then publishes this to a remote MQTT broker.
Site installation
With correct operation of the equipment confirmed and electrical works at the top of the tower to provide a fused spur completed, we were able to schedule the installation and this took place on Wednesday 19th July. Above can be seen the Multitech Conduit gateway top-left, with an RS Pro IP65 rated ABS wall box (746-7400) to the right which houses the charger and power distribution.
Sitting beneath the wall box we have another enclosure which contains the batteries. These are capable of delivering a significant amount of energy in the event of a fault and so a blade fuse was place in-line via a LittleFuse holder (787-4350) . Given the location and that we'd like to keep our batteries in top condition, we also opted to equip the charger with a temperature sensor (885-3688) , so that it can adjust the voltage output accordingly as the temperature varies.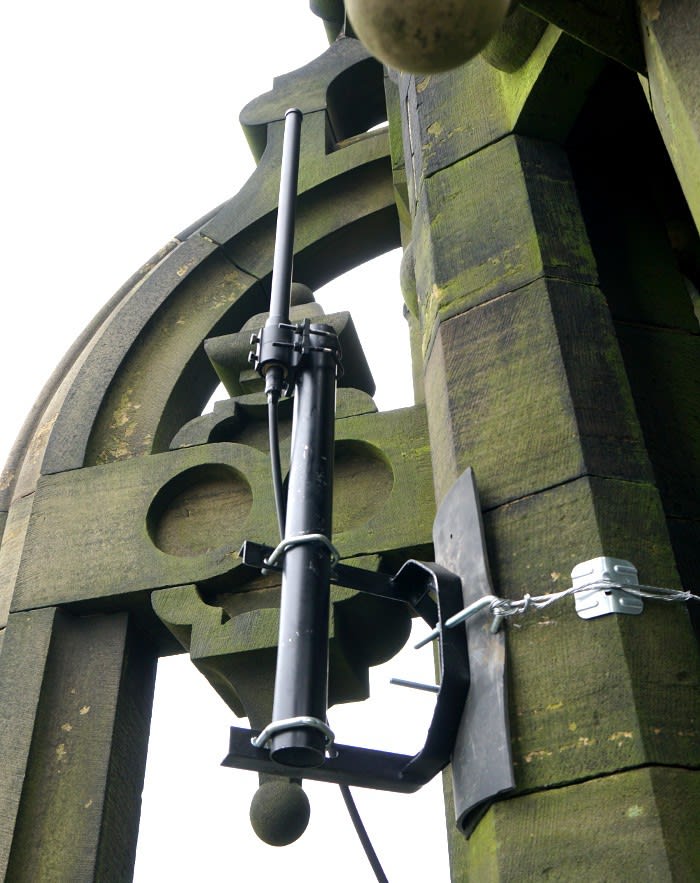 The antenna was secured to the masonry without the drilling of any holes and in such a way to prevent damage, with this and fixings painted black to help them blend into the background.
Gateway live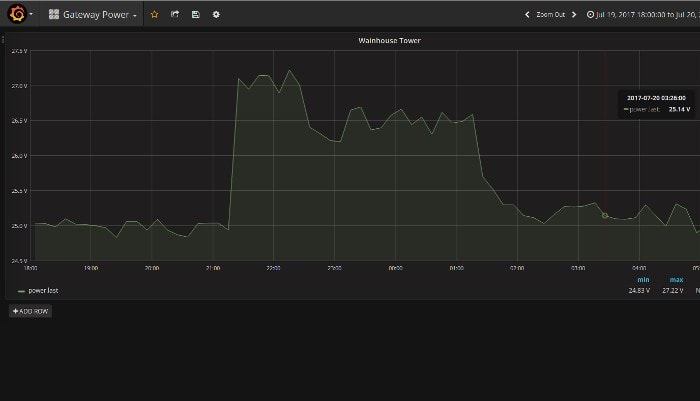 The evening of Wednesday 19th was somewhat tense and in part spent watching the battery voltage to see that the charger did actually come online! Luckily, we can see from the above graph that at around 21:15 there was a surge in battery voltage and this lasted until around 01:15, meaning that at this time of year we have a charging window of 4 hours — which is more than enough.
In fact, the solution has been specified so that even with the gateway under a heavier load, the batteries should be able to keep it up for as long as 2 or even 3 days if need be.
But is anyone using it yet? Well, from the TTN Console screenshot above we can see that the gateway is indeed receiving uplink messages and OTAA join requests. The join requests and many of those messages appear to be from devices being used in development and that are not configured for use with TTN, hence the gateway simply ignores them. However, we are also seeing uplink messages from our Flood Network sensor on the River Calder, which is certainly not line-of-sight to the gateway and the radio link is taking some arduous route.
Just in case anyone is concerned about privacy issues, it should be noted that LoRaWAN traffic is encrypted and so little can be gleaned from observing this at gateways.
Next steps
Now that the Boost gateway is live we will be turning our attention to supporting the Boost participants in making good use of this. Of course, since it's connected to The Things Network, it's also open for use by any other members of TTN community and any questions should be directed to the Calderdale Community category on The Things Network forums.
Finally, I'd just like to say a huge thanks to everyone at Calderdale Council who have generously given their time in supporting this initiative, and to RS Components for sponsoring the power solution for the gateway install and providing expert advice.