Dave from

DesignSpark
How do you feel about this article? Help us to provide better content for you.

Dave from

DesignSpark
Thank you! Your feedback has been received.

Dave from

DesignSpark
There was a problem submitting your feedback, please try again later.

Dave from

DesignSpark
What do you think of this article?
The price of oil and gas has never been higher, and the cost of living is only set to soar further while we continue to allow unabated profits from fossil fuel extraction. DesignSpark has floated the idea of activist engineering recently and if you're like me there's only so much greenwashing, gaslighting and outright trolling from bad actors that one can take before wanting to go full vigilante.
However, exploring alternatives is not easy, and despite the diminishing feasibility of fossil fuels, the transition to sustainability can be difficult where the groundwork is still so weak. The Kickstart Kamper project is my way of using engineering to address the challenges to climate action through the pursuit of off-grid self-sufficiency. However, my biggest challenge is always one of energy independence.
For leisure vehicle applications, bottled gas is commonly used for cooking, heating and even cooling which makes it stubbornly convenient for living off-grid. This might explain why there are no obvious sustainable alternatives that have been proposed for the leisure vehicle market to take advantage of, and how they could eventually translate into my sustainable campervan project.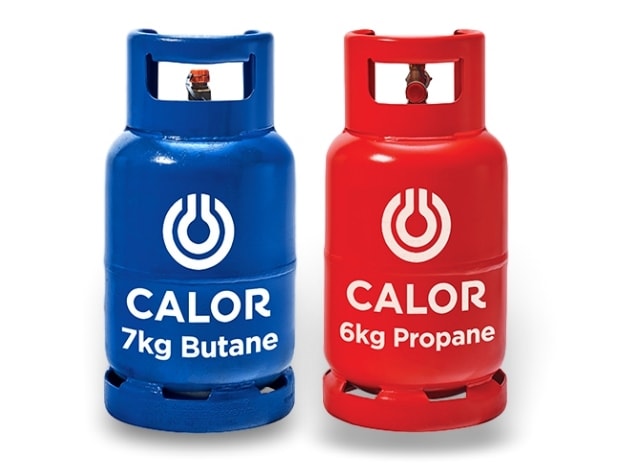 Common butane and propane bottles found in the UK
Despite bottled gas being the most expensive format of domestic energy supply by up to five times, my initial research shows that even a small 6kg bottle of propane can actually last for weeks at a time with continuous use of a fridge, stove and even a hot water boiler! It is very tempting, therefore, to conclude that the cost of running bottled gas in a campervan is on par with the cost of mains gas supply because consumption is naturally a lot lower when compared to a small house or flat.
With this in mind, is it, therefore, more achievable to move away from fossil fuels on a micro-scale, and how might this translate into reducing overall fossil fuel dependency in a much wider context? To answer this question, we will be building a compact kitchen unit for a campervan that makes use of gas bottles to investigate the challenges in moving away from fossil fuels in a micro-living environment and use that data to inform a feasible transition to sustainable alternatives like electric in the future.
VLOG
Subscribe to the Kickstart Kamper Youtube channel for more updates.
Bill of materials
Aluminium 30mm profile
Cube connectors
M6x12 countersunk screws
M6 T-slot nuts
Magnetic snaps
Plastic insert
3mm plywood
12mm plywood
Two-burner camping stove
3D print filament
Designing a Compact Kitchen Unit for a Campervan
In a previous article, we built an aluminium frame in the interest of securing our off-grid storage batteries while on the move. In much the same way, we now need to design a compact kitchen unit that will hold our gas bottles securely while providing fuel to the stove safely.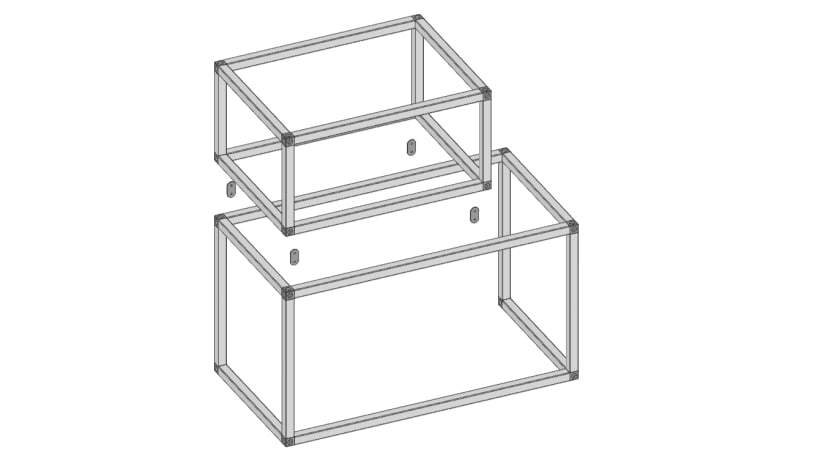 Exploded subframes in DesignSpark Mechanical with 3D printed tabs
To do this, we will be using aluminium profile again to create a modular superstructure that is both strong and lightweight enough to use in a campervan. The easiest way to work with aluminium profile is in right-angles, so the kitchen unit will be composed of two rigid subframes, one for the gas bottle compartment that will double as part of the bed frame, and the other acting as the stovetop with a storage shelf underneath. We can assemble the subframes separately and then clamp them together using four 3D printed tabs on each corner of the intersecting corners.
Gas bottle subframe with wooden cladding and door
Working in right angles also allows the use of three-way cube connectors that not only make the structure incredibly strong and easily serviceable but also looks a lot more professional. We can also clad the structure using 3.6mm plywood inserted into the grooves in the aluminium profile, and secure it using special plastic inserts that create a snug interference fitting and stop it from rattling while we are driving along.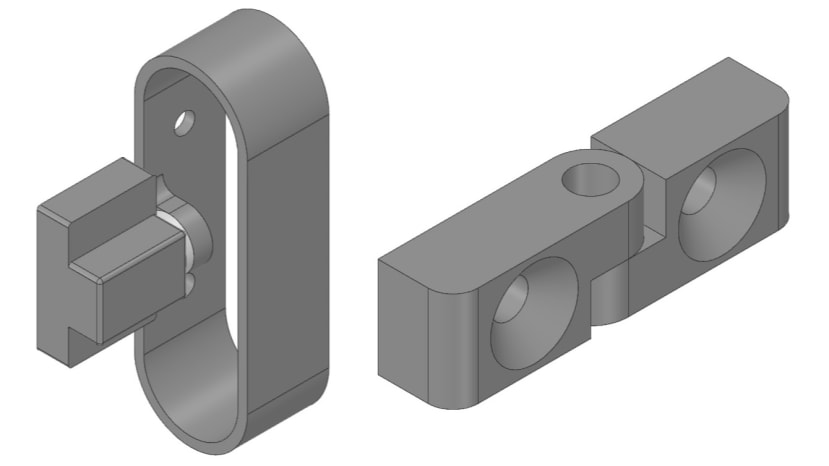 3D printed handle with magnetic catch, and 3D printed hinge
We can then use the same design techniques to build a door, which will help create a tidy enclosure around the gas bottles. The door can open and close using a set of specially designed 3D printed hinges and is secured using a 3D printed handle that doubles as a magnetic latch. This arrangement will stop the door opening unexpectedly under driving conditions while making it easy to inspect and change the gas bottles on demand. Once we are happy with the layout, we can bolt the frame to the floor of the van using some 30mm steel angle section and secure the gas bottles to the frame using a ratchet strap and eye bolts. This will be completed later once we are happy with the furniture layout and I have taken delivery of the floor.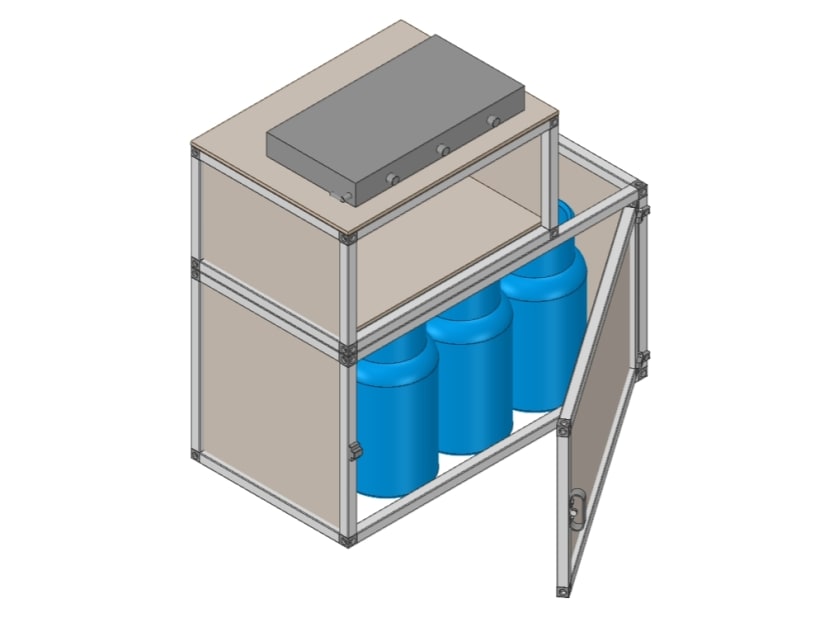 Model of kitchen unit frame with wooden cladding and door components
The last step will be to add the stovetop and storage shelf using some 12mm plywood for structural rigidity, this will allow us to place things on top of the wood without fear of it breaking. The storage shelf is a simple interference fitting while the stovetop is secured with four M6 countersunk screws.
Camping stove secured to stovetop ready for use
The last step is to add the gas stove. As this is likely a temporary feature, I will be upcycling my old two-burner camping stove and securing it to the stove-top with four self-tapping wood screws. Finally, we can connect the gas pipe and regulator to the gas bottle underneath that will allow us to use the stove.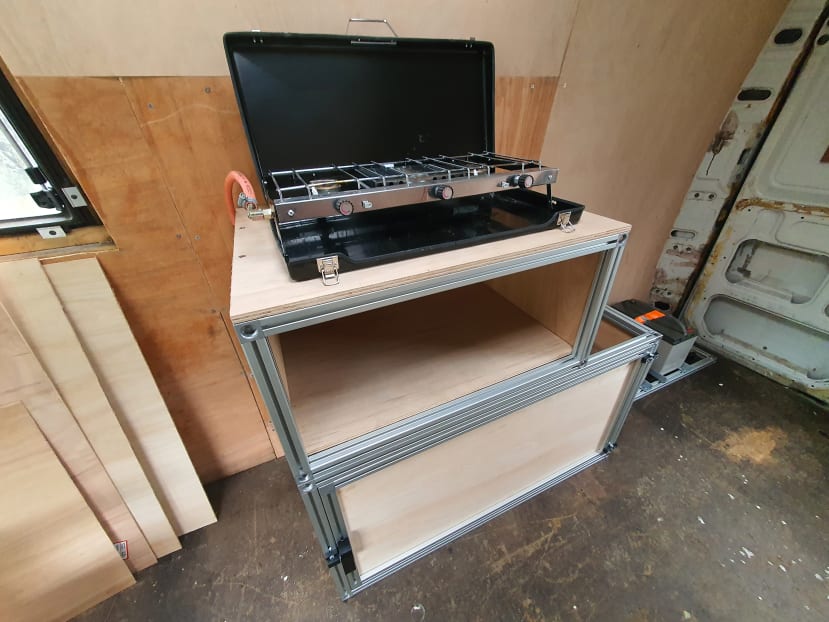 Completed kitchen unit with stove and gas pipe
In the unlikely event that there is a gas leak, we will also be installing LPG detectors in the enclosure as well as carbon monoxide detectors around the van. Doing this will also help measure and record any localised pollution, and alongside the hardware from the Air Quality Monitoring Project, we can more accurately quantify to what extent fossil fuels are damaging to heath in enclosed spaces.
Conclusions
Heating, boiling and cooking are always the most demanding activities in any domestic environment so it is very important to first understand the magnitude of energy consumption and to use that data to promote and pursue the need for sustainable alternatives. If we were to pursue the electric route, we know that battery storage is fine for low consumption and occasional current surges like boiling the kettle but how does it fair with high surges over extended periods?
Progress in induction technologies can greatly increase the efficiency of cooking with pots and pans but even still, you are dealing with a much higher daily demand compared to laptops and phone chargers. This may well be resolved either with more batteries, or significantly increasing the size of our renewable capacity, but by how much? This is what we need to find out.
Visit the Kickstart Kamper landing page on DesignSpark