Dave from

DesignSpark
How do you feel about this article? Help us to provide better content for you.

Dave from

DesignSpark
Thank you! Your feedback has been received.

Dave from

DesignSpark
There was a problem submitting your feedback, please try again later.

Dave from

DesignSpark
What do you think of this article?
SOLIDWORKS Electrical products take schematic design to the next level beyond what is possible with DesignSpark Electrical (DSE). 
PLEASE NOTE: DesignSpark Electrical will be switched off on Friday 29th September 2023.  Users can migrate to Solidworks Electrical.

Both products share the same intuitive and easy-to-use schematic creation interface, but SOLIDWORKS Electrical adds many features that automate complex electrical design tasks, such as contact cross-referencing, terminal drawing creation, connector documentation and control panel drawing creation. These accelerate product development by minimizing the repetitive tasks associated with developing complex electrical system designs.
1. What are the major differences between DesignSpark Electrical (DSE) and SOLIDWORKS Electrical?
The differences between the products can be summarized as follows. The first major difference is that the SOLIDWORKS Electrical packages provide a choice of either term or perpetual licenses license types. Second, there are no schematic sheet, report or project size limitations. Third, there are significantly more electrical design productivity tools included in SOLIDWORKS Electrical solutions. Fourth, there are substantial enhancements every year (typically 6 service packs) and direct support from the SOLIDWORKS network of global value-added resellers.
The detailed differences between SOLIDWORKS Electrical Schematic solutions are outlined below:
SOLIDWORKS Electrical Schematics Standard
The next step up in electrical design is this Schematic Standard system. Designed for individual users to handle small to medium-sized projects with no sheet limitations. Speed documentation with over a dozen standard reports, terminal strip, and cabinet drawing automation, outputs to DWG/DXF and smart PDFs. Expanded administration tools allow for creating and managing your engineering standards, styles, and libraries which are the foundation to handle larger projects.
SOLIDWORKS Electrical Schematics Professional
Our most powerful and automated system is a fully-featured schematic system for individual or workgroup power users for local, national or global engineering departments. Built-in real-time, multi-user, concurrent collaboration utilizing a full MS SQL database improves communication and efficiency among electrical engineering stakeholders. Schematic Professional also enables integration with mechanical engineering teams with SOLIDWORKS Electrical 3D add-on. SOLIDWORKS Electrical Schematic Professional also features intelligent design reuse with Microsoft Excel automation. Finally, as the backbone of an Electrical Engineering department, SOLIDWORKS Electrical Professional includes ERP integration tools, SOLIDWORKS PDM Professional link, PCB integration, robust API and expanded reports and design rule checks.
2. How do I open my existing DSE settings and projects in SOLIDWORKS Electrical Schematic products?
All DesignSpark Electrical projects, libraries, and templates are 100% upwardly compatible with SOLIDWORKS Electrical Schematic products. The SOLIDWORKS Electrical interface remains the same to minimize the learning curve that is focused on the expanded functionality provided by SOLIDWORKS Electrical Schematic Standard and Professional. 
When you upgrade from DesignSpark Electrical (DSE) to SOLIDWORKS Electrical Schematic you can use the electrical content and electrical projects that you created using DSE.
To use your DesignSpark Electrical data, you must do the following:
Do Not Uninstall your older DesignSpark Electrical version yet.
Get SOLIDWORKS Electrical software and install. Default locations are recommended.
For default installation locations, open Windows Explorer and visit: C:\ProgramData\SOLIDWORKS Electrical
Create a new Folder; name it "Update" (The folder name must be used.)
Visit: C:\ProgramData\DesignSpark Electricaldata (copy the contents of this folder)
Paste contents into: C:\ProgramData\SOLIDWORKS Electrical\Update (then close Windows Explorer)
Start: SOLIDWORKS Electrical software 
Follow the database update steps and 'Add' your items to the SOLIDWORKS Electrical database. Then 'Finish'. This merges your DSE data in with SOLIDWORKS Electrical data.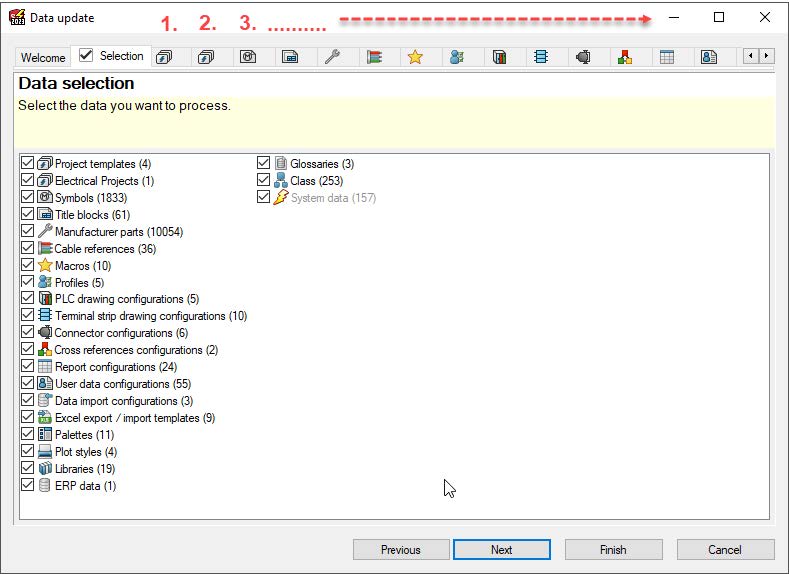 Now you are ready to begin designing using SOLIDWORKS Electrical software!
o Optional: uninstall DesignSpark Electrical software from your computer.