Dave from

DesignSpark
How do you feel about this article? Help us to provide better content for you.

Dave from

DesignSpark
Thank you! Your feedback has been received.

Dave from

DesignSpark
There was a problem submitting your feedback, please try again later.

Dave from

DesignSpark
What do you think of this article?
RS own brand provides choice, quality and value for industrial automation solutions.
The RS PRO range includes over 80,000 products which are rigorously tested, inspected and audited to demanding standards. In this article we take a look at a selection of key RS PRO product categories which might be used in creating industrial automation solutions.
Panel building
Perhaps the most obvious place to start with is building control panels, as these tend to be at the heart of any industrial automation solution.
Enclosures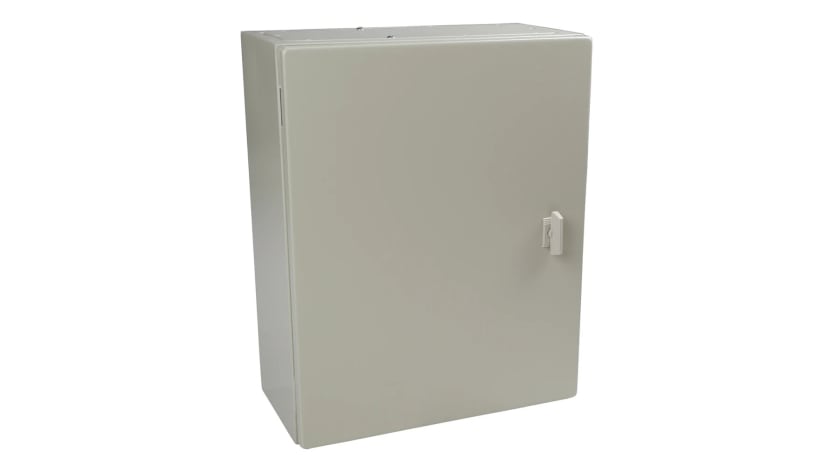 First up we're going to need an enclosure. RS PRO wall boxes are available in steel, stainless steel, polycarbonate, GRP and ABS, with a range of different sizes, plus IP ratings, and with and without chassis plates. An example of which being the 500 mm x 400 mm x 200mm steel enclosure pictured above, which is IP66 rated, with a powder coating finish and featuring a single lock (775-5814) .
Connectors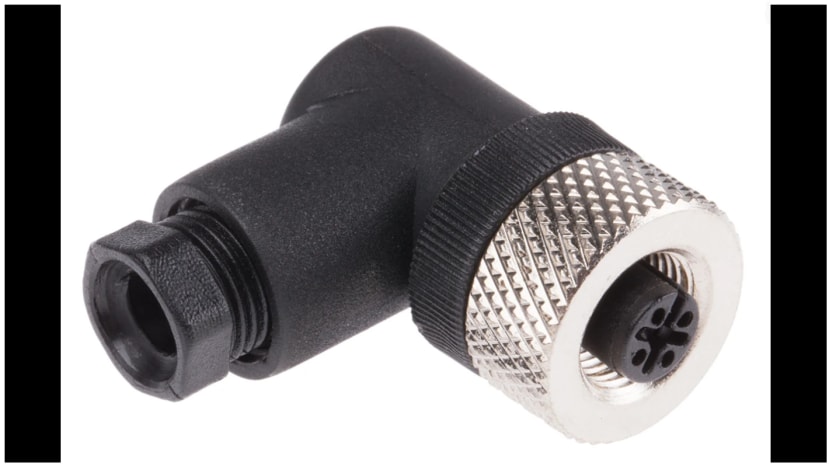 Connectors are often needed to get sensor and control signals in and out of control panels, with many to choose from in the RS PRO range, including a large selection of industrial circular connectors. These include standard types such as M12, M14 and M16 etc. Pictured above is a 5 contacts, cable mount, M12 connector with right angle body orientation (877-1107) .
Power supplies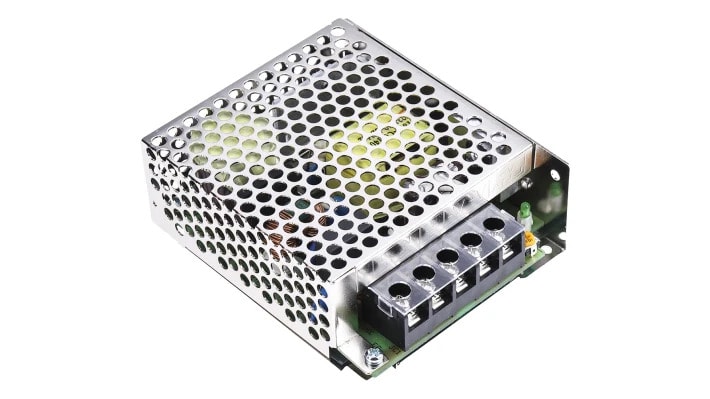 More often than not an industrial control system will require a DC power supply and these are typically 24V. The RS PRO range includes chassis mounting switching power supplies, such as the 24V 2.5A/60W model shown (711-2636) , along with DIN rail mounted power supplies. The former are particularly convenient in cases where the enclosure is not sufficiently deep for a vertically mounted DIN rail power supply. While DIN rail PSUs have the notable benefit of being more easily swapped out, e.g. to upgrade to a more powerful model should the need later arise.
DIN rail terminals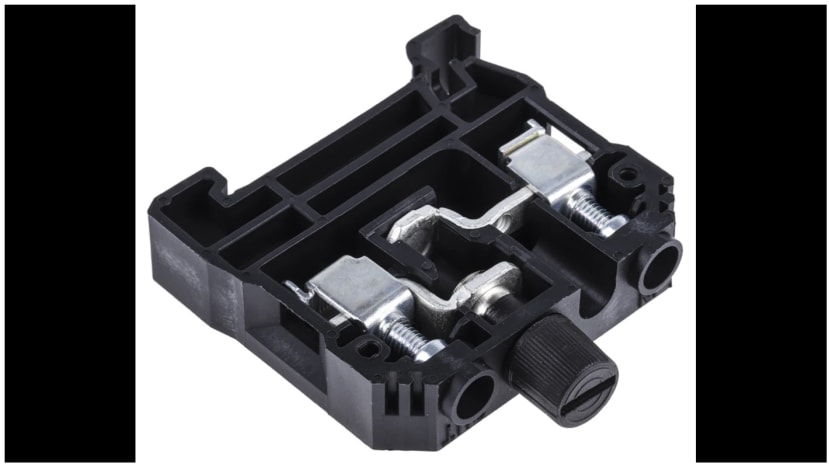 We're almost certainly going to need to distribute DC power — if not mains also — and terminate our system inputs and outputs, and perhaps distribute control and safety signals too. RS PRO DIN rail terminals are available in a variety of configurations, both as plain terminals and fused models, such as the part shown (501-837), which takes a 5x20mm fuse and is rated up to 400V at 10A.
Switches and indicators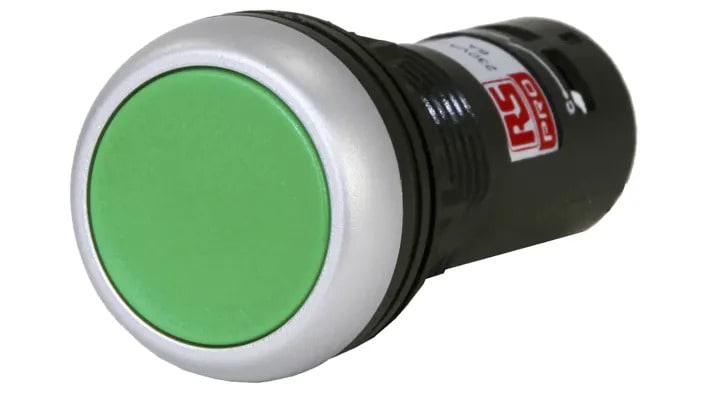 The RS PRO switch range includes panel mounting industrial selector switches, push buttons and much more. An example push button is pictured (145-0607) with a green actuator, one set of normally open contacts, and featuring a standard 22mm circular cutout form factor.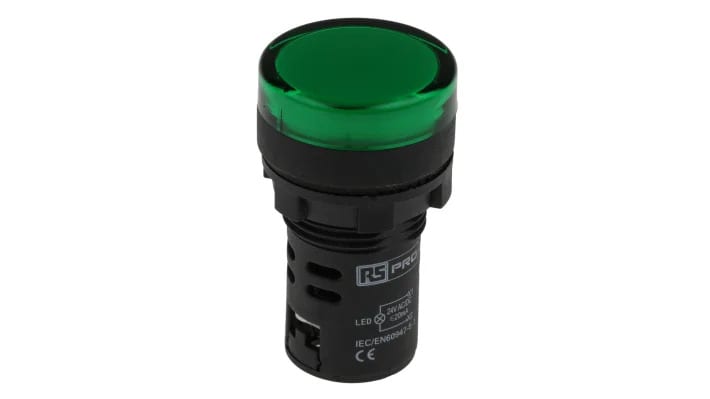 Amongst others, there are also 22mm cutout indicators available, such as the IP65 rated 24V AC/DC pilot light shown (763-7918) .
Relays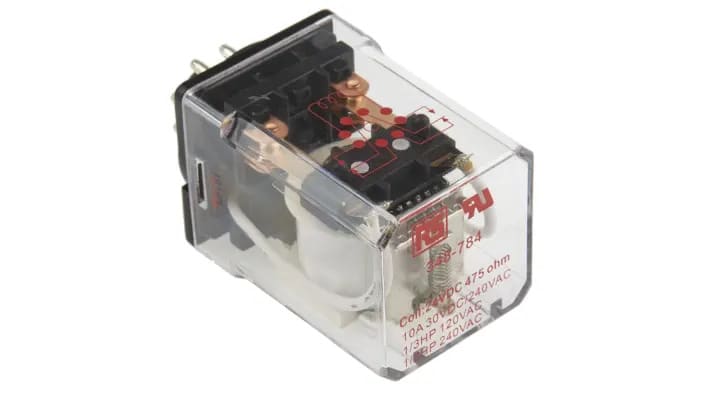 Relays will likely be needed if switching mains loads and for DC actuators, and RS PRO plug-in power relays are available for use with standard bases, e.g. DIN rail mounted. The part pictured (034-8784) features a 24VDC coil and a DPDT contact arrangement which is rated at up to 10A.
Process control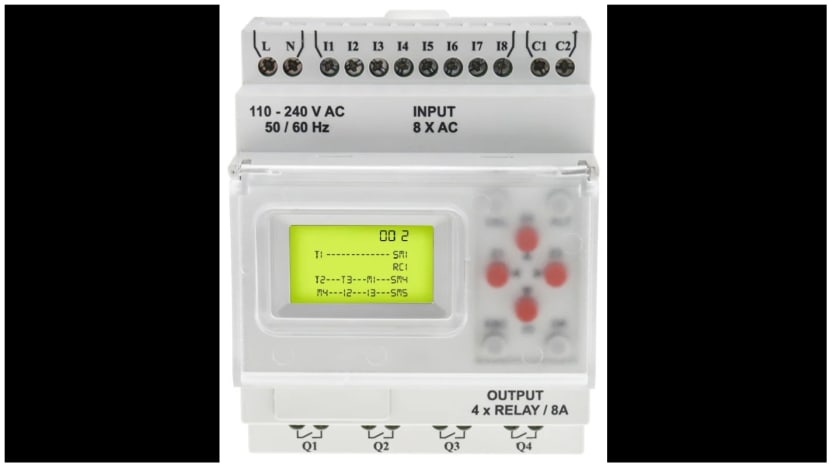 For the actual automation part, we're going to need a programmable logic controller (PLC), a rugged industrial computer which will take inputs such as push buttons and sensors, and provide control signal outputs. The RS PRO PLC range includes logic modules with different I/O configurations, together with I/O expansion modules for when additional capacity is required.
The PLC module pictured (917-6361) has 8 digital inputs, 4 relay outputs, a serial communication port for integration into a Modbus network, and uses a ladder programming language.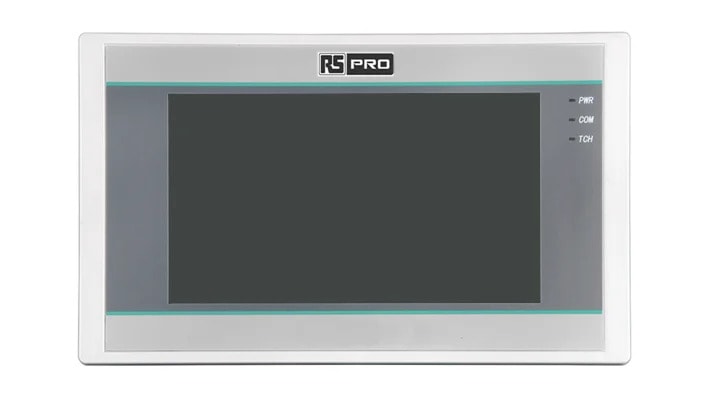 Human-machine interface (HMI) touchscreen displays are also available and can be integrated with a PLC to provide more sophisticated control and monitoring of industrial processes. The HMI shown (221-3481) features a 4.3 inch TFT display with 480x272 pixel resolution, with interfacing via Ethernet (Modbus TCP) or RS232/RS485/RS422 serial (Modbus RTU). The provided HMI Editor software can be used to design interfaces with a variety of buttons/switches, numeric input/display, charts, meters, shapes, animations, graphics and more.
Sensors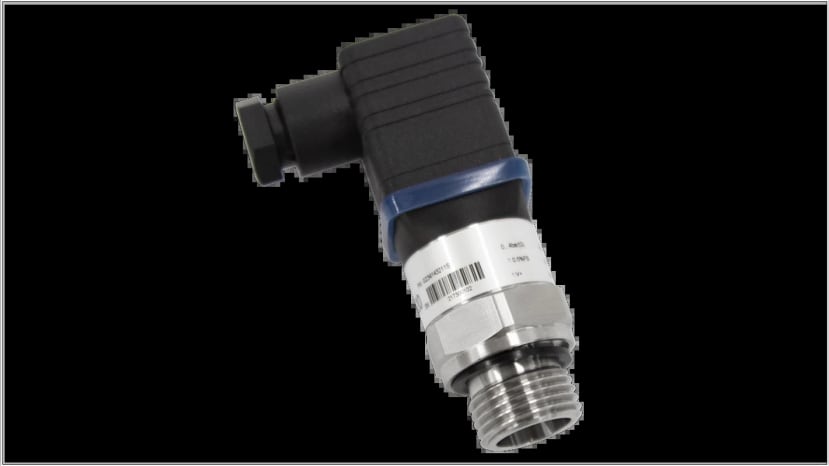 The RS PRO industrial sensor range includes capacitive, inductive, ultrasonic, photoelectric, temperature and pressure, with no shortage of options for use in both process control and guarding. Interface types include 4-20mA, NPN, PNP and IO-Link.
The M20 pressure sensor pictured (254-7402) has a 0-4 bar measurement range, operates from an 8-30VDC power supply, has a service life of >10 million times load cycle and 4-20mA output signal.
Actuators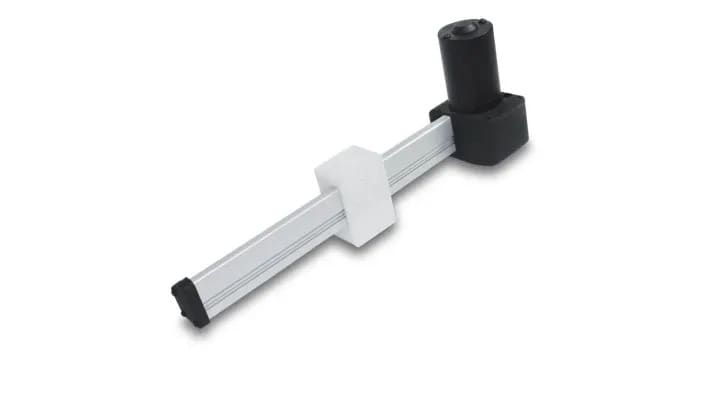 On the actuator side, the RS PRO range includes AC motors and inverter drives, stepper motors and electric linear actuators, to name a few. Pictured above (177-4518) is a 24VDC micro linear actuator with 400mm stroke and 2.9mm/s to 4.2mm/s max speed (full load to no load), with a maximum load of 6000N push and 4000N pull, and featuring preset limit switches.
Final words
This has been a whistle-stop tour of but a small selection of the RS PRO range which will prove invaluable in building industrial automation solutions. With omissions including certain more specialist parts, along with cabling and the many various sundry items which are typically used.