Dave from

DesignSpark
How do you feel about this article? Help us to provide better content for you.

Dave from

DesignSpark
Thank you! Your feedback has been received.

Dave from

DesignSpark
There was a problem submitting your feedback, please try again later.

Dave from

DesignSpark
What do you think of this article?
What is ICRS?
Imperial College Robotics Society (ICRS) (facebook page) (website) is a student run society at Imperial College London. We host many internal events and run beginner robotics courses. We also host a competition open to other university societies, which this article is about.
What is Sumobot?
Sumobot is a robotics competition based on the Japanese robot sumo tournaments, albeit powered down to an entry level. The rules that we follow in full can be found here (sumobotrules.icrs.io), but a brief overview is as follows:
Two robots are placed within a small ring. Robots may be either remote controlled or autonomous. After a start command, the first robot to leave the ring, or be determined to be unable to continue moving loses.
There are many requirements such as weight limits, drive power limits and dimensional limitations, these are described in the rules document.
This year's competition was made possible through sponsorship from RS Grass Roots, it wouldn't have been possible without your help!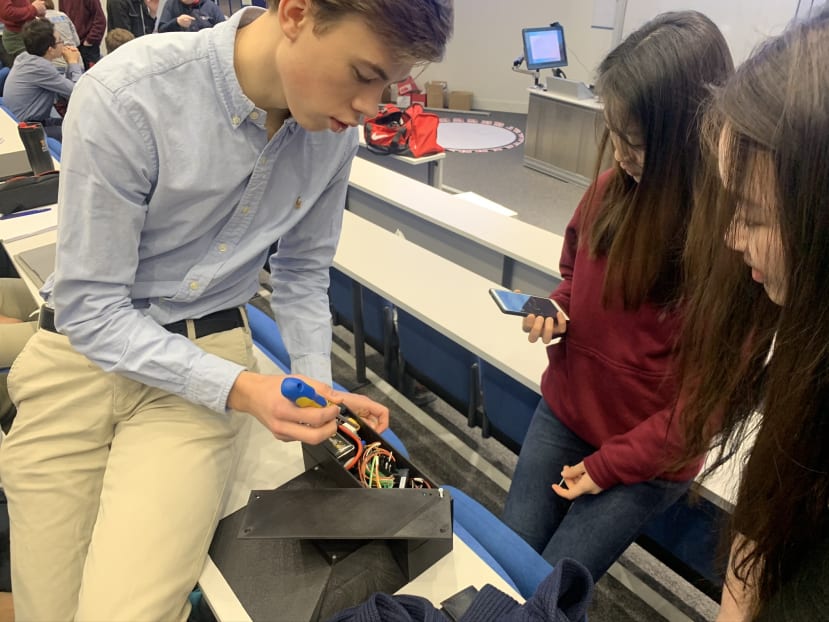 What happened in this year's competition?
This year was the second year of our competition.We had entrants from 5 different universities/societies, totalling 11 different robots:
University of Greenwich
Southampton RoboSoc
Brunel Robotic Engineering Society
Cambridge University Robotics Society
ICRS
Of these 11 robots, 10 were remote controllable, and 3 were autonomous. As such we split the competition into two parts - a remote controlled / autonomous hybrid category, and a fully autonomous category. This was to allow a large competition with all robots, but also to accept that the remote control robots have a considerable advantage over the autonomous robots.

Over the course of the day, many battles were held on our two custom made arenas, but only two robots could emerge victorious...
Who won?!
The winner of the remote control/autonomous hybrid category was the robot "Resistance" from the University of Greenwich. This was from a hard fought semi finals alongside "Duckzilla Mk2" (an iteration over last year's runner up) and "Flip Me Daddy Mk2" (an iteration over last year's winner). Resistance had high speed and low to the ground metal scoops, which over-powered Flip Me Daddy Mk2's rotating flipper and Duckzilla Mk2's 3d printed scoop. Flip Me Daddy Mk2 took a close second place, with Duckzilla Mk2 just a little further behind.
In the autonomous category, the aptly named robot "The Winner" took first place, with "Flip Me Daddy Mk2" taking second. The high velocity of The Winner was just enough to beat Flip Me Daddy Mk2, although Flip Me Daddy Mk2 did appear to be winning in the beginning of the match. Sadly "Autoboi" (the only not-remote controllable robot in the competition) was no match for either of these robotic monsters.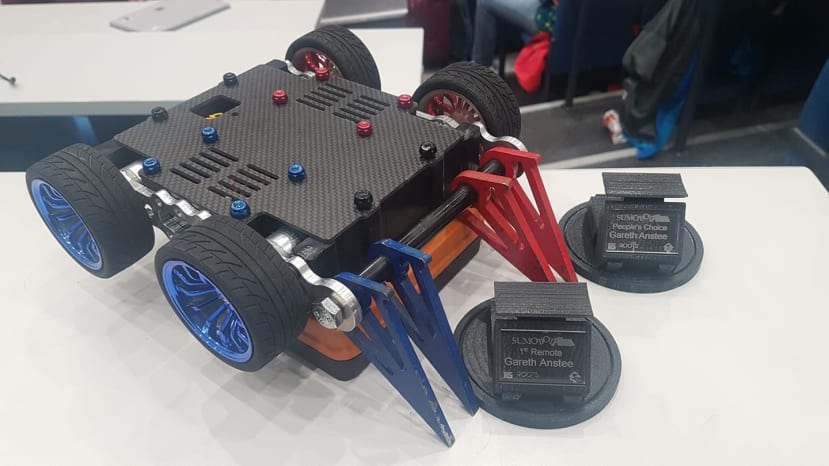 Is there a cool highlight video?
There certainly is! If you're ok with the competition organiser's questionable music tastes, then you can watch the full highlight video on YouTube (if you aren't then just mute the video). We've done our best to include footage of every robot, however unfortunately the robot "Bresaster" had issues and failed to have a successfully recorded match. Incidentally, last year's video can be found here if you can't get enough of the robots.
This sounds really cool, will there be a competition next year? How do I attend?

At the time of writing, we are planning the next competition. The current organiser is graduating and will be handing over to fresh blood, so who knows what the future will hold? If you are interested in attending the next competition we have the following requirements of applicants:
Wants to build a cool sumobot.
Is happy to abide by the rules found at sumobotrules.icrs.io.
Happy to go for a pint after the competition is over.
Will send an email to contact@icrs.io or a facebook message specifying that they meet #3 and want to attend the next Sumobot competition ;)
Thanks for reading our article and hope to see you at the next competition,
Nick
ICRS' Projects and Competitions Coordinator 2018-2020