Dave from

DesignSpark
How do you feel about this article? Help us to provide better content for you.

Dave from

DesignSpark
Thank you! Your feedback has been received.

Dave from

DesignSpark
There was a problem submitting your feedback, please try again later.

Dave from

DesignSpark
What do you think of this article?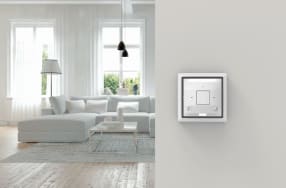 Population aging is among the most demanding global challenges the world is facing. On the one hand, the increase in life expectancy is a brilliant success of science and medicine; on the other hand, it has a deep and problematic impact on many social and economic issues. According to the WHO approximately 28-35% of people aged 65+ fall while living alone each year increasing to 32-42% for those over 70 years of age. In fact, falls exponentially increase with age-related biological changes, which is leading to a high incidence and injury rates in the aging societies. The decrease of the ratio between "active" younger population and older retirees, not only threatens social security programs, but also makes it more difficult to provide older persons with effective care. Lack of home care, in turn, may require to move frail elderlies to healthcare facilities and this calls for large expenses and may degrade the perceived quality of life. As older persons are becoming the largest fraction of the population, conventional home care approaches are becoming difficult to sustain: Assistive devices can be deployed in the home environment, allowing older persons or people with disabilities to live as long as possible in their home, making the home itself safer, more comfortable and capable of cooperating to the management of daily living activities.
There are wearable and non-wearable monitoring systems. Wearable systems require users to wear sensors. They use mostly RFID or acceleration sensors. These systems can estimate objects´ behavior with high accuracy, however, wearing devices is onerous and require wearing discipline as well as battery maintenance. Non-wearable systems can estimate object's behavior and are much more user-friendly and suitable. Video camera bases systems have major issues about privacy and accuracy in darkness. As a method for solving these issues, several systems have been proposed by technologists. Our partner pikkerton very carefully evaluated all these technologies and then chose infrared over all others because of having a number of advantages. Using the Panasonic Infrared sensor called Grid-EYE they have proposed a novel fall detection system called Grannyguard. 
The Technology Behind Grid-EYE
Panasonic has kick-started its IR array sensor business with an innovative 8x8 matrix-format thermopile array called "Grid-EYE". Grid-EYE is an infrared array sensor with a compact and complete SMD package featuring a revolutionary 64-pixel infrared camera. Based on Panasonic's MEMS (micro-electro-mechanical systems) technology, Grid-EYE combines a MEMS sensor chip, a digital ASIC (I2C interface) and a silicon lens. It features 64 thermopile elements in an 8x8 grid format, which can capture absolute surface temperatures without the need for any contact. Unlike conventional sensors, Grid-EYE uses a patented 60° silicon lens, which has been etched out of a silicon wafer and, with a height measuring less than 0.3 mm, is the smallest lens available on the market. By combining these different types of technology, Panasonic has managed to reduce the size of the sensor's housing to a compact 11.6 mm x 8 mm x 4.3 mm, which is approximately 70% smaller than all other comparable products currently on the market.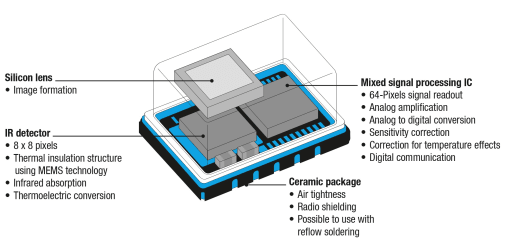 Figure 1
Grid-EYE vs. Single-Element Thermopile Sensors and Pyroelectric Sensors
In stark contrast to single-element thermopile sensors and pyroelectric sensors, Grid-EYE is able to identify the direction of movement of people and objects. Grid-EYE can also detect position and presence as well as actual surface temperatures from -20°C to +100°C. This wide range of temperature measurements enables Panasonic to achieve a noise equivalent temperature difference (NETD) of +/-0.08°C at 1 Hz and ambient temperature. The complementary array of measurement elements can even detect multiple people or objects moving in different directions. At close proximity, Grid-EYE can even detect hand movements for simple gesture control.
Figure 2
Grid-EYE and Grannyguard
In conjunction with the general monitoring of activities and vital signs, being able to reliably identify if someone has suffered a fall is considered to be extremely important as part of efforts to safeguard and promote senior citizens' health and safety. The technology used should be contactless, discreet and as cost-effective as possible. The ability to integrate hardware components into existing living environments must also be an option. What's more, the technology needs to be easy to use as its acceptance amongst users will depend on it. The final requirement is for the broadest range of emergency situations within a living environment to be recognized whilst minimizing false alarms and preventing erroneous emergency calls.
"Professional, electronic assistance systems are definitely the future," says Lothar Feige. The Managing Director of the relatively recently founded company pikkerton says the company is set to shake up the AAL market with an in-house development of its own. AAL stands for "active assisted living", whereby elderly people get to live in their own homes for as long as possible with the help of technology. pikkerton chose to use Grid-EYE when developing its own InstaMon (a light switch design which recognizes and reports falls) because Grid-EYE's sensor data is sufficient for serving subsequent image processing algorithms yet protects the individual's privacy as the sensor does not reproduce images.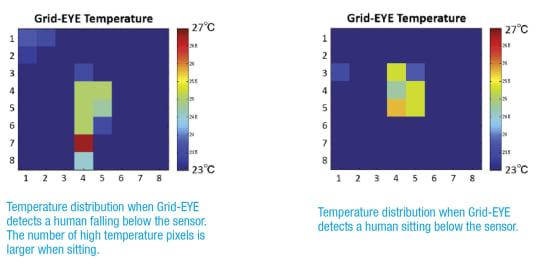 Figure 3
We were impressed with Grid-EYE's dimensions and power spectrum," Lothar Feige explains. "And because our sensor needs to fit discreetly into people's living rooms and our aim was to reduce the installation depth to 32 mm, the decision was a no-brainer. Thanks to the dimensions, InstaMon can be built as the form factor of a light switch and can be used in conventional flush-mounted boxes or even surface-mounted frames."
First of all, the infrared array sensor sends the relevant temperature distribution to a micro-controller. This then extracts an extremely wide variety of characteristics from the temperature distribution sent by the sensor. These characteristics are then fed into evaluation algorithms working and learning in parallel. The device is designed as a GSM device (2G) and therefore has a SIM card slot. The integrated dual-band antenna means that the device can be registered on all cellphone networks available across Europe. Depending on the configuration, SMS messages can be sent and even voice calls can be made to any telephone or smartphone.  As a result, direct contact with the person who has fallen down can be made immediately using the integrated hands-free speakerphone.
 Alarm-triggered services can also increase the cost transparency of homecare services as the billing for the service time is as accurate as for a phone bill. The benefits for assisted-living care providers are that there are fewer false alarms and greater customer satisfaction and therefore also increased customer loyalty. Finally, the system represents a win-win situation for everyone involved, both for insurance companies and care providers as well as senior citizens and their relatives as it allows them to feel safe and secure in their own homes, which is a basic necessity.
InstaMon with all these features is the latest state-of-the-art smart product for medical health care of old people in the society and will definitely make its place soon in every home of EU where elderly people are living.
For further reference please compare: Panasonic
Please also compare: RS