Dave from

DesignSpark
How do you feel about this article? Help us to provide better content for you.

Dave from

DesignSpark
Thank you! Your feedback has been received.

Dave from

DesignSpark
There was a problem submitting your feedback, please try again later.

Dave from

DesignSpark
What do you think of this article?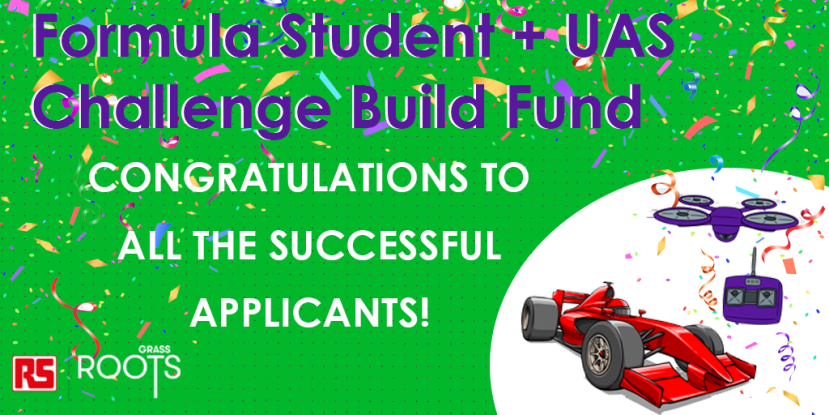 We are delighted to announce the winning teams for this year's Build Fund. RS Components Grass Roots continue to support the Global IMechE Formula Student and UAS Challenge teams through the Build Fund.
RS Grass Roots Education are proud sponsors of both competitions this year and have opened a Build Fund to support teams with hands-on technical learning as they bring their designs to life.
The Build Fund allows the teams to evaluate their team objectives, areas of improvement in regards to technical skills, and how the fund will impact their competition entry. The entries provided very interesting ambitions and direction of developing more sustainable solutions with most teams pushing to electrify their cars.
The lucky winners of the Build Fund will be provided with:
£750*/equivalent - Formula Student Teams
£250*/equivalent - UAS Challenge Teams
You will be hearing a lot of the winning teams over the coming months as they share their story on DesignSpark, check it out here: https://www.rs-online.com/designspark/formula-student-uas-challenge-build-fund-2022 
The Winners
| | | | |
| --- | --- | --- | --- |
| Team Name | Location | University | Competition |
| Aston Racing | U.K | Aston Unversity | Formula Student |
| Automaestro | Bangladesh | Bangladesh University Of Engineering & Technology | Formula Student |
| Automec | Portugal | Aveiro | UAS |
| Cairo University Racing Team | Egypt | Cairo University | Formula Student |
| Cardiff Racing | U.K | Cardiff University | Formula Student |
| DMU Flyers | U.K | De Montfort University | UAS |
| DMU Racing Electric | U.K | De Montfort University | Formula Student |
| ESTACARS | France | ESTACA | Formula Student |
| Formula Electric Racing NUST | Pakistan | National University of Sciences and Technology | Formula Student |
| FSIPLeiria | Portugal | Politécnico de Leiria | ESTG - Escola Superior de Tecnologia e Gestão | Formula Student |
| HaggisAerospace | U.K | University of Dundee | UAS |
| HWRacing | U.K | Heriot-Watt University | Formula Student |
| Loughborough University Motorsport | U.K | Loughborough University | Formula Student |
| MORA AVIONS | Sri Lanka | University of Moratuwa | UAS |
| Queen Formula Student | U.K | Queen Mary University of London | Formula Student |
| Saints Performance Automotive Design | U.K | University of St Andrews | Formula Student |
| Salford Racing | U.K | University of Salford | Formula Student |
| Sheffield Formula Racing | U.K | The University of Sheffield | Formula Student |
| Southampton University Formula Student Team (SUFST) | U.K | University of Southampton | Formula Student |
| TAU Racing | U.K | University of Aberdeen | Formula Student |
| Team Bath Racing | U.K | University of Bath | Formula Student |
| Team Hare | U.K | University of Huddersfield | Formula Student |
| TTP Full Blue Racing | U.K | University of Cambridge | Formula Student |
| UBRacing | U.K | University of Birmingham | Formula Student |
| UFV Racing Team | Spain | Universidad Francisco de Vitoria | Formula Student |
| UGRacing | U.K | University of Glasgow | Formula Student |
| UH Racing | U.K | University of Hertfordshire | Formula Student |
| University of Leicester Racing | U.K | University of Leicester | Formula Student |
| University of Liverpool Motorsport | U.K | The University of Liverpool | Formula Student |
| University of Strathclyde Motorsport (USM) | U.K | University of Strathclyde | Formula Student |
| University of the West of England Formula Student | U.K | University of the West of England | Formula Student |
| USW Racing | U.K | University of South Wales | Formula Student |
| UWR Formula Student | U.K | University of Wolverhampton | Formula Student |